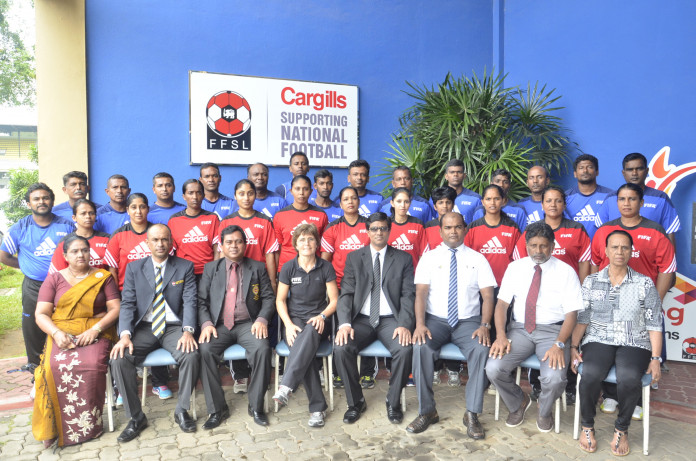 FIFA Women's Football coaching course is currently being conducted at the Race Course grounds.
The program started on October 26th and will run until October 30th 2015. This program is conducted by Mrs.Monica Stab a certified FIFA instructor. A total of 13 female and 17 male coaches participate in this program.
The opening ceremony was held on 26th October 2015 at 9.00 am at the FFSL auditorium. Mr.Anura De Silva (President of FFSL), Mr.Balendra Anthony (Secretary General), Mr.Anand Anthonypillai (CEO), Mr.Faiz (Chairman Technical), Mrs. Sudharma Jayawardena (Chairperson – Women Soccer Committee Member-National Teams Management Committee), Mr.Chaminda Steinwall (Acting Technical Director) and Mrs.Olivia Gamage (Women's Football Administrator) participated in this occasion.
This program was organized for the purpose of developing women's Football Island wide. Organizers expect to enhance the knowledge of women's' and men's' coaches in both theoretical and practical aspects. The intention is to attract young women to Football, where it will be useful to expand women's Football overall within Sri Lanka.
Mr. Balendra Anthony (Secretary General of FFSL) expressed the importance of the support that is required by the participants in developing football in their areas. A heartfelt thank you was given to FIFA, the Technical department of FFSL and all FFSL Officials. Mr. Anthony further extended his gratitude to Mrs. Monica Stab and her involvement in the program for the third time in a row.  
Mr. Anura De Silva (The President of FFSL) addressed the meeting and asked the coaches to report about the development of Football, with the intention of developing women's Football in Sri Lanka. He also thanked FIFA, technical department of FFSL and FIFA Instructor Mrs. Monica Stab. The president specially thanked Mr.Shaji Prabhakaran (FIFA regional development officer) where his efforts created this opportunity for Sri Lanka.
FIFA Instructor Mrs. Monica Stab addressing the meeting, mentioned that she has been to Sri Lanka twice before and that she very much aware about Sri Lankan women's Football. She further added that, this is a good opportunity for Sri Lankan coaches to learn more about Football and also asked all coaches participating to dedicate themselves into expanding women's Football in Sri Lanka.