A player is walking off the ground after his side has been demolished by the opposition. As he nears the boundary line, a supporter calls out. Asking, no, instructing, the player to retire.
The player hears him, looks up and asks him whether the fan is the one who is going to replace him if he does retire. The player is Tillakaratne Dilshan. All this is viewed through a sketchy YouTube video recorded by someone standing near whoever called out to Dilshan.
It is a common incident that takes place at many sporting grounds around the world; the opinionated fan, getting his dig in at a player.  Yet, this one reveals so much about Dilshan. He had always been a player and a captain who'd worn his emotions on his sleeve, but this bit of needling had penetrated a bit too deep. The suggestion was that he was a has-been. That he no longer held any value. That he was hanging on to the side due to his own greed. That is what set Dilshan off.  His loyalty and integrity were being called into question. And he would not stand for that.
He had proved time and time again that he was a selfless cricketer. He was a team man and a proud one. Fast bowlers had sworn at him, sledged him and tried to knock his head off with 145+ kmph balls. He'd ducked and weaved out of those situations, most of the time. But this suggestion that he was selfish, when he was one of the bright lights in a team that had been losing consistently for a year, that hurt him.
The evolution of the utility man
In Sri Lanka, nature and city planners had seemingly plotted together to provide open fields and alleyways and city streets just so every kid could play cricket on them. In these matches, the two captains would pick their sides from the available players. The most sought after players in these games are the ones that can do a bit of everything. Open, keep, bowl spin, bowl quick, slog; you had to do a bit of everything to survive. You had to be able to provide what the team needed from you.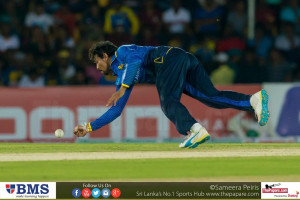 Dilshan, in many ways, was that kid in your softball team who could, and would, do it all. From a young age, versatility is seen as a valuable commodity. Maybe that is why Sri Lanka produces so many bits and pieces players.
When he debuted in First Class cricket, he opened. By his 13th match, he was opening and keeping. In 2001, he captained, kept and batted at number 3 for the Board President's XI against the touring England side. A few days later he was batting at number 7 for Sri Lanka.
Dilshan had turned into the ultimate utility man for his country.  In the end, he'd opened and had batted in every position up to 8 in the order in both Tests and ODIs. He bowled spin to help balance the side, he fielded in tough places, he kept and he ended up Captaining when no one would touch the job.
That is the beauty of these utility players, out there playing a neighbourhood game of cricket on the streets or taking centre-stage in front of thousands for their country, if there's a job to be done, they get it done. If Sri Lanka had their own version of the Discovery Channel's Dirty Jobs, Dilshan would have been the host.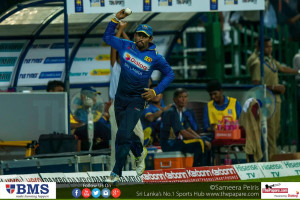 But Dilshan remained on the periphery; greatness did not find him until 2009 when he was asked to open. He'd always given you the impression that there was more to him than just a late order slogger. That he was more than just a bits and bobs player. Opening, as it turns out, was the canvas Dilshan needed.
The media, supporters and peers marvel at the evolution of Kumar Sangakkara from the limited player he was to the behemoth he became.  They draw inspiration from the reinvention of Thilan Samaraweera from bowler to the middle order giant he became.
But Dilshan has never gotten the credit he deserves for re-establishing himself as an opener, for making the position his own, for partly fixing the opener's dilemma that still haunts Sri Lanka after Sanath Jayasuriya and Marvan Attapattu left, for the ridiculous consistency in ODIs where his last 5 years aggregates read, 1000 (2009), 921 (2010), 820 (2011), 1119 (2012), 1160 (2013), 990(2014), 1207 (2015).
Dilshan kept Sri Lanka relevant. He even evolved within his own evolution; first, adapting the Virender Sehwag's see-ball-hit-ball philosophy, later moulding himself into an artisan accumulator. But all of this was so often lost under the Sangakkara-Jayawardene headline. Which sadly undermined what he had evolved into; a genuine match winner second only to Jayasuriya in Sri Lankan cricket.
The Entertainer
Everything about Dilshan was 200 kmph in a 40 kmph School Zone: the goatee, the red tinted hair, the earrings, the bandana. All of this was an outward expression of who Dilshan was. His philosophy seemed simple; you go big or you go home. He wanted to entertain. He wanted people to feel what he felt when he turned out for Sri Lanka. It was about passion and putting it all on the line for his country.
You don't just go to South Africa to lose another series, you go there to win a Test. You don't just play conventional shots, you invent one. You don't just score a boundary off one of the quickest bowlers in the world; you score six of them in one over, in a World Cup. You don't just score a Test century at Lords, you score 190 with a broken thumb.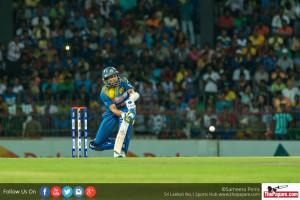 The Dilscoop was a shot of pure madness. You feared for his life when he played it but, hell, you wanted to him to play it every ball.
And when he lashed out at those wide balls, no matter how out of form he was, or how unsuited it was for the match situation, deep down, you still wanted him to. You wanted that thrill, that franticness, that adrenaline rush, and no one delivered it like Dilshan could post Sanath.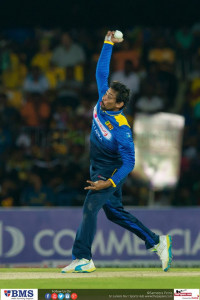 People often said he was not Captaincy material. And when he did captain they used every bad turn he had as proof of their objections. When Dilshan captained he would lash out at his bowlers and fielders if they got it wrong. He had no place for laziness or poor efforts. Dilshan did not compute that. You are playing for your country. If you are not diving to stop every run or bowling where you should be Dilshan had no place for you. He set high standards. He expected you to reach for them. Maybe it wasn't Public Relations friendly but then Dilshan never pretended he would be otherwise. He may have gotten rid of his earrings and turned out in a suit, but nothing could tame Dilshan. Not really.
It has become obvious from his recent post-retirement comments that his time as the captain had left a sour taste in his mouth. He felt like he never got the support he needed. The support that he probably feels was owed to him for all those times he shored up everyone else's needs.
He wanted to be a good leader. But it never happened and he's okay with that. He moved on. And he put all that aside and played under other leaders because he loved the game. He loved Sri Lanka and he still wanted to slash, to Dilscoop and to entertain.
Legacy
A few months ago a supporter was asking him to retire, this time, it was the selectors. He hadn't planned it; he didn't necessarily want to do it. But in a decision-making process that had always seen him put his team above his own needs, the decision was suddenly clear. Maybe he had had enough, enough of doing everything for everyone for so long and not really being respected for it. Or maybe being asked was enough to reflect on his career and where it was heading. Whatever the reason, he woke up the next day and he was done.  It was all over. It was pure Dilshan.
As his final games draw nearer, the inevitable parallels with Sangakkara and Jayawardene are being made. In truth though there are no such links between these three. Dilshan was his own man. He was not from the refined Colombo ilk. He spoke like a couple of tuk-tuk engines had been thrown into a tumble dryer. He was a scrapper, a man who'd ask another player to bowl a no-ball to deny someone a 100. He didn't care about image or perception.
Growing up you don't dream of becoming a behemoth like King Kumar or a silken trader like Jayawardene. You dream about the glory shots, the gravity defying catches, to play cricket it was like a high sea adventure with your mates. That is why people connected with Dilshan in a way the other two could not. It is why the Dambulla ground probably sunk a few inches into the ground under 45,000 fans when it could barely hold half that.
Dilshan was about the fight, the street-smart doggedness and DIY grit that every Sri Lankan possesses as they go through their daily struggles on the Island. He brought with him that manic frenzy and the pulsating beat of Sri Lankan life to the centrefold. Dilshan was Sri Lanka. That is why Sri Lanka will be poorer without him.