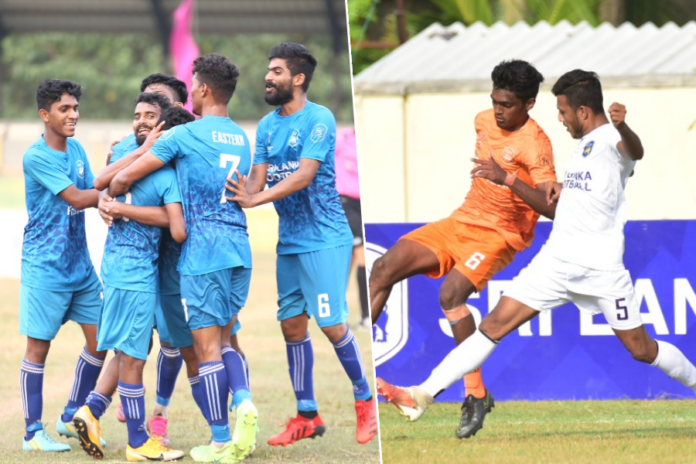 Eastern Province stunned Western Province while Southern Province defeated Uva Province at home in match week 6 of the Ceylon Provincial League 2022, played for the Independence Trophy.
EASTERN v WESTERN
Eastern Province silenced Western Province with a 3-0 win at the Kotawila Sports Complex in Matara.
Eastern dominated for most of the first half, with Hajir Hanan's effort being tipped over by Western's goalkeeper Maduwantha. Mohamed Musthaq and Rifkhan Mohamed either created or missed chances as Eastern were left frustrated.
However, towards the last few minutes of the first half, the Western stars showed life and could have got two goals if not for some dreadful misses, which included one from Mohamed Hasmeer.
RELATED COVERAGE:
Eastern's Mohamed Murshid produced a brilliant save to deny Gayan Rivaldo early in the 2nd half. Eastern scored the first when Rifkhan's free-kick creeped past Maduwantha in the 67th minute. Musthaq made it 2-0 with a delightful lob over the goalkeeper in the 85th minute, while Mohamed Musif added to the Western misery with a goal four minutes later.
SOUTHERN v UVA
Southern defeated Uva 3-1 in their own goalfest at the Volleyball House Stadium in Galle.
Uva goalkeeper Ruwan Arunasiri's own goal in the 10th minute made it 1-0 for Southern, but Uva were back on level terms in the 30th minute with another own goal from K.M.N. Rajapaksha.
Chathura Ponnamperuma gave another own goal for Southern in the 60th minute before Southern's U19 player Keshan Dumidu made it 3-1 for the hosts in the 75th minute.
>> For more Football News Click Here <<