In a world where schools' sport is highly competitive, at 5'5, there stood one man who broke all stereotypes and emerged a champion. Hailing from the school by the sea, a youngster showed great prowess in the sporting disciplines of football, rugby and hockey. This is his story.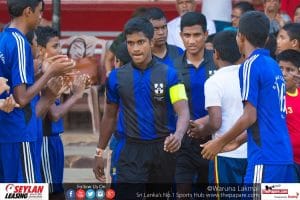 The tale of the 'tiny' but 'mighty' started when he was first picked up by a commentator of ThePapare.com, who described the slightly built man – "He looks like he has been born for about a week. He is a tiny, tiny man. Looks like his mom put him in his rugby jersey straight from his nappies." That was when he first came on to the field sporting a S Thomas' College jersey against Wesley College where the Thomians were trailing. The reason Shanaka Amarasinghe's words will be remembered is because the 'tiny tiny man' shocked the crowd present, turning the game on its head and bringing victory to the Thomians in his very 1st game.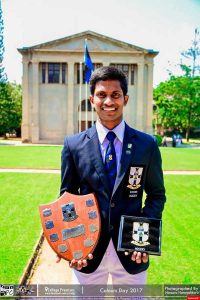 Then Dion Dias became a household name. We at ThePapare were curious to know how he managed to excel in so many sports. Earning colours in both Rugby and Football in back-to-back years and yet, Dias wasn't done. He went on to score the opening goal at the 18th Orville Abeynaike Hockey encounter; and the fresher sealed his third colours award from S. Thomas' College.
Dias was your typical boisterous schoolboy, an ardent football fan, passionate rugby follower and a terror to his mates. Dion perused his first love in sport – Football, at the age of 10 watching his favourite team Arsenal in action with his grandfather.  Watching legends like Theory Henry work their magic saw little Dias trying his feet at the game shortly after.
The oval ball closely followed in his journey as he found himself skipper in friendly encounters against other schools. During this time, he tried the Lankan bread-and-butter sport, Cricket but soon figured keeping up was unrealistic. Dion kept true to his first darling and put a pause on rugby to continue football and was later rewarded handsomely.
Juggling sport with education Dias went down a brave and strenuous path balancing and excelling at all he did – all the while being the family pet.
Dion Dias is the third and last of a trio of brothers who were all about sport. His two older brothers, Dinel and Dilesh were stars on the rugby field back in the day. The eldest, Dilesh, had the honour of playing in the first XV for the Rugby team of S. Thomas' College.  The young Dias knew not much about the game but watched his brother as he commanded the field with grit and the tales that were brought home to his younger siblings galvanized Dion to take up rugby.
"I used to tag along to the beach where the three of us would train together. At the beginning, it didn't matter much because I was really small, but when it hit me what these two guys were actually doing, I wanted to be a part of it. I wanted THAT"
Dion spoke of his parents' support "I'm so grateful to them, for always pushing me and especially never making me choose between studies and sports"
Blessed with a bubbly disposition, Dias was always ready to take on anything that came at him with a smile. "He will go out of his way for everything and rarely says no to anything; which is both his strength and weakness" said Dion's brother Dinel when quizzed on his happy-go-lucky younger sibling.
A sportsman's life on the field can be many things. The adrenaline that pumps within your veins, the sweat that blinds you in the eye and the mere stillness of capturing that moment in your mind for years to come. Dias stated that he tunes out the cheer. "Crowd can be good and bad. If you're playing well they'll cheer you on but If you're having a bad day they will make it a worse day for you"
He recalls vividly the moments he was carried on shoulders and also when he was held while he wept over losses.
The last match of the 2017 season between S. Thomas' and St. Peter's College when Dias missed the kick that would have had S Thomas' retaining the Archibald Perera Trophy for the third consecutive year comes to mind.  Three penalties were successfully sent through the posts, the scores were leveled. It all rested on the last conversion. A silence fell around the grounds with the weight of the moment crashing down on Dias' shoulders.
"I wasted too much time and when I got to the ball, I didn't have time to think. I rushed it and I couldn't make that one kick that really mattered"
A saddened young warrior was left in tears that evening but Warden Rev. Marc Billimoria enveloped the lad in a comforting hug, whispering "It's alright!" Dias recalled "The guilt was lifted. It's definitely a big motivation when the head of your school gives you the appreciation and place. He's really supportive"
With failures come success and the story he will look back on in the later years. That moment came in 2016 when he brought home victory in the Roy-Tho Football big match. The annual Football rivalry had been dominated by Royal College since 2010. S Thomas' were trophy-less for 6 years till Dion Dias took over and made something happen again. "I had a very committed team, they never gave me reason to scold them" said Dias laughing.
Winning something as big as a Royal – Thomian encounter surely lifts the confidence and spirit of any schoolboy. Dias however, was different. "Yeah, it felt good to have that level of respect and recognition; but I don't like it that much. When you win, they are nice to you but if at all you lose, my God!"
Rugby, the sport that made him better known, was a different feeling all together for Dias as the 7's format, with its thrilling pace, intrigued him the most. Playing at the pivotal scrum half position, his distribution was on point for his backline to exploit gaps. "I play mainly for the guy next to me. Not for myself, not for my coach but for the guys out there with me."
No matter the sport, Dias always had the discipline and commitment towards his teammates. "He is very committed. Never seen this much determination in anyone to do 3 sports. Loves the team truly and he makes sure the team is in the best standard" Thilina Dela commented on his peer. Dela was the winning captain of the S. Thomas' Hockey team this year and a close friend of Dion. Dias was a part of a winning combination in Hockey as well as the Thomians brought home the 18th Orville Abeynaike Shield that has been away for a decade.
"I remember scoring the goal and running to my teammates. I can picture that moment exactly how it was, any day in my life" said Dias proudly as Dela added "It was one of the nicest goals I've seen. Imagine a perfect dive in Rugby; it was better than that. That moment, he changed the game for all of us"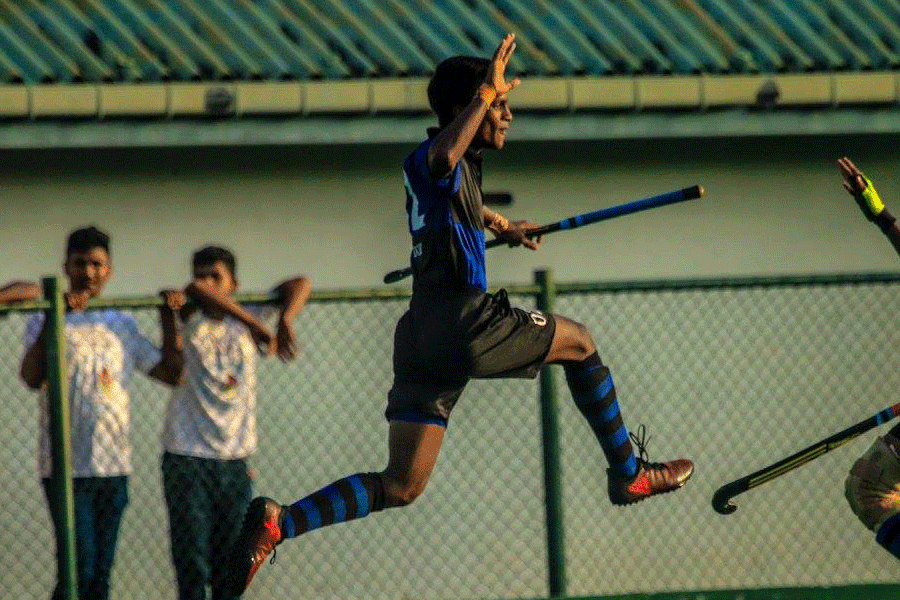 Dion's support structure has been his foundation. His first mentor was the late Shehan Latheef. Dias remembers his legacy and is thankful for the hours he spent giving Dias the confidence to lead the U13 Junior Rugby team. Dias speaking of Latheef's influence, stated how he presented himself and was completely changed by this man.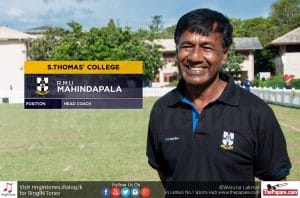 The diminutive hero didn't fail to speak of two other greats in his life. Mr. Mahindapala, former National Football captain and Director of Youth at the FFSL, who was the first man to identify his talent in soccer and the reason Dias played first XI at the young age of 16.
"He has experience having played for Sri Lanka and in other countries as well so I wanted the most out of him. I'd stay back after training and get extra help with whatever I needed. His ways were what made me realize if you want to be great, you have to go that extra mile"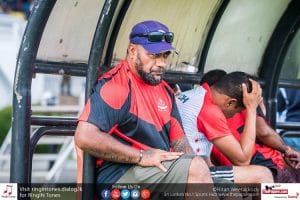 The second pillar was "Sir" Tavita Tulagese or fondly knows as Coach Laga. His vast knowledge on the sport ignited Dias' curiosity. "He brings in the experience from outside the bubble. It's not the same old rugby with him, it's something new every day"
"Inspiration?" it was an easy answer for Dias "God." Phillipines: 4:13 reads "I can do all things through Christ who strengthens me"
"I don't step on the field without writing P4:13 on my strapping. Because if things are going bad on the field, I look down at it and find faith. This is what helps me get back up and fight"
"I've survived through my faith all these years. One day you won't be a sportsman, you will only have the memories of one. And I lived all of it"