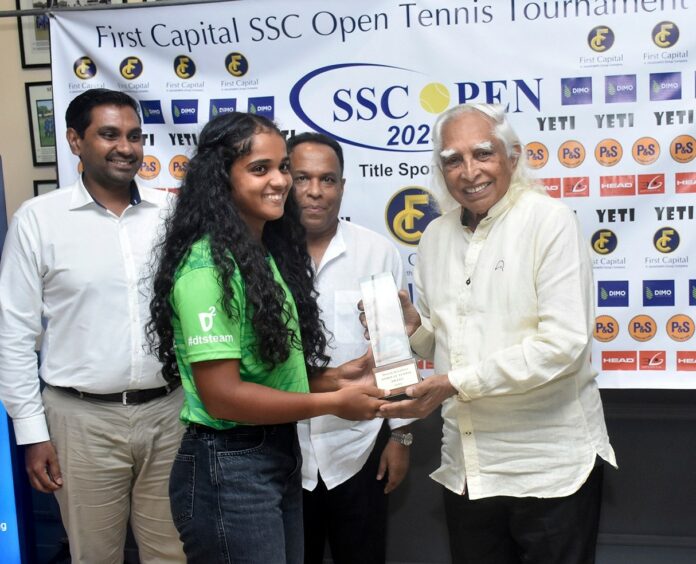 The recently concluded SSC Open Ranking Tennis Championship 2023 paid tribute to a true champion of local sport with the introduction of the Dinesh Schaffter Spirit of Tennis Award. 
The inaugural award was presented to Saajida Razick, the tournament's Women's Singles Champion, for the commitment, passion and sportsmanship displayed throughout the tournament, and it will continue to recognize players demonstrating the true spirit of the game in the years to come.
The award pays homage to Dinesh – a passionate player and avid supporter of the game. While he was always an ardent sportsman from his school going days, his interest in tennis developed much later in life when he would take his children for tennis lessons. He was inspired to take lessons himself and his innate drive pushed him to learn quickly and keep improving himself till he was ready to play competitively.
Remarkably, within 6 months of starting lessons, he not only participated in the SSC Open Tennis Championship but reached the semi-finals in the Over-45 Doubles category – an extraordinary achievement for an amateur tennis player.
This first tournament set the tone for what was to be a series of impressive achievements for Dinesh in the mere two years since learning to play competitive tennis, reaching the semi-finals and finals of several tournaments, and culminating in him becoming the Singles Champion at the Negombo Senior Tennis Tournament.
Dinesh's passion and dedication for the game extended well beyond the court. He facilitated sponsorships and support needed for many local competitions including international ranking tournaments such as the International Wheelchair Tennis Tournaments, Tennis Nationals, Clay Court Championship 2022 and Teen Tennis Tournaments. He devoted his personal time and funds for a majority of these projects and was committed to the overall development of the local sport and players.