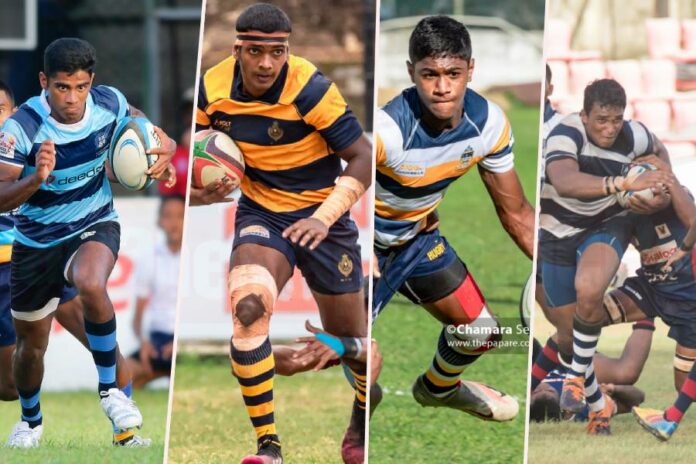 Week two of the Dialog Schools Rugby League 2022 – Division 1 Segment A will begin on Friday (1st of July).

After an exciting week one, this week will determine the front-runners who will look to go ahead of the pack.
Three matches will be played at a single venue (Nittawela) this weekend, while the other three games will be played in three different venues in Colombo.
Wesley College vs Isipathana College
Venue: Sugathadasa Stadium, Colombo
Date: 1st July 2022
Group: 2A
This week's opening fixture between Wesley College and Isipathana College is set to be a cracker of a game. Both the teams registered wins in their opening games so the winner of this crucial battle will have a strong chance of making it into the Super Round.
Isipathana, despite beating Science College 18-09 in their opening fixture will be wary of the threat of the Double Blues led by their half-combination of scrumhalf Rigesh Muralitharan and fly-half Shaveen Jayawardene.
Read : Dialog Schools Rugby League 2022 fixtures & format explained
After a dominating 38-07 win over Vidyartha College, Wesley College have set an early mark to the rest of the teams that they are a tough team to beat.
Up front, the likes of Hafeez Thabeeth, Miraj Miskin and Shem Elisha will have a massive presence for the home team Wesley, as they try to give the advantage in the set plays. For the visitors, Isipathana, a lot will depend on their dynamic Skipper, Number Eight Dahan Nithina, hooker Venura Sangeeth and full-back Malith Mihisara, who scored a try apiece during the Science test.
St. Anthony's College vs Trinity College
Venue: Nittawela Rugby Stadium, Kandy
Date: 1st July 2022
Group: 1A
The first game of Week 2 in the upcountry between the arch-rivals St. Anthony's College vs Trinity College should be another exciting game. The visitors, Trinity will need to notch up
another win to stake a claim for a spot in the Super Round, while the hosts, the Anthonians, need a surprise win to upset the dynamics in the 1A group.
Having regained the Canon R. S. De Saram Shield last week, beating S. Thomas' 20-13, the Trinitians will once again look for their fast-running backs such as fly-half Attab Manzil, Skipper Lithmal Moragoda and full-back Kovida Wickramasinghe to deliver.
St. Anthony's had a tough game against Royal in their own backyard in Colombo. They lost 22-12, but their Skipper, number eight Jeyan Amarasinghe, along with Omitha Dissanayake and Sahan Keerthisiri, showed the Rugby fraternity that they're no pushovers.
Royal College vs Kingswood College
Venue: Royal Sports Complex, Colombo
Date: 2nd July 2022
Group: 1A
The defending champions Royal registered a crucial 22-12 win over St. Anthony's in their campaign opener. The charismatic 'Royal' rolling maul was on display last week with which they scored twice.
The rolling maul will surely be in the plans for the hosts as they play one of their oldest rivals, Kingswood in their backyard. Playing at home for the second consecutive week will give the edge once again for the reigning champions, led by full back Harshith Peiris.
The Royalists have a strong number eight in Navin Perera, who loves to go over the whitewash often. Also watch out for the half-back Kaveen Sasanga and winger Hasnaka Higgoda, who can tear apart any defence at will.
Kingswood College had a disappointing first game against St. Joseph's as they failed to score a single try. The Kingswood forwards such as Tharindu Ishara, Mohomad Naveed and Inoon Inshan will need to put up a gigantic effort along with their backs led Captain Gihan Ranaweera and full back Imanka Ishara.
St. Joseph's College vs S. Thomas' College
Venue: Havelock Grounds, Colombo
Date: 2nd June 2022
Group: 1A
The traditional encounter played for the Lady Jayathilake Shield always produces some exciting Rugby. The Josephians started off their season with a bang, beating Kingswood in a six-try effort at the same venue last week, whilst the Thomians had a tough trip to Pallekelle, losing out the
Canon R. S. De Saram shield which they won only a few months ago. Losing out another trophy this week will definitely demoralize the Thomians, but they have fond memories of playing Joes at Havelock Park. Before COVID-19 hit the globe, the school by the sea defeated the Blue and White boys from Darley Road.
St. Joseph's College Captain Teran Karunanayake will be a constant ball carrier in the midfield, whilst number eight Naveen Marasinghe goes over the advantage line constantly. Fly-half Subash Dilhara, nippy scrum-half Vihanga Randeepa and flanker Sachinthana Vidyana are terrific assets for the boys from Darley Road.
For the Thomians, they will need their Captain Chariya Kurukulasuriya, fly-half Yehan Bulathsinghala and winger Akira Perera to step up and lead a young side in order to beat their counterparts in what would be a terrific match-up.
Dharmaraja College vs Science College
Venue: Nittawela Rugby Stadium, Kandy
Date: 2nd July 2022
Group: 2A
Both teams are coming off defeats in their season opener. Therefore, the winner of this game will still be in contention for a place in the Super Round, whilst the losing team will technically have no chance of making it into the Super Round.
Science College will need to string up some phases together to establish some control of the game, whilst Dharmaraja will take some confidence from the fact they held the strong Peterites 12-all in the first half. If they use the home advantage and play their 'A' game, the Rajans will have the result go their way.
The visitors, Science, failed to score a single try against Isipathana last week, so they will need to bring their attacking game up in Kandy this week. Fly-half Nadun Kaveesha will have to control the traffic and put strong runners like Manik Sing and Sasith Dewagan in space.
The hosts, Dharmaraja, showed glimpses of what they're capable of doing last so it is imperative that they hold onto possession and put up a complete performance. Watch out for the likes of winger Vimukthi Bandara, co-Captains Thenuka Wickramasinghe and Sawmya Wijesiri to fire in friendly conditions.
Vidyartha College vs St. Peter's College
Venue: Nittawela Rugby Stadium, Kandy
Date: 3rd July 2022
Group: 2A
The Peterites somewhat lived up to their expectations of being the pre-tournament favourites by registering a five-try win over the Rajans in Bambalapitiya. The win came in the back of a strong second-half performance by the Peterites after they were held 12-12 in the first half by the Rajans.
Playing in Kandy will not be easy for the Peterites, but given the performance by the Vidyartha lads last week, the visitors will start as the favourites. Winger Dineth Ranasinghe, Skipper/center Sudesh Jayawickrama and first five-eighth Windya De Mel should be key backs for the lads from Bambalapitiya, while the performances of Ashane Madugaspe, Hirun Gunaratne and Chanupa Cooray in the engine room will be vital.
Vidyartha lacked penetration in attack and discipline in defense against Wesley last week, even though they managed to score a try when the bench of Wesley came on. In their home conditions, Vidyartha should pose a significant threat with the likes of Arosh Rathnayake, Nanjana Nirman, Sachira Kodituwakku and Deshan Balasooriya, to name a few players to watch out.