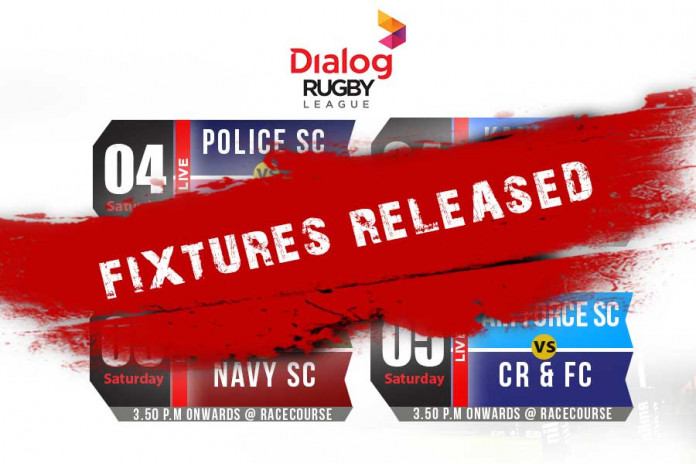 The first round fixtures of the 2017/18 Dialog Rugby League has been released by the Sri Lanka Rugby Football Union.
The fixtures have been released according to placing from last season and Kandy will begin their title defence against last season's last placed CH & FC at the Maitland Place in Colombo on Saturday, November 4th.
The fixture will be the launch of the 2017/18 season. Soon after, runners up from last season, Havelocks SC will be taking on Police SC at home under lights.
Navy SC take on fellow force, Army SC at Welisara while CR & FC travel to Rathmalana to take on Air Force to conclude week one of the Dialog Rugby League.
2016/17 Table:
| | |
| --- | --- |
| Position | Team |
| 1 | Kandy SC |
| 2 | Havelock SC |
| 3 | Navy SC |
| 4 | CR & FC |
| 5 | Air Force SC |
| 6 | Army SC |
| 7 | Police SC |
| 8 | CH & FC |
2017/18 Fixture:
Dialog Rugby League – 2017/2018
First Round 
Week
Date
Home Team
vs
Visiting Team
Venue
Time
Week – 1
5-Nov
Air Force SC
vs
C R & F C
Ratmalana
4.00 pm
4-Nov
Havelock SC
vs
Police SC
Havelock Park
6.30 pm
4-Nov
CH & FC
vs
Kandy SC
CH & FC Grounds
4.00 pm
5-Nov
Navy SC
vs
Army SC
Welisara
4.00 pm
Week – 2
10-Nov
Army SC
vs
CH & FC
Army Grounds
4.00 pm
10-Nov
Havelock SC
vs
Air Force SC
Havelock Park
6.30 pm
11-Nov
Police SC
vs
Kandy SC
Police Park
4.00 pm
12-Nov
C R & F C
vs
Navy SC
Longdon Place
4.00 pm
Week-3
19-Nov
Kandy SC
vs
Army SC
Nittawala
4.00 pm
18-Nov
Navy SC
vs
Havelock SC
Welisara
4.00 pm
17-Nov
CH & FC
vs
CR & FC
CH & FC Grounds
4.00 pm
19-Nov
Air Force SC
vs
Police SC
Ratmalana
4.00 pm
Week-4
24-Nov
CH & FC
vs
Havelock SC
CH & FC Grounds
4.00 pm
25-Nov
C R & F C
vs
Army SC
Longdon Place
4.00 pm
26-Nov
Kandy SC
vs
Air Force SC
Nittawala
4.00 pm
26-Nov
Navy SC
vs
Police SC
Welisara
4.00 pm
Week-5
1-Dec
Police SC
vs
CH & FC
Police Park
4.00 pm
1-Dec
Navy SC
vs
Air Force SC
Welisara
4.00 pm
2-Dec
C R & F C
vs
Kandy SC
Longdon Place
4.00 pm
2-Dec
Army SC
vs
Havelock SC
Army Grounds
4.00 pm
Week-6
9-Dec
Air Force SC
vs
CH & FC
Ratmalana
4.00 pm
10-Dec
Army SC
vs
Police SC
Army Grounds
4.00 pm
10-Dec
Kandy SC
vs
Navy SC
Nittawala
4.00 pm
9-Dec
C R & F C
vs
Havelock SC
Longdon Place
4.00 pm
Week-7
15-Dec
Police SC
vs
C R & F C
Police Park
4.00 pm
16-Dec
CH & FC
vs
Navy SC
CH & FC Grounds
4.00 pm
17-Dec
Army SC
vs
Air Force SC
Army Grounds
4.00 pm
16-Nov
Havelock SC
vs
Kandy SC
Havelock Park
6.30 pm