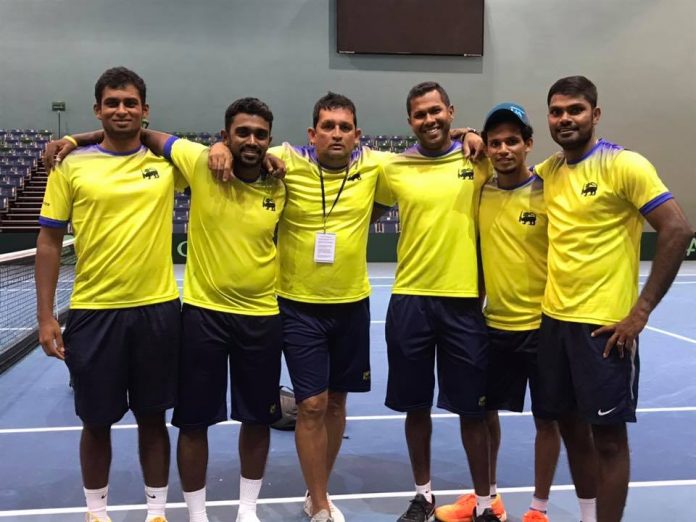 After a scintillating week of tennis, the senior Men's Tennis team of Sri Lanka have finished in a respectful 3rd place at the Asia/Oceania Davis Cup Zone Group III play-offs 2019. 
Sri Lanka has had a positive week at this year's Davis Cup campaign, all except the opening day of the Group Stages where they lost to Vietnam in a whitewash. However, the Lions picked themselves up from there and snatched 3 wins in the tournament.
For 2019, the Davis Cup Committee has approved two (2) nations may be relegated. However, participating nationals were informed that the current format does not guarantee a place in a higher or lower group until the Qualifiers are completed each year. The number of nations from the Asia/Oceania region losing in the Qualifiers will affect which nations qualify for each of the Asia/Oceania groups.
The currently approved format allows each nation the opportunity to earn the same number of Nations Ranking Points. A higher ranking will increase a nation's chances of qualifying for a higher group the following year.
With this, Sri Lanka won all but one tie in their group stages; Sri Lanka beat Kuwait and Singapore while they suffered their only loss at the hands of Vietnam. Placing 2nd in their group, Sri Lanka moved on to the top 4 teams play-offs.
>>Sri Lanka is back in the game in Singapore<<
Against Qatar, who qualified to the top group with Syria, Sri Lanka clinched a well-deserved win by a slim margin.
Debutant to the Davis Cup team Savit Weerasinghe took his first go at a Singles encounter against Qatar's Mousa Shanan Zayed. The more experienced Zayed didn't make Weerasinghe's stay on court a very pleasant one as he comfortably took the first rubber in straight sets, 6/4, 6/2.
Next up was Lanka's hero, Harshana Godamanna. Godamanna was up against Mubarak Shannan Zayid from the opposition. After winning the first set 6 games to 1 Godamanna looked to be in full control.
However, Zayid bounced back to level the match with a 6/2 second set win. The third was a close battle but Godamanna eventually pulled away with grace and a 2-game lead to take the set 7/5.
With a win each, both nations were hungry for the decider. Sri Lanka's most experienced campaigners, Dineshkanthan Thangarajah and Godamanna stepped onto the court and played a cracker of a match to finish the day strong. (3/6, 6/3, 6/4)
In yet another three setter, the Lions claimed Game, Set and Match against the Qatar bench. 
Despite the fantastic wins, Sri Lanka will settle in at 3rd behind Vietnam and Syria in the overall standings out of the 8 nations that competed.
>>Click here for more Tennis<<