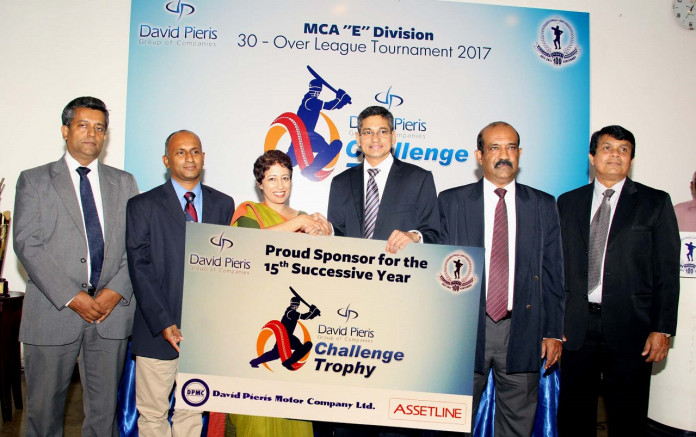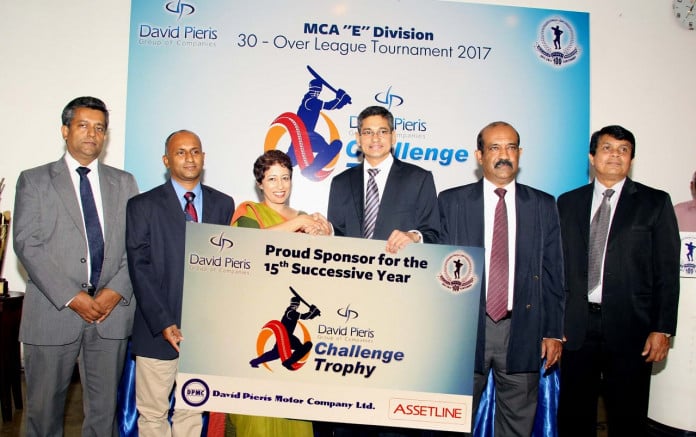 David Pieris Group of Companies will power the MCA "E" division 30-Over League Tournament 2017 for the 15th successive year.
This is the 2nd longest running partnership in the history of MCA, only next to the MCA Premier League.
The following 36 teams, pooled into 06 groups will vie for the glittering "DPGC"  Challenge Trophy offered by the sponsor.
Group "A"  : Regnis Lanka PLC,   HNB Grameen,   Emerchemie Ceylon,   AIA Insurance,   Amana Bank  &   Mercantile Investments.
Group "B" : Hilton Colombo,   Mast Far East,   MAS Silueta "B",   Virtusa Polaris (Pvt) Ltd,   Unilever Sri Lanka &   HSBC "A"
Group "C"  : Softlogic Finance,   Eagle Logistics,   Assetline Leasing,    MAS Active Trading "B",   DFCC Bank &   C.W. Mackie PLC.
Group "D"  : Vallibel Finance PLC,   Asia Asset Finance PLC,   UB  Finance, Astron Limited,   Dialog Axiata "A" &   Bimputh Finance.
Group "E"   : Commercial Bank "B",   Ceylon Tobacco Co.,   Amana Takaful Insurance,   Ansell Lanka (Pvt.) Ltd,   LOLC &   Nawaloka Group.
Group "F" : Trelleborg Lanka,   Finlays Ceylon,   John Keells  "C",    Noyon Lanka,   Brandix Essentials &   Pizza  Hut
The tournament will be conducted in 02 stages – "League" and "Knock-out", consisting of 105 half day matches including the Final.
The League Stage, consisting 90 matches, will be held from the 29th of January to 05th of March 2017.
The Knock-out stage will be staged with the top 16 teams from the 06 groups. The Pre Quarter finals will be on 11th March, the quarter finals on 18th & 19th March, the semi –finals on 26th March and the Final on 01st of April at the MCA Grounds.
The MCA Tournament Committee has upgraded the tournament by introducing the D&L method also made another important decision to appoint a Match Referee for the entire span of the tournament; earlier, Match Referees were appointed only from the Quarter Finals onwards.
Special Awards : The  04 special awards on offer are for the best batsman, best bowler, man of the final & man of the series.  
The sponsorship handing over ceremony, together with the Media Conference was held on Wednesday, 25th January 2017 at the MCA Lounge, 6.30 pm.  
At the ceremony, the Sponsor was represented by Ms. Romany Parakrama, Director, Group Human Resources & Communications, David Pieris Group of Companies;  Ajantha Premasiri, General Manager Operations,  Assetline Leasing Co. Ltd., & Nihal Silva, Deputy General Manager, Sales & Marketing, David Pieris Motor Co. Ltd.
The MCA was represented by Niran Mahawatte, President, Nalin Wickremasinghe, General Secretary & Sujeewa de Silva, Chairman, Tournament Committee.