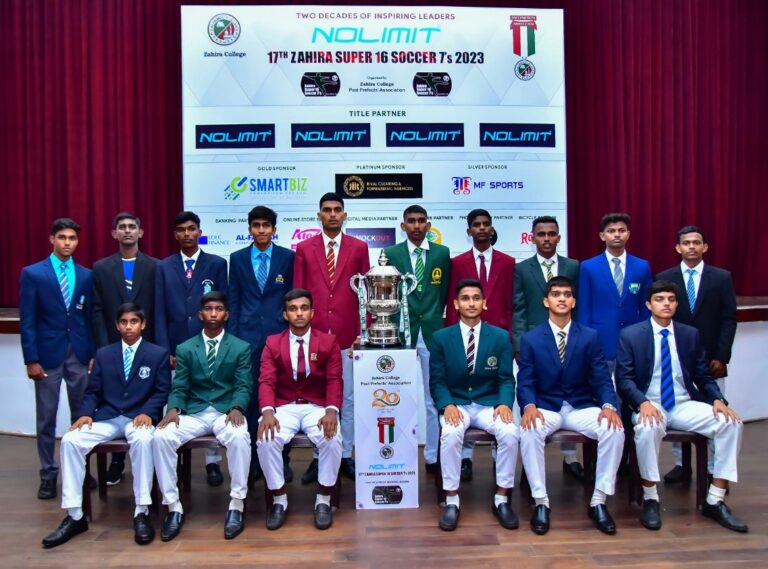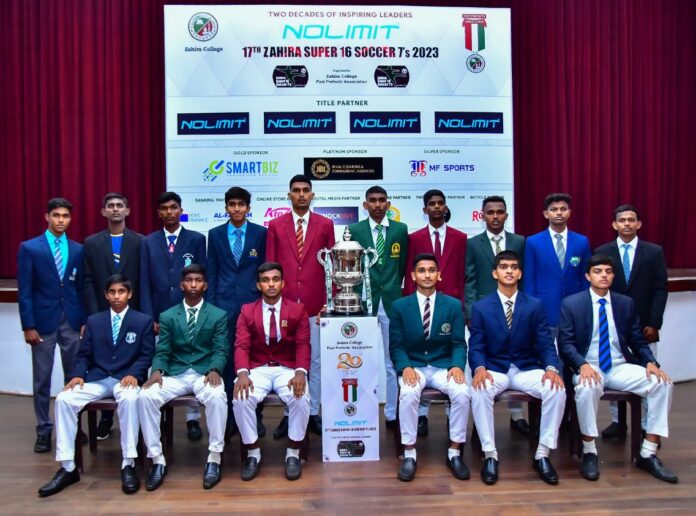 The Past Prefects' Association of Zahira College, Colombo will be organizing the NOLIMIT 17th Zahira Super 16 Soccer 7s Championship for the 17th consecutive time this year, which will be held throughout the entire day at Racecourse International Stadium on the 9th of September 2023.
16 Leading Football-playing schools from the country will be a part of this prestigious tournament for the 17th time, where the youngsters will get opportunities to showcase their talents, skills and abilities in Football on a larger scale.
The upcoming tournament will spotlight a high-energy 7-a-side Football format, creating an extra thrilling experience that is set to mesmerize both fans and enthusiasts. This condensed setup not only boosts the excitement, but also has the potential to attract a larger crowd to the event. The appeal of this format is in its ability to offer an exciting and gripping experience, making it a major attraction for spectators.
A key highlight of this tournament is its venue, which is the same prestigious location where international Football matches take place. This offers the country's young talents a unique chance to immerse themselves in the atmosphere of these renowned grounds and showcase their skills in front of a massive audience.
Given the current state of Sri Lankan Football, the aim is to garner recognition from global Football organizations, marking a crucial step forward.
Furthermore, the organizing committee takes great pleasure in announcing that NOLIMIT will be the title sponsor for this tournament.
Title Sponsor: NOLIMIT
Platinum Sponsor: Rival Clearing
Gold Sponsor: Smart Biz Consortium (Pvt) Ltd
Silver Sponsor: MF Sports
Official Banking & Finance Partner: Al-Falaah, Alternate Financial Service of LOLC Finance PLC
Official Online Store Partner: lk
Official Digital Media Partner: Knockout
Official Photography Partner: Hashtag
Official Bicycle Partner: Ronson Bicycle
Health Care Partner: Nawaloka Hospitals
Junior Super 8 Partner: Trainocate
Event Partners
A Brand Wooden Flooring (Pvt) Ltd
A&A Auto Accessories
BMS Manpower
EFL
Facescrub
FONO Technologies
Leeban Interiors
Royal Biryani & BBQ
Sports World
Winto
All 16 school teams participating are listed below.
| | | | |
| --- | --- | --- | --- |
| 01 | Al – Hikma College, Colombo | 09 | Lyceum International School, Nugegoda |
| 02 | Alethea International School, Colombo | 10 | Maris Stella College, Negombo |
| 03 | Darussalaam College, Colombo | 11 | Royal College, Colombo |
| 04 | De Mazenod College, Kandana | 12 | S. Thomas' College, Colombo |
| 05 | Gateway College, Colombo | 13 | St. Benedict's College, Colombo |
| 06 | Gampola Zahira College, Gampola | 14 | St. Joseph's College, Colombo |
| 07 | Isipathana College, Colombo | 15 | T.B. Jayah Zahira College, Colombo |
| 08 | Jaffna Central College, Jaffna | 16 | Zahira College, Colombo |
>> Click Here For more Football News <<