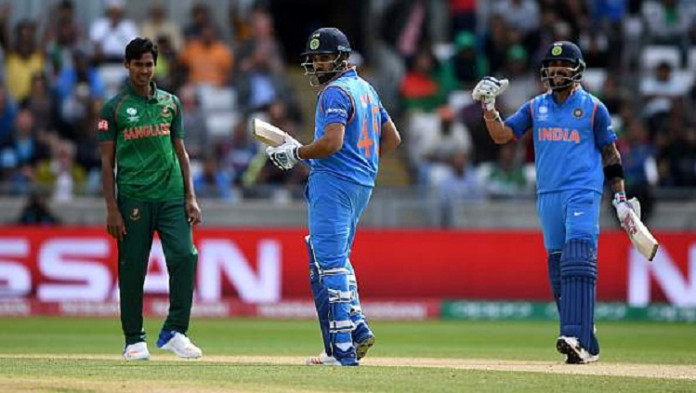 Perhaps the drive to consciously re-couple with Pakistan proved bullish, even overpowering, as India brushed aside Bangladesh by nine wickets to book a Sunday date with its other, more fancied neighbour, at The Oval for the Champions Trophy finale. Rohit Sharma drove the chase with his 11th One-Day International hundred, and ushered India to a victory that was never in doubt, more so after the first innings that cried for a contest.
The match was a contest between the batsmen and the bowlers indeed, both unfortunately India's, as Rohit  (123*) and Shikhar Dhawan (46), and then Virat Kohli (96*) later, set about to lay bare the inadequacy of the 265-run target set by Bangladesh in the all-important semifinal. A run-rate of 6.59 didn't just mean a landslide victory for India with 9.5 overs to spare; it meant that India's batsmen won the makeshift, more entertaining contest, out-timing its own set of bowlers, who had rushed through their 50 overs in only 3 hours and 10 minutes to stand out in this age of slow over-rates.
After India sent Bangladesh in to bat under murky skies on a fresh Edgbaston pitch, Kedar Jadhav was perhaps the all-rounder India wanted Hardik Pandya to be. Brought on to bowl after Tamim Iqbal had battered Ravichandran Ashwin out of the attack with three consecutive boundaries – a square drive, an inside-out loft and a leg glance – Jadhav managed to skid one through Tamim's slog-sweep – a shot led on by as many as six overs without a boundary. Thus ended an admonitory 123-run stand between Tamim and Mushfiqur Rahim, that, in hindsight, handed India the initiative in its hour of cushion-witted desperation.
Pandya's first over, it could be said, stirred the big partnership for the third wicket into motion. Been brought in to replace a superlative Bhuvneshwar Kumar, who had scalped Soumya Sarkar and Sabbir Rahman in his incisive first spell (6-0-30-2), Pandya's over was a box-office theater in more ways than one, much to the India's chagrin. If the first no-ball was accountable to Kohli having just four men inside the ring in the second powerplay, the second wasn't. It was Pandya overstepping, and then bowling a wide to stretch the free-hit to two deliveries, the second of which was a low full toss pumped down the ground by Tamim. India were left pondering about their fifth bowler, until Jadhav popped his neck out, volunteering to be India's off-spinner too. And he did so on a day when Ashwin registered figures of 0 for 54, and dropped Mahmudullah's catch off Pandya at third man too, transmogrifying the day from average to bad for two people at a time.
[rev_slider ct17-dsccricket]
Jadhav's wicket of Tamim meant that Bangladesh needed to calibrate, with a good 154-run platform in the 28th over pleading for a possible sane-turned-insane final flourish. But just one boundary in the six overs that followed Tamim's departure injected panic, and conspired the wicket of Shakib Al Hasan.
Mushfiqur Rahim – and a well set Mushfiqur Rahim, batting on 61 – then fell five balls later, giving Jadhav his second wicket of the day, and self-punching holes into his side's mid-innings promise. And as if Bangladesh weren't rattled enough, Bumrah's death bowling – a mysterious assortment of slow back of length balls and fast-pitched yorkers – consumed Mosaddek Hossain and Mahmudullah in his back-to-back overs.
Mortaza's make-up runs towards the end was more intent-driven luck, but runs they were.
A top-edge off Bhuvneshwar, an inside-edged yorker that missed leg-stump by a cat's whisker, and a slow Yuvraj Singh at mid-off all resulted in charmed boundaries that Bangladesh gravely needed, but ones that failed to stop the juggernaut that India have evolved into.
There's not much to write about India's chase, for it was predictable, even featureless, if you can afford to discount Shikhar Dhawan's journey to becoming India's most successful batsman at the Champions Trophy, and then the gargantuan 178-run stand between Kohli and Rohit Sharma for the second wicket, that rushed India home in a canter.
Bangladesh captain, Mashrafe Mortaza, kicked off the second innings by bowling eight overs on the trot, trying his best to manufacture an antidote that sadly wasn't for India's atypical early aggression (63/0 in the first 10 overs), but instead for the absolute hara-kiri of lines and lengths at the other end. If Mustafizur Rahman started off by sustaining his poor returns in the tournament, conceding 21 runs off his first two overs, Taskin Ahmed replaced him to utterly unmask Bangladesh's lack of bowling wits, giving away exactly 21 runs in the two he bowled.
Dhawan fell four runs short of his half-century to hand Bangladesh the only wicket, and aptly fell to Mortaza in a reward for his unfailing perseverance. Kohli's presence at the crease was unthreatened, even by the slip Rubel had for him in an attempted encore of the World Cup semifinal in 2015. India's captain flourished, Rohit flourished with him, and India's batsmen stole the thunder, and the Man of the Match award, in what was a win subtly set by the bowlers, and Kedar Jadhav, in the first innings.
Brief Scores

Bangladesh 264/7 in 50 overs (Tamim Iqbal 70, Mushfiqur Rahim 61; Kedar Jadhav 2-22, Jasprit Bumrah 2-39) lost to

India 265/1 in 40.1 overs (Rohit Sharma 129*, Virat Kohli 96*; Mashrafe Mortaza 1-29) by 9 wickets