2019 ICC Cricket World Cup will be remembered for Rohit Sharma's centuries, Mitchell Starc's pinpoint yorkers and Shakib Al Hasan's all-around excellence, but there were times cricket didn't take the center stage, getting overshadowed by matters off the field. 
Planes with political massages
Ugly scenes were reported at Headingly as geopolitics surfaced in World Cup when a plane which was flown over the ground, carried a political massage ("India stop genocide & free Kashmir") during the penultimate group stage match between Sri Lanka and India.
A similar type of incident happened during the match between Afghanistan and Pakistan too. ICC has already issued a media statement apologizing for the event occurring during the tournament.
What should have happened:  All of these problems wouldn't have occurred if the banner carried a more opportune message such as, "Rohit, leave Sri Lanka alone for god's sake, they've had enough!"
India losing to knock Pakistan out
India were struggling after Hardik Pandya got out in their game against England, still needing 71 runs from 5 overs with 5 wickets in hand, but more importantly the best finisher the game has ever seen, MS Dhoni was batting for India. A win for India meant that Pakistan's semifinal chances would strengthen so all of Pakistan were cheering and hoping for Dhoni's helicopters which never came. 
An uncharacteristic Dhoni at the death couldn't connect as he would have liked, and India lost by 31 runs. Naturally, the fingers were pointed at India by even Indians, saying that they dented the 'spirit of the cricket' by losing deliberately.
What should have happened: MS Dhoni should have said after the press conference, "we lost intentionally because we can, and we'll still top the points table! *fire emoji**wink emoji*"
Step motherly treatment for poor old Sri Lanka
The Sri Lanka Cricket team manager Ashantha de Mel formally complained to ICC about the facilities the team had been provided with during the World Cup in England. His main gripe was with the green pitches that were provided where the New Zealand opening pair raced to a chase of 137 in 16.1 overs against Sri Lanka.
On the left, the pitch in Cardiff for Sri Lanka versus New Zealand.
On the right, the pitch at The Oval for England versus South Africa#CWC19 pic.twitter.com/SJOY9ukhYQ

— Saj Sadiq (@Saj_PakPassion) June 1, 2019
He also mentioned the supposedly sub-standard team busses, practice nets and swimming pools Sri Lanka were given compared to what other teams got. Unfortunately, the complaints became a joke in the eyes of many, because of Sri Lanka's performances early in the tournament.
What should have happened: Sri Lanka should have waited until they won against England to make a complaint or played all of their matches at Headingly with Angelo Mathews opening the innings.
Dhoni #KeepTheGloves
This hashtag has took social media by storm after MS Dhoni was asked by ICC to remove the military insignia on his keeping gloves. Dhoni is an honorary lieutenant colonel of India's territorial army special forces; just the second Indian cricketer to receive this honor after Kapil Dev- and was sporting their 'Balidan' badge (a dagger logo) on his gloves.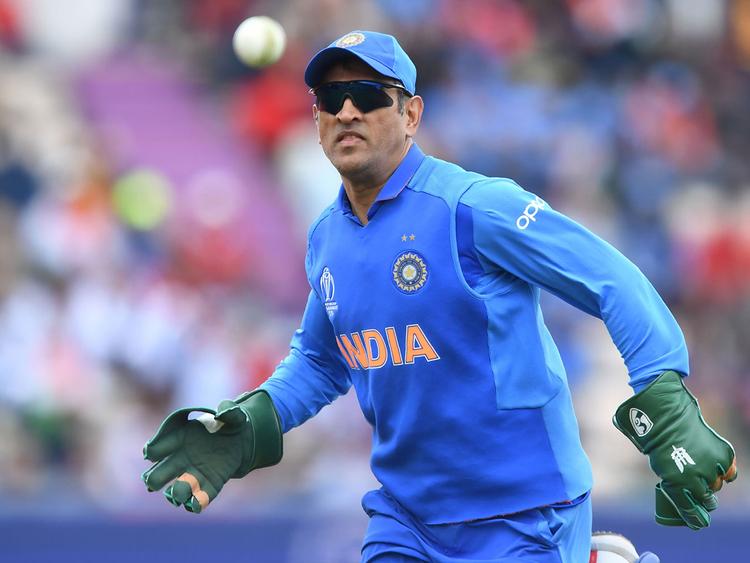 The regulations for ICC events do not permit any individual message or logo to be displayed on any items of clothing or equipment. In addition to this, the logo also breaches the regulations in relation to what is permitted on wicketkeeper gloves.
Despite the pressure from Indian public and media to keep his gloves, Dhoni did the most heroic thing he may have done all tournament by ditching the dagger to forever be hailed as a war hero.
What should have happened: Without protesting on the matter, ICC could have jinxed Dhoni's gloves so that he missed a decisive stumping chance in the World Cup final and waited for the Indian public to take care of the rest.
Chaos at AFGvPAK
The match was nearly in the bag for Afghanistan when they had Pakistan on 206/7 needing 21 runs from 3.2 overs at Leeds. Imad Wasim who was failing to read Rashid Khan's googlies, eventually took Pakistan home after Afghan skipper Gulbadin Naib messed up. Chaos!
Then a few supporters from both countries started brawls and a few invaded the pitch and tried to attack the players and officials. Reasons are unknown for the cause of these fights but there is a theory that Afghan fans might have wrongly assumed other spectators in the stands as Gulbadins or Imads after the match. Chaos!
What should have happened: Well, everyone knew what should have happened, unfortunately Gulbadin didn't.
A streaker on the pitch
Jonny Bairstow's second consecutive century, an opening partnership worth 123 and confirmation of a semifinal berth after 1992 for England; but the loudest cheer for the day in Chester-Le-Street during the match between England and New Zealand was heard when a streaker ran wild in the ground showcasing his acrobatic skills.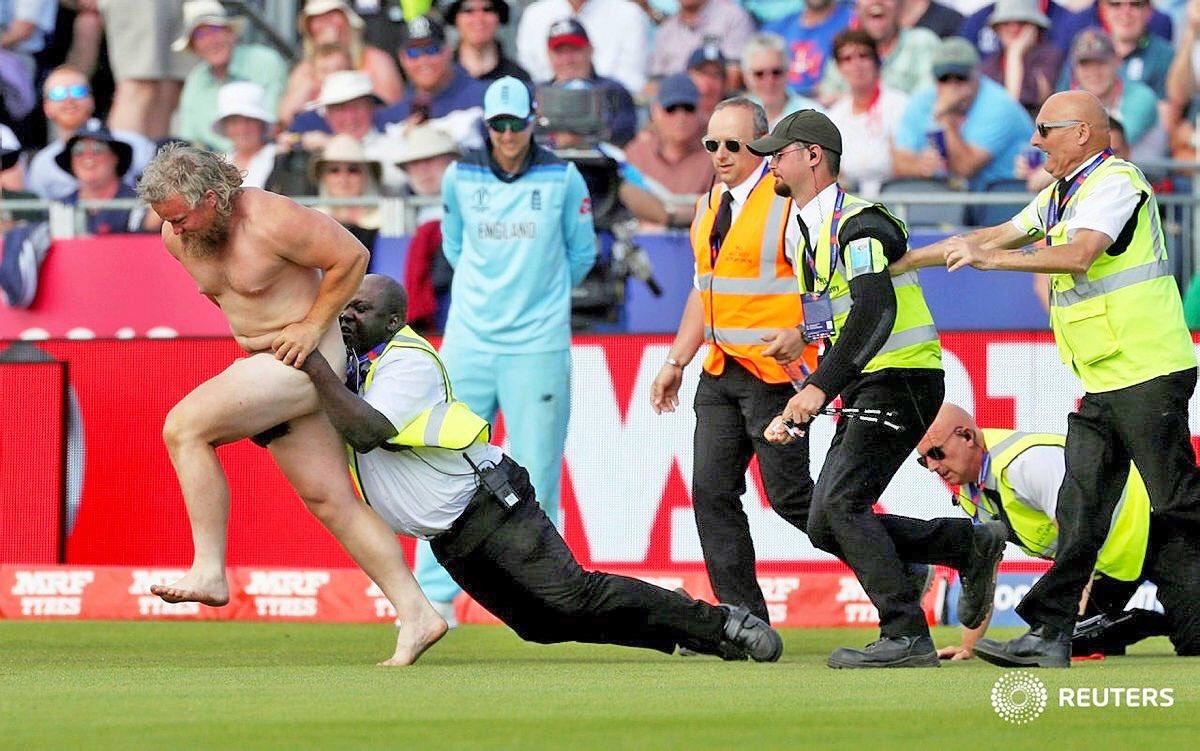 The dude must have gotten bored while watching New Zealand's own strangulation through runouts in a chase of 306, so he took the responsibility of providing the crowd with a "competitive contest" and dodged 5 guards with his impressive Messi-like footwork, cartwheeled right on the pitch butt-naked, posed for the photographers like Mohammad Shehzad did, and finally surrendered.
What should have happened: When a team is in crisis on 5 for 50 or in need of a runout or a streaker on the pitch, you should always call Andrew Symonds. Symonds is a pro and would have shoulder-charged the streaker to the ground even before he stepped onto the pitch.
AB almost does a 360*
It was revealed just after South Africa's umpteenth loss in the World Cup that AB de Villiers had made an offer to come out of retirement just before the World Cup and the South Africa team management rejected the offer.
All that's important is that we should all focus on supporting the team at the World Cup. There is a long way to go and I believe the boys can still go all the way #ProteaFire

— AB de Villiers (@ABdeVilliers17) June 6, 2019
First, South Africa fans showed their protest about that extraordinary decision (I mean who could leave out ABD) but later in the tournament, they realized that South Africa team didn't need AB to drop out of the tournament, as usual.
What should have happened: Everything happened as it should have, except for one thing. Next time when the SA team leaves for a World Cup, someone needs to convince them that they are participating in a charity tournament. They will do just fine!
NRR Vs Head-to-Head
Pakistan needed to win their last group match by over 300 runs versus Bangladesh if they were to overtake New Zealand in the points table to qualify for the semifinals and thus began the argument over Net Run Rate versus Head-to-Head.
This debate often takes place in the latter part of a multi-team tournament, because at least one good team will fail to make the playoffs due to net run rate. 
What should have happened: Pakistan should have been more consistent and not 'Pakistan' their way through the World Cup to semifinals because life is just not that kind.