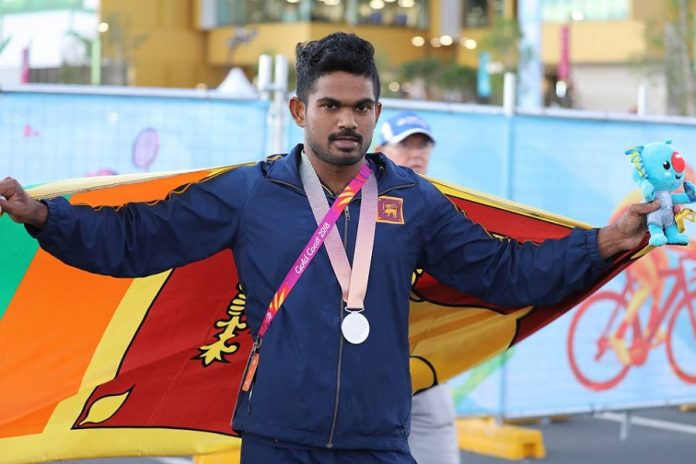 Weightlifter Indika Dissanayake claimed Sri Lanka's third medal at the 21st Commonwealth Games a short while ago today (6th) in Gold Coast Australia, winning Silver in the Men's 69Kg weight category.
Weightlifter Dinusha Hansani Gomas won Bronze in the Women's..
Indika cleared a total of 297kg to clinch the island's first Silver at the 21st edition of the Commonwealth Games. In the Snatch, he managed to top the list with a commanding lift of 137Kg and looked at ease lifting 160kg in his first attempt of the 'Clean & Jerk'. Eventual Gold medalist, Welshman Gareth Evans having lifted 136kg in the snatch, cleared 160Kg in his first attempt in the 'Clean and Jerk' but went 3 kilos better in his second attempt taking his total to 299Kg. Indika had to make sure he lifted 163Kg to claim Gold but failed in both his attempts to achieve the mark. Indian Deepak Lather won Bronze, clearing a total weight of 295Kg.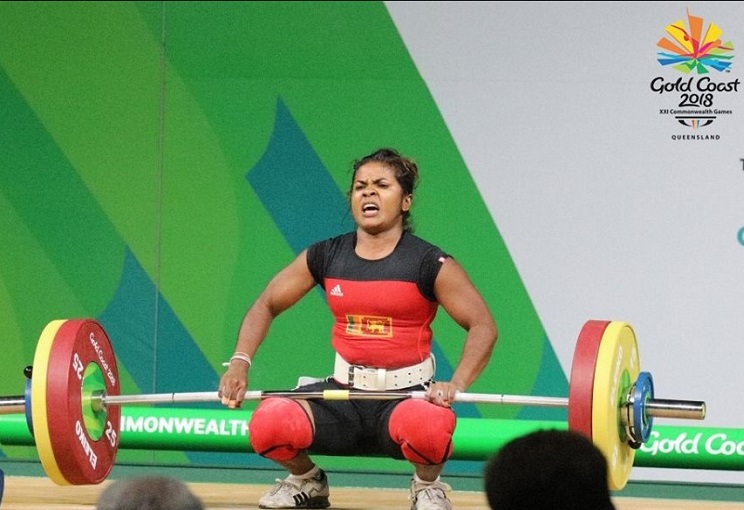 Earlier in the day, weightlifter Chamari Warnakulasuriya competed in the women's 53Kg category and was placed 4th clearing a total weight of 172Kg. Chamari Snatched 78Kg and lifted 94Kg in the 'Clean and Jerk' which is her personal best and also a new national record in the event but it was not enough to carry her to the podium. Indian Sanjita Chanu won the Gold medal with a total of 192kg while Papua New Guinean Loka Toua and Canadian Rachel Bazinet won the Silver and Bronze medals respectively.
Nadeeshani Rajapaksha who took part in the Women's 58Kg weight category in the evening did not have a great outing finishing 10th out of 15 competitors who participated in the competition, Her second Snatch of 69Kg was her best in the snatch while clearing 90Kg in the 'Clean and Jerk' accumulating a total of 160Kg. Home favorite, Australian Tia Clxair Toomey won the Gold medal to the delight of the packed arena while Canadian Tali Darsigny had to be satisfied with Silver falling just a solitary Kilo short of the Gold medal mark. Jenly Wini of Solomon Islands took home Bronze with an accumulated total of 189Kg.
Click the below link to be updated on the progress of the Sri Lankan Commonwealth contingent. www.thepapare.com/athletics/#cwg2018
The third Sri Lankan weightlifter to compete today (5th)