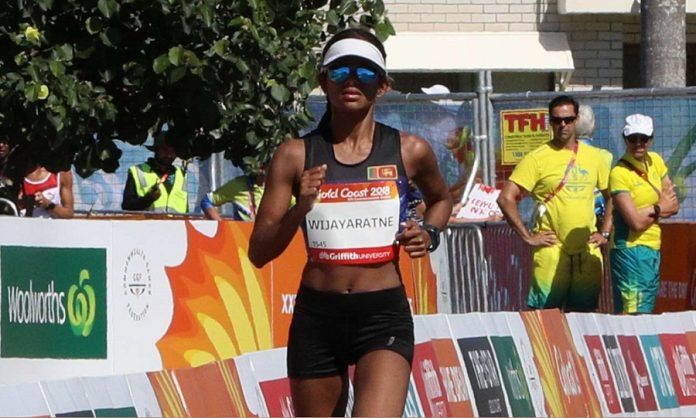 Sri Lankan marathoner, Hiruni Wijeratne, who was the final Sri Lankan to feature in the 21st Commonwealth Games, crossed the finish line placed 11th in the Women's Marathon which concluded today (15th), the final day of the 21st Commonwealth Games.
Hiruni finished the marathon clocking 2:49.38 and was 16.58mins behind Helalia Johannes of Namibia who won Gold finishing the race in 2:32.40 while Australians Lisa Weightman and Jesicca Trengove won Silver and Bronze respectively. It was a difficult day for a marathon with the temperature in Gold Coast at a high 30 degrees (Celsius) and the humidity very high at 75%. Hiruni started the race strong and managed to be in the front pack until the 15km mark but started to lose pace dropping down to the 13th place of the competition. Despite managing to fight her way back at the latter part of the race, Hiruni had to be satisfied with a 11th place finish.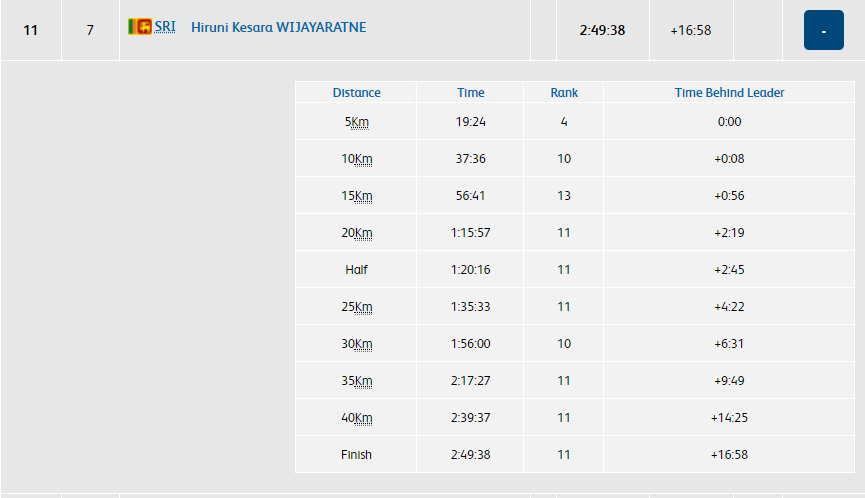 Disappointed after the race as she was aiming at bettering her personal best at the least which would have created a new national record, Hiruni shared an emotional message on social media regarding the race
"Marathons are difficult, not because of the 26 miles (42km) from start to finish, but because having a good one is a rare, unguaranteed, remarkable luxury…. If you think the marathon owes you a good day cuz you trained hard…. don't be silly…. The marathon owes you nothing, and it will take everything from you to guarantee a finish. Today wasn't my best, but I did my best. At mile 15 I knew I was dying, at mile 17 I knew I was dead. Miles 18-26 were the absolute hardest hour of my life. I was alone, my legs were sporadically seizing, I had 3 missing bottles, it was 90+ degrees. When my legs couldn't go, I ran with my heart, tears rolling down my eyes, basically walking to the finish. But I had promised myself that I was going to cross that line, if I had to crawl to it. So, I DID! 11th place, 2:49, the lone finisher from the continent of Asia.
I'll be back, stronger, wiser, hungrier. So incredibly thankful to every one of you who have believed, supported and cheered me on daily. Today was for YOU. Onwards & upwards  "
Hiruni is domiciled in the USA where she trains and competes and had a great run up to the games. She laid claim to the national record in the full marathon in January at the Houston Marathon in Texas, clocking a time of 2:38.35 which earned her the qualification to participate in the Commonwealth Marathon.
Related – New Marathon record by Hiruni Wijerathne
The long-distance runner continued her good form as she went on to win the  Mesa- PHX Half Marathon which was held in Arizona, USA clocking 1:14.07 which was again a new national record.
Related – Hiruni renews National Half Marathon record
Having had a perfect run up to the competition, which included running up to 140 to 150km in the American winter, it is unfortunate that Hiruni could not achieve her best at the competition but is admirable how she has taken it on the chin and is looking forward positively. She deserves a lot of praise for her undying commitment to become better.
Hiruni wraps up a Commonwealth campaign where all the athletes, irrespective of their chosen sporting disciplines, made Sri Lanka proud with the commitment and the hunger they showed in representing the country and the perseverance which made many people stop and take notice of this wonderful sportsmen.
It is now up to us, the sports loving public of the country to rally behind these heroic figures who have given it their all, in honour of Sri Lanka and the sport they love abundantly in order to support them and carry them towards bigger milestones in the International arena.