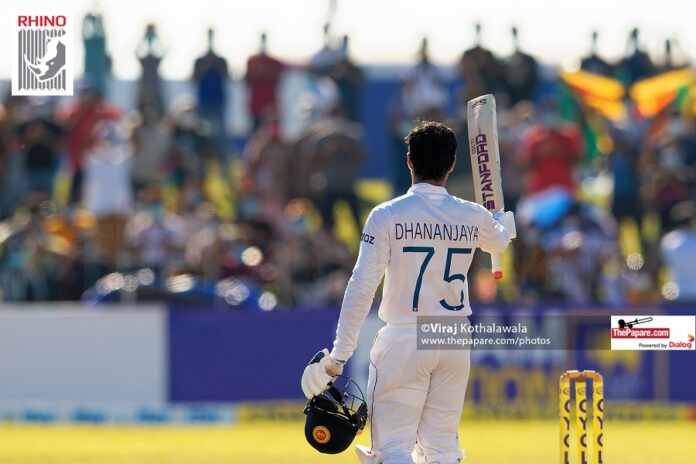 When it comes to match saving knocks, there's no better chap than Hashan Tillakaratne. When the going got tough, he got going.
No fancy stuff, but just batted and batted. His attitude was the 'over my dead body' kind. Broken ribs, broken arms, Test hundred in Perth, Test hundred in Centurion, he's got them all. Been there and done it kind of stuff. He was also left stranded in the 90s on five occasions, but the job for the team done on umpteen occasions.
Dhananjaya de Silva on Thursday came up with one such effort in the second Test against West Indies; back to the wall and under pressure. We thought it's a match saving one, but it could be a match winning one too.
When DDS batted through the first session, he ensured that Sri Lanka didn't collapse like in the first innings. When play was stopped for tea, another session had been taken care of and the hosts had fought back, but still not out of the woods with a lead of 187. The final session saw DDS taking control of proceedings. West Indies had been shut out. There's no way they are going to win the game after a wicketless final session in the penultimate day.
It was a crucial knock in many a sense. Sri Lanka's unbeaten record against West Indies had been kept intact, the series had been sealed and the team had moved up the ICC Rankings. Equally importantly, they had been assured at least six more points in the World Test Championship. All made possible by one man; DDS.
With Sri Lanka 49 runs behind in the first innings, someone had to put up his hand. Skipper Dimuth Karunaratne gifted his wicket away, Angelo Mathews was injured and Dinesh Chandimal flopped. DDS stood up to the challenge.
DDS is a free flowing batsman. He is the right-handed version of a David Gower, carefree, lazy elegance, supple wrists and all that. But this was so uncharacteristic of him.  There were no booming cover drives or silky flicks. This was more of a grind. Bat out time, play with the bowlers' patience and not get carried away.
Even after the century, he did not start throwing his bat around. Between tea and lunch, he batted for two hours and seven minutes and managed only 57 runs. We saw the coming of age of DDS this Thursday.
Yet, it's not DDS' best innings in Test cricket. Far from it. His best has to be his maiden Test hundred against Mitchell Starc and friends. The Aussies had reduced Sri Lanka to 26 for five at SSC in the first hour of the Test match and then DDS produced a masterclass. That was his first series too. His 129 was instrumental in Sri Lanka completing a 3-0 whitewash.
The Galle effort wasn't event his second best knock. That goes to Delhi 2017. In polluted air where players were struggling to breathe and vomiting, this was some knock. It was in the fourth innings as well against Ashwin and Jadeja and the wicket was crumbling.
It will be an interesting statistic to find out how many batsmen have batted a full day in Galle. The heat and a track that turns square keeping low means that you are never settled in Galle. It's tedious task to bat full day. Chris Gayle, Brian Lara, Joe Root, Kumar Sangakkara, Mahela Jayawardene and Younis Khan are some of the names that come to mind. They are all legends of the sport but not DDS?  With a Test average of 37, DDS achieved the near impossible in a rescue act with his side in deep trouble.
Technically, DDS didn't bat one full day as Charith Asalanka occupied the crease for half an hour on the fourth morning. But DDS spent 365 minutes at the crease on Thursday which is little over six hours, the duration of a day's play in Test match. The reason being that we were playing catch up for lost time due to earlier rain and bad light and playing time had been extended.
It's been a tough few years for Sri Lanka and rebuilding has taken longer than people expected. It seems that we are at the end of the tunnel and light can be seen. A series win against West Indies is pretty good, but the real challenge is next year when Sri Lanka will play Pakistan, Australia, India and New Zealand. The last two series away from home. That will give us a true indication as to how good we are.
A few things in the meantime need to be followed. To start with, identifying players for formats of the game. Success in Test cricket for someone is not guaranteed success in white ball cricket. Secondly, let's maintain the fitness levels that Mickey Arthur has introduced. Thirdly more 'A' team cricket for players to help bridge the gap between domestic cricket and international cricket. Last but not least, play the Provincial Tournament that is long overdue.