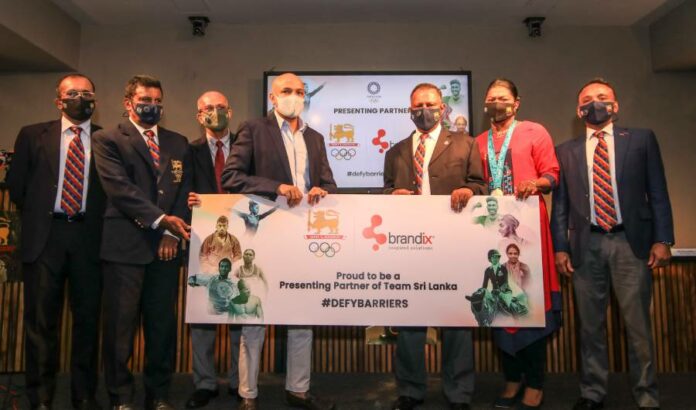 Brandix Apparel Limited, a leading apparel manufacturer in Sri Lanka, has committed its support for the Sri Lanka Olympic Team as a Presenting Partner for the Tokyo 2020 Olympics. 
Rajiv Malalasekera, Chief Executive Officer – Brandix Apparel Solutions Limited, symbolically presented the sponsorship cheque to Suresh Subramaniam, President of the National Olympic Committee of Sri Lanka at a media event held recently to felicitate the participating athletes and announce the sponsors.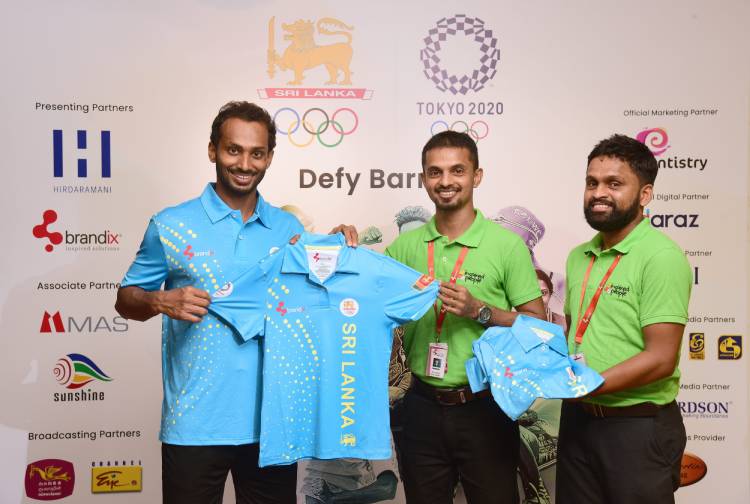 As part of the support extended to the Sri Lanka Olympic team, Brandix created specialized t-shirts as an inspired solution in gearing them for the international sporting arena. The t-shirt fabric, an innovation by Teejay Lanka – a company within the Brandix Group of companies – includes a base polyester material made from recycled PET bottles collected along the coastline of Sri Lanka and is developed with the support of Eco Spindles. The fabric is further processed using 'Smart Undyed Technology', which enables zero use of synthetic dyes while also providing 85% water and 12% energy savings. 
The ultimate sustainable activewear solution incorporating both recycled raw material and energy and water optimization, the t-shirt is conducive for athletes, with advanced moisture management technology and antibacterial technology that enables moisture absorption and evaporation, causing zero impact from the material to the athletes' skin. 
"Brandix is honoured to partner the National Olympic Committee of Sri Lanka as a Presenting Partner, supporting the journey of our accomplished athletes representing our nation at the Tokyo 2020 Olympics. At Brandix, we have one purpose ingrained in our DNA – 'To Deliver Inspired Solutions through Inspired People.' We are glad therefore to have the opportunity to integrate a vertical supply chain and sustainability effort to provide an innovative clothing solution for our national Olympic team in the spirit of 'from our Inspired People to yours'. We believe that inspiration is the foundation to excellence, and our Brandix Associates are proud to have the opportunity to support their fellow Sri Lankans as they embark on an inspiring journey to make Sri Lanka proud," stated Rajiv Malalasekera, Chief Executive Officer – Brandix Apparel Solutions Limited.
Suresh Subramaniam, President of the National Olympic Committee of Sri Lanka also commented on what the sponsorship means for the national body and the Sri Lanka contingent of athletes. "With the past year and a half being challenging for everyone, we are immensely proud of the attitude and commitment demonstrated by every Team Sri Lanka athlete and everyone involved in the process. I am especially humbled by the support shown by valued partners like Brandix, who defied all barriers to join hands with the NOC Sri Lanka and support the team all the way to the Tokyo 2020 Olympics," he said.
Sri Lanka's National Contingent for Tokyo 2020 includes Mathilda Karlsson – Equestrian; Nimali Liyanarachchi and Yupun Abeykoon – Track & Field; Niluka Karunaratne – Badminton; Matthew Abeysinghe and Aniqah Gaffoor – Swimming; Milka Gehani De Silva – Artistic Gymnastics; Chamara Dharmawardena – Judo; and Tehani Egodawela – Shooting. 
Keep it logged on to ThePapare.com for all news, views and updates on Tokyo 2020 from the venue.