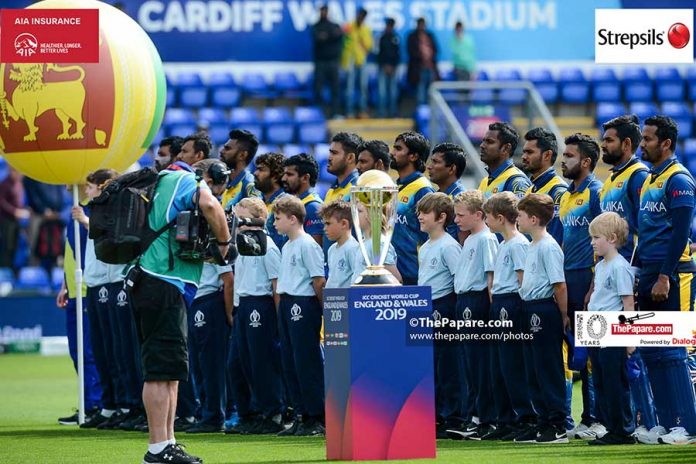 It wasn't the ideal start a team could hope for in a mega event such as the ICC Cricket World Cup 2019. Sri Lanka was handed a 10-wicket thrashing by New Zealand on a green deck in Cardiff as their campaign commenced in the worst-possible manner.
"We have eight games to go and plenty of time to turn it around" – Dimuth
Coming into this tournament, no one in their right mind would've put money on Sri Lanka winning the World Cup, yet they were expected to put up a fight. Critics claim they will end up with only a couple of wins or no wins at all after the group stage.  
Selection issues, captaincy swaps, administrative blunders, continuous changing of support staff and internal rifts amongst senior players have marred the biggest sport in the island, over the past few years. 
From a cricketing point of view, Sri Lanka's performances in the middle have not been good, especially on the batting front. They have won only six of the 23 matches they've played since the beginning of 2018.
The team was hoping to start afresh at the World Cup, an optimistic thought in the face of the opposition they were to come up against. Certainly, the Sri Lankan team are not less talented but the inconsistency of their young guns as well as their experienced campaigners has turned the perennial bridesmaid in ICC tournaments to wooden-spoon contenders.
Photos: Sri Lanka vs New Zealand | ICC Cricket World Cup 2019 – Match 03
One of the causes of this ODI dip has been the inability to bat out the 50 overs. Today, they lasted only 29.2 overs and were folded for just 136 – Sri Lanka's third joint lowest score in World Cups.
Sri Lanka's gamble in bringing back Dimuth Karunaratne into the ODI fold, as well as handing him the captaincy has looked a good one so far. He has played quite a number of valuable knocks on difficult pitches like the one in Cardiff.
The left-hander, again, was just what the doctor ordered for Sri Lanka, holding one end up. But there was no support from the other end except for a couple of cameos from the Perera's – Kusal and Thisara.
Karunaratne's resilient 52 not out made him only the second player in World Cup history to bat through the innings. He had some close shaves early on when he chopped one on off Trent Boult. The ball hit the off-stump but the zing bails didn't come off the groove. However, he kept fighting from one end.
"It's not a 300 wicket, so you need to have another game plan," Karunaratne said after the match. "You can't go there and hit every ball, so you have to stay calm, sometimes give them a chance, give us a chance to settle down. Once you get set you can score in these conditions. I think they bowled really well."
Two days from their first match, the Sri Lankan camp wasn't pleased with the thick grass layer which was left on the surface. It can be argued that these types of greenish surfaces should not be prepared by the ICC, but, this is World Cup cricket. 
These kinds of challenges are presented, especially in the UK, and the Islanders were simply not up to the task of playing quality seam bowling. When New Zealand came out to bat, they cantered through, which suggested that stroke-making wasn't impossible on this particular surface. 
"When we first saw the pitch two days ago, we thought they will trim off the grass. But, they left the same amount of grass on the pitch," Karunaratne further stated. "In a World Cup, everyone wants to see high-scoring games. So, I think hopefully we get good wickets on the next few matches."
Sri Lanka crash to 10-wicket defeat in World Cup opener
How long will Sri Lanka continue to give excuses about defeats and continue their downward trend in ODI cricket? Yes, the New Zealand bowlers were hostile with their lines and lengths. They rattled Sri Lanka with steep bounce and extra pace. However, mediocre batting helped their cause –, especially by the middle order. Only three players crossed double figures, which is utterly disappointing if you're a Sri Lankan fan.
This is a long tournament with each team playing nine matches. When you've had  as bad a day as this, the only thing you can do is move on. The only positive was Karunaratne proving to everyone that he's an improved ODI cricketer and will be the 'Wall' for Sri Lanka going forward.
Sri Lanka will play Afghanistan on the same pitch on Tuesday, which will be a key game going forward in the tournament. The pitch isn't expected to change a lot in the next few days, so will Sri Lanka find another excuse or will they raise their game and show up in the tournament?
>>ICC Cricket World Cup 2019<<