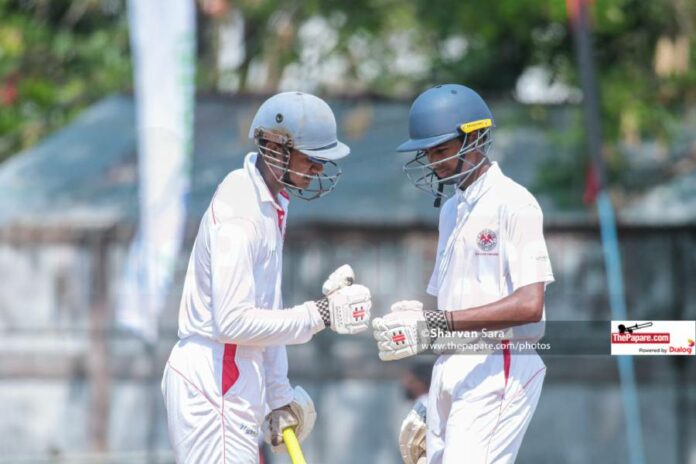 St. John's College take upper hand on day two of the 115th Battle of the North against Jaffna Central College, played today (22nd April) at Jaffna Central College Grounds.
Jaffna Central College resumed day two on 6 runs for no wicket: however, a poor batting effort saw them being bowled out for 125 runs.
Sritharan Sarankan was the chief contributor with the bat for Jaffna Central College as he made 41 runs off 44 balls with 6 fours. Yogathas Vithushan demolished Jaffna Central's batting lineup, taking 6 wickets for 48 runs. Jeyachandran Ashnath also gave him good support at the other end, picking up 4 wickets for 46 runs.
St. John's College began their second innings 42 runs ahead, and posted 129 runs for 4 wickets at the close of play on day two. They will lead by 171 runs with 6 wickets in hand going into the third and final day tomorrow.
125/10 (45) & 163/10 (62.3)
St. John's College, Jaffna
167/10 (84.1) & 220/7 (67)


Batsmen
R
B
4s
6s
SR
Anderson Sachin Kanapathi
b Jayatheeswaran Vithusan
20
125
0
0
16.00
Kuganeswaran Karisan
run out (Matheeswaran Sansayan)
41
89
0
0
46.07
Nesakumar Ebenezer Jezial
st Sritharan Sarankan b Vinajakaselvam Kavitharsan
16
51
0
0
31.37
Antonypillai Sukethan
c Matheeswaran Sansayan b Jayatheeswaran Vithusan
11
17
0
0
64.71
Kamalapalan Sabesan
lbw b Vinajakaselvam Kavitharsan
0
1
0
0
0.00
Jeyachandran Ashnath
run out (Matheeswaran Sansayan)
0
33
0
0
0.00
Sangeeth Greme Smith
c Sritharan Sarankan b Jayatheeswaran Vithusan
0
4
0
0
0.00
Anton Abishek
b Rajithkumar Newton
40
52
0
0
76.92
Kajenthira Thamilkkathir Abiranchan
c Sritharan Sarankan b Thileapkumar Gowthem
11
63
0
0
17.46
Vithushan Yogathas
not out
3
60
0
0
5.00
Kirupananthan Kajakarnan
c Matheeswaran Sansayan b Thileapkumar Gowthem
1
18
0
0
5.56
| | |
| --- | --- |
| Extras | 24 (b 14 , lb 0 , nb 8, w 2, pen 0) |
| Total | 167/10 (84.1 Overs, RR: 1.98) |
| Bowling | O | M | R | W | Econ |
| --- | --- | --- | --- | --- | --- |
| Rajithkumar Newton | 20 | 3 | 50 | 1 | 2.50 |
| Thileapkumar Gowthem | 25 | 12 | 27 | 1 | 1.08 |
| Jayatheeswaran Vithusan | 14 | 1 | 41 | 3 | 2.93 |
| Ananthan Kajan | 7 | 3 | 8 | 0 | 1.14 |
| Sutharsan Anusanth | 6 | 1 | 13 | 0 | 2.17 |
| Vinajakaselvam Kavitharsan | 11.1 | 4 | 13 | 3 | 1.17 |
| Nishan Sathakaran | 1 | 0 | 1 | 0 | 1.00 |


Batsmen
R
B
4s
6s
SR
Thakuthash Abilash
c Nesakumar Ebenezer Jezial b Yogathas Vithushan
14
54
0
0
25.93
Jayatheeswaran Vithusan
c Anton Abishek b Yogathas Vithushan
10
40
0
0
25.00
Rajithkumar Newton
c Kajenthira Thamilkkathir Abiranchan b Yogathas Vithushan
0
2
0
0
0.00
Matheeswaran Sansayan
c Nesakumar Ebenezer Jezial b Yogathas Vithushan
0
1
0
0
0.00
Vinajakaselvam Kavitharsan
c Kamalapalan Sabesan b Yogathas Vithushan
3
59
0
0
5.08
Sritharan Sarankan
c Kajenthira Thamilkkathir Abiranchan b Jeyachandran Ashnath
41
44
0
0
93.18
Nisanthan Ajay
not out
28
41
0
0
68.29
Ananthan Kajan
c Yogathas Vithushan b Jeyachandran Ashnath
9
18
0
0
50.00
Sagathevan Sayanthan
b Jeyachandran Ashnath
0
1
0
0
0.00
Thileapkumar Gowthem
c Kamalapalan Sabesan b Yogathas Vithushan
5
5
0
0
100.00
Sutharsan Anusanth
c Kuganeswaran Karisan b Jeyachandran Ashnath
0
9
0
0
0.00
| | |
| --- | --- |
| Extras | 15 (b 10 , lb 1 , nb 4, w 0, pen 0) |
| Total | 125/10 (45 Overs, RR: 2.78) |
| Bowling | O | M | R | W | Econ |
| --- | --- | --- | --- | --- | --- |
| Kirupananthan Kajakarnan | 7 | 1 | 14 | 0 | 2.00 |
| Anton Abishek | 2 | 1 | 5 | 0 | 2.50 |
| Yogathas Vithushan | 20 | 5 | 48 | 6 | 2.40 |
| Kajenthira Thamilkkathir Abiranchan | 3 | 2 | 1 | 0 | 0.33 |
| Jeyachandran Ashnath | 13 | 4 | 46 | 0 | 3.54 |


Batsmen
R
B
4s
6s
SR
Anderson Sachin Kanapathi
c Sagathevan Sayanthan b Rajithkumar Newton
0
10
0
0
0.00
Kuganeswaran Karisan
b Thileapkumar Gowthem
0
7
0
0
0.00
Nesakumar Ebenezer Jezial
c Sritharan Sarankan b Ananthan Kajan
35
131
0
0
26.72
Antonypillai Sukethan
c Thileapkumar Gowthem b Rajithkumar Newton
34
59
0
0
57.63
Kamalapalan Sabesan
c Thileapkumar Gowthem b Rajithkumar Newton
105
116
0
0
90.52
Jeyachandran Ashnath
c Matheeswaran Sansayan b Ananthan Kajan
7
62
0
0
11.29
Anton Abishek
c Ananthan Kajan b Thileapkumar Gowthem
22
18
0
0
122.22
Sangeeth Greme Smith
not out
3
2
0
0
150.00
| | |
| --- | --- |
| Extras | 14 (b 6 , lb 4 , nb 3, w 1, pen 0) |
| Total | 220/7 (67 Overs, RR: 3.28) |
| Bowling | O | M | R | W | Econ |
| --- | --- | --- | --- | --- | --- |
| Rajithkumar Newton | 22 | 4 | 64 | 3 | 2.91 |
| Thileapkumar Gowthem | 15 | 3 | 36 | 2 | 2.40 |
| Jayatheeswaran Vithusan | 7 | 2 | 25 | 0 | 3.57 |
| Vinajakaselvam Kavitharsan | 2 | 0 | 15 | 0 | 7.50 |
| Nisanthan Ajay | 4 | 0 | 9 | 0 | 2.25 |
| Sutharsan Anusanth | 4 | 0 | 17 | 0 | 4.25 |
| Ananthan Kajan | 13 | 3 | 37 | 2 | 2.85 |


Batsmen
R
B
4s
6s
SR
Thakuthash Abilash
lbw b Yogathas Vithushan
3
10
0
0
30.00
Jayatheeswaran Vithusan
c Jeyachandran Ashnath b Kirupananthan Kajakarnan
0
8
0
0
0.00
Rajithkumar Newton
c Kamalapalan Sabesan b Jeyachandran Ashnath
10
29
0
0
34.48
Thileapkumar Gowthem
c Kuganeswaran Karisan b Kirupananthan Kajakarnan
1
15
0
0
6.67
Amuthanathan Jeroroshan
c Kamalapalan Sabesan b Jeyachandran Ashnath
53
97
0
0
54.64
Sritharan Sarankan
c Anderson Sachin Kanapathi b Jeyachandran Ashnath
33
46
0
0
71.74
Nisanthan Ajay
c Kamalapalan Sabesan b Jeyachandran Ashnath
2
19
0
0
10.53
Matheeswaran Sansayan
lbw b Jeyachandran Ashnath
27
92
0
0
29.35
Vinajakaselvam Kavitharsan
c Nesakumar Ebenezer Jezial b Jeyachandran Ashnath
0
1
0
0
0.00
Sagathevan Sayanthan
c Yogathas Vithushan b Anton Abishek
17
55
0
0
30.91
Sutharsan Anusanth
not out
0
11
0
0
0.00
| | |
| --- | --- |
| Extras | 17 (b 8 , lb 1 , nb 8, w 0, pen 0) |
| Total | 163/10 (62.3 Overs, RR: 2.61) |
| Bowling | O | M | R | W | Econ |
| --- | --- | --- | --- | --- | --- |
| Anton Abishek | 9 | 2 | 19 | 0 | 2.11 |
| Yogathas Vithushan | 20 | 1 | 57 | 2 | 2.85 |
| Kirupananthan Kajakarnan | 5 | 1 | 5 | 2 | 1.00 |
| Jeyachandran Ashnath | 23.3 | 5 | 70 | 6 | 3.00 |
| Kuganeswaran Karisan | 2 | 1 | 1 | 0 | 0.50 |
| Kajenthira Thamilkkathir Abiranchan | 3 | 0 | 2 | 2 | 0.67 |