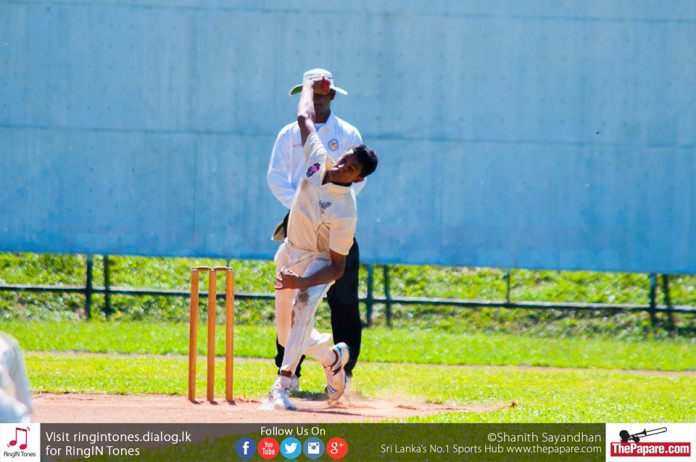 The 58th Battle of the Babes between the Hill-country rivals, St.Sylvester's College and Vidyartha College concluded at the Pallekele International Cricket stadium enabling the dominant Vesters to tame their opponents on first innings.
Invited to bat first on a neutral track, Avindu Herath and Pabasara Perera came out to the centre to start the proceedings for St.Sylvester's. Restricting the opening partnership to a cheap 14 runs, Avindu Herath was sent back to the pavilion, guilty of playing a loose shot and caught at extra-cover. Right handed Thenuka Liyanage who had an impressive season in this year was unfortunately bowled out on 13 when he was looking better to  settle confidently with Pabasara. Playing a captain's innings Malith Premathilake notched-up a well-earned 53 before he was castled at slips off the tight bowling by Nipuna Kumarasiri who claimed a five-wicket haul. Malith was associated in a worthwhile partnership of 50 runs with Sivakumar Tiron who went on to score 25 runs. Tiron was dismissed while he was trying to play a square-cut that took off the top edge of the bat.  Manjith Rajapaksha was unbeaten on 28 when the Vester's innings came to a halt, displaying a final total of 203 all out on the board. The left arm paceman Kasun Ekanayake captured 4 scalps.
 Photo Album – 58th Battle of the Babes – Day 01 
Coming out to chase down the first innings target, both Vidyartha openers Bimsara Samarathunga and Kevin Nimeshan were unable to propel a decent start as they were bundled out for 7 runs and 11 runs respectively. The contribution from the top order seemed to be substandard towards building up their essay as Isuru Praboda was the only batsman to apart from Kevin to get into double figures. Playing an anchor role to consolidate the middle order, right hander Ravishka Upananda chipped in with a marathon 81 runs knock at a crucial stage of the game. He was caught at mid-on when he attempted to play a lofted on drive against the left arm orthodox bowling of Manuja Perera. Ravishka was undefeated on one end as he was associated in five partnerships that merely availed to construct the story of Vidyartha.  Leg spinner Sivakumar Tiron and Thusith De Soyza shared five wickets between them in addition to few regardless run-outs that aggravated the batting of the underdogs. They posted a satisfactory 161 on the back of Ravishka after being poorly assisted by rest of the batsmen.
 Photo Album – 58th Battle of the Babes – Day 02 
Vesters plunged their batting in a more comfortable and aggressive manner when they gleefully came out deal with the bat in their 2nd chapter after clinching the first innings honours. They had a discreet opening stand of 49 runs before the entire game was turned out to be full of belligerence when Thenuka Liyanage hammered a gluttonous 62 runs knock that came off from just 57 balls. Muditha Hashan along with Thenuka developed a staggering partnership of 101 runs for the 3rd wicket. Mudith, who was athletic running between the wickets stroked a run-a-ball 57 inclusive of four boundaries that opened up the gate for St.Sylvester's to put up 189 for 3 in just 39 overs at stumps day-two. Isuru Praboda was the pick of the bowlers who secured two wickets.
The 58th Battle of the Babes ended up in a tame draw in the favour of Vesters, and the winning tally remained unaltered whereas St.Sylvester's College are convincingly ahead with a dozen of victories whilst Vidyartha College registering just 3 in front of their name.
Match Summary
Toss – Vidyartha College, Kandy
St.Sylvester's College, Kandy – 1st innings
203 all out in 72.1 overs
Malith Premathilake 53, Pabasara Perera 30, Manuja Perera 27: Nipun Kumarasiri 5 for 55, Kasun Ekanayake 4 for 56.
Vidyartha College, Kandy – 1st innings
161 all out in 74.3 overs
Ravishka Upananda 81, Pulina Gunathilake 21, Kevin Nimeshan 11: Thusith De Soyza 3 for 49, Manuja Perera 2 for 35, Sivakumar Tiron 2 for 39.
---
St.Sylvester's College, Kandy – 2nd innings
189 for 3 in 39 overs
Thenuka Liyanage 62*, Muditha Hashan 57, Avindu Herath 37: Isuru Praboda 2 for 47.
Result – St.Sylvester's College, Kandy won on first innings.