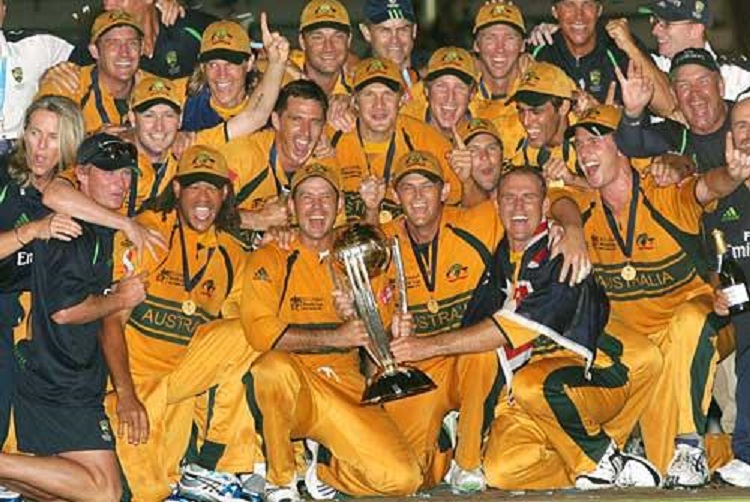 Perhaps no team has taken ODI cricket by storm as Australia have. Regarded as one of the greatest sides ever to grace the game, the vigorous men from down under were unstoppable. Even West Indian supremacy in the 1970s was put to test as the sheer authority of the Australians prevailed for a decade. Their ceaseless domination offered less resistance from opponents, eventually sealing their treble, an honour rightfully earned.
The riveting feature of the side was that they kept on reinventing themselves, producing outstanding individuals in all three departments. The absence of big names from a previous World Cup was unable to hinder them, as they discovered new blood to replace the big names.
For the first time, the World Cup took place in West Indies, where 8 Caribbean nations hosted the games. Although it was deemed to be a 'Caribbean Carnival', controversy surrounded the event from the beginning as the ICC was accused of high ticket prices, resulting in empty stands during most games. Spectators were barred from bringing musical instruments to the stadiums while six weeks of lengthy cricket seemed too much.
The elimination of India and Pakistan from the group stage diminished the prospects of revenue generating matches while Pakistan's exit was followed by their coach Bob Woolmer's mysterious death. Sixteen teams were divided into 4 groups, including the debutants Bermuda and Ireland. The 'Super 8' round too was introduced. It was also the first tournament to feature 'Power-play' rounds.
Hosts West Indies and Pakistan faced off in the opening encounter in Kingston, Jamaica on the 13th March. Captain Inzamam-ul-Haq decided to field as the Windies generated 241/9 thanks to Marlon Samuel's 63. Pakistan's reply was hindered by tight West Indian bowling as Daren Powell and Dwayne Smith stepped in to dismantle the batting line-up and was later joined by Dwayne Bravo who swept the tail. The trio shared 8 wickets before bowling out Pakistan for 187.
The policeman's stellar, Gibbs' Pongo
At a time when cricket was dominated by fitness-focused players, Bermuda's Dwayne Leverock was an outlier. The heaviest man ever to play in a World Cup, the 280lb figure was an instant attraction. A policeman by profession, Leverock was now on duty at slips against India. The second over by debutant Malachi Jones was faced by Robin Uthappa.
His very first delivery which was nicked by Uthappa, flew to the right of Leverock who performed an unexpected dive to pull off a breathtaking one-handed catch. What followed next was his cheerful jollification, running around while screaming and waving at the crowd. He later dismissed Yuvraj Singh, before performing his trademark 'jig'. India eventually won the game, but by then Leverock had already won the hearts.
The Proteas assault on the Dutch at Basseterre was brought into spotlight by Herchelle Gibbs' herculean feat. His six 6's off Dan van Bunge's over not only earned him a place with Garry Sobers and Ravi Shasthri, but also sealed his name as the first to achieve such a venture in an international game. Van Bunge's first two were hoisted over long on and long off. The third, much flatter, flew over the same area.
By now, Gibbs' intentions to write history were clear as the forlorn spinner made his way to complete the remainder of the 30th over. Next was a full toss that was sent to mid-wicket, followed by a short delivery dispatched to wide long off. His final ball was then thumped over deep mid-wicket as hapless van Bunge was finally subdued by Gibbs' ferocious onslaught.    
An Irish feast on St. Patrick's Day
On their debut appearance at the World Cup, little was expected from the Irishmen. Although their exciting tie against Zimbabwe had boosted their confidence, more hopes were on Pakistan as the two teams met in Jamaica on St. Patrick's Day. In a must-win game for both sides, Ireland won the toss and chose to field. Coached by former West Indian legend Phil Simmonds, the spirited Irishmen teamed up to send Pakistani batsmen one by one back to the pavilion, bulldozing the strong line-up.
Ireland's sensational bowling was backed by brilliant fielding, particularly of Trent Johnston, who took an outstanding catch to dismiss Kamran Akmal. Pacemen Langford-Smith, Johnston, Andre Botha and the tallest player in the tournament, Boyd Rankin shared 7 wickets between them as Pakistan were bundled out for just 132.
The pursuit was never easy as Pakistan applied pressure from ball one. But Niall O'Brian's 72-run cameo demoralized Pakistan as Ireland sealed a closely fought 3-wicket win. The cheerful Irish extended their holiday in the Caribbean, but it was the end of the road for the Pakistanis.
Indians back to the drawing board
On the same day, India's forgettable World Cup campaign began with a 5-wicket defeat to Bangladesh. Rahul Dravid's decision to bat first backfired when Mashrafe Mortaza teamed up with Abdur Razzak and Mohammad Rafique to banish India for 191. Opener Sourav Ganguly's 66 lacked support from the other end besides Yuvraj Singh who made 47.
Then, a 17-year old Tamim Iqbal, who was barely known outside Bangladesh, began the audacious run-chase. His stylish drives were executed with great accuracy, featuring a fine batsman in the making. Tamim's sparkling 51 had already hit the final nail in the coffin. Two more confident half tons by Mushfiqur Rahim and Shakib Al Hasan secured the victory in the 49th over.  
Aussies cruise to the top
Reigning champions Australia topped Group A with towering wins against Scotland and Netherland; They made it seem so easy when they bettered South Africa by 83 runs. In what was expected to be an evenly poised game, was eventually remembered for Matthew Hayden's cracking 66-ball century, the fastest in tournament history. The uncompromising men maintained an impressive net run rate of 3.4 while South Africa obtained the second spot. Sri Lanka and Bangladesh qualified from Group B while India made their eventual exit. New Zealand and England led Group C while the hosts and Ireland made their way to the 'Super Eight' from Group D.
Malinga's fab four, South Africa's near scare   
A modest score of 209 by Sri Lanka hardly perceived a threat for South Africa's talented batting line-up. Seemingly so, they were steaming at 206/5, needing only 4 runs in 5 overs to complete their Super Eight win at Georgetown.
Skipper Mahela Jayawardene deployed Lasith Malinga to bowl the 45th over while Shaun Pollock faced him with Jacques Kallis at the other end. His slow ball deceived Pollock, disturbing the furniture before his yorker to Andrew Hall gave a regulation catch to Upul Tharanga. On a brace, a confident Malinga returned in his next over to dismiss Kallis with an edge to Kumar Sangakkara. With his hat-trick completed, it was an immediate zest to the one-sided affair.
Oozing with credence, Malinga then castled Makhaya Ntini in his next delivery leaving South Africa 207/9. Charl Langeveldt who was lucky to survive Malinga's following delivery, lasted for nine more before Peterson's outside edge found the third-man boundary, ending the dramatic contest in a fueling finish. It was history, a four in four for Malinga, notwithstanding his valiant attempt to produce the greatest turnaround in ODI history.
Australia's cakewalk, Lara's farewell
Unbeaten Australia led the Super Eights as they humbled each and every opponent on their way to the top. Their six imposing wins included a 103-run pounding over West Indies before trouncing the Kiwis by 215 runs. Sri Lanka clinched the second spot, followed by New Zealand and South Africa. Against England at Barbados, Brian Lara made an emotional farewell to end his splendid career.
A repeat of the '96 showdown
Both Sri Lanka and Australia qualified for the 2007 finals by beating New Zealand and South Africa respectively. In the first semi-final, Sri Lanka piled up 289/5 that came with a brilliant ton by Mahela Jayawardene. His 115 was produced in 109 balls which included 13 boundaries. Spin wizard Muttiah Muralitharan then stepped in, tearing the Kiwi line-up apart with 4 for 31 to eventually bowl them out for 208. The following day belonged to Glenn McGrath and Shaun Tait who squashed the South Africans for 149, which was chased down with minimum trouble.
Gilchrist clobber in a chaotic finale  
It was the first World Cup final to be a repeat, as the 1996 finalists' Sri Lanka and Australia faced each other on the 28th April 2007 at the Kensington Oval, Barbados. Australia appeared in their sixth final, fourth in a row while it was Sri Lanka's second. Controversy erupted from the start as the match was reduced to 38 overs due to rain delay without considering the reserve day for a full game. Ricky Ponting won the toss and elected to bat. It was a moderate start, considering the havoc they had created during the opening overs in their previous games.
They reached 50 in 10 overs before unfolding the nightmare on the Sri Lankans. Dilhara Fernando dropped a return catch when Gilchrist was on 31, which came back to torment them severely. Gilchrist, who reached his half ton in 43 balls, began to accelerate his innings. Eight gigantic sixes – all on the leg side, reached the boundary with ease.  He reached his century in 72 balls as a further 49 was made in 32 deliveries. After losing Hayden for 38, he resumed his incursion, bombarding every bowler before falling for a well-made 149, the highest individual score in a final. They went into the break with 281/4 from 38 overs.
The courageous reply did not seem to post a threat for the Australians who already had one hand on the trophy. The target was later reduced to 269 in 36 overs. In fading light and still needing 63 in 3 overs, the match officials decided to continue the match on the following day. After a lengthy delay, Mahela with pronounced sportsmanship, agreed to send his batsmen back on to the field as the game ended in darkness amidst the rounded boos from the crowd.  
A contentious final might have overshadowed a commanding win, but nothing could take away the Australian dominance throughout the campaign. A fitting treble for the peerless men from down under who had dictated an era marked by their unwavering authority.           
 Courtesy of AFP