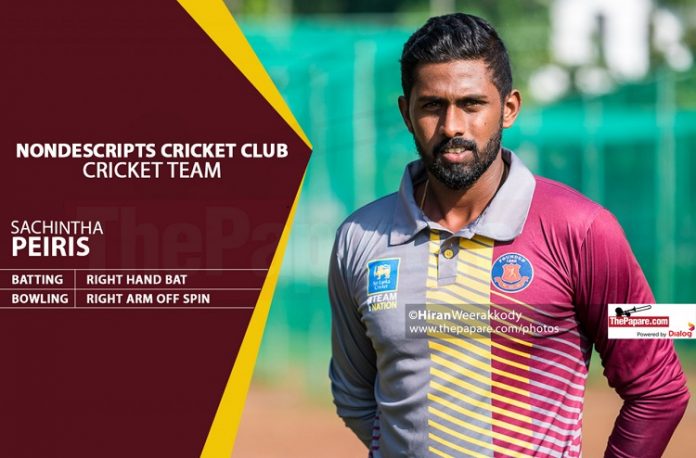 The group stage of the Sri Lanka Cricket Premier League Tier A tournament concluded today(13), with 8 teams confirming their spot in the Super Eights while the other six teams will battle it out in the Plate competition.
Army SC vs Ragama CC
It was a winner takes it all clash for the 4th and 5th placed Army SC and Ragama CC before the former trounced on first innings to secure a Super Eight berth.
Ragama CC resuming day three on 173/5, folded up fairly quickly as they lost 5/53 in the opening session. Right arm quick Janith Silva was the star with the ball for the soldiers as he returned top figures of 4/44.
Army SC batted themselves into safety in their second innings as Himasha Liyanage and Lakshitha Madushan hit solid half centuries to guide them to 281/7 at close after securing the first innings win.
Army Sports Club 284 (109.2) Sanjika Ridma 62, Dushan Vimukthi 62, Lakshitha Madushan 42, Lakshan Edirisinghe 38, Amila Aponso 4/75, Nishan Pieris 3/72,Ishan Jayarathne 2/65,  & 281/7 (66) Himasha Liyanage 88, Lakshitha Madushan 80, Sanjika Ridma 40, Dushan Vimukthi 31, Shehan Fernando 2/21, Nishan Pieris 2/71
vs
Ragama Cricket Club 226 (88.3) Supeshala Jayathilaka 57, Dineth Thimodya 44, Saminda Fernando 43, Sameera de Zoysa 33, Lakshan Madushanka 3/70, Janith Silva 4/44, Dushan Vimukthi 2/66
CCC vs Badureliya
The match between Badureliya SC and CCC ended in a tame draw with CCC securing first innings points and a place in the Super Eights.
CCC got some good batting practice in their second innings as they made 357/9 declared with four of their batsmen going pst the half century mark.
Read : Priyamal Perera does a double double-hundred
Former Zimbabwe skipper Tatenda Taibu took his gloves off and rolled his arm over to capture 3/24 while Alankara Asanka picked up two scalps.
Colombo Cricket Club378 (101) Wanindu Hasaranga 82, Madawa Warnapura 59, Lasith Abeyratne 49, Malindu Maduranga 41, Ron Chandraguptha 36, Malinda Pushpakumara 28, Minod Bhanuka 27, Sachith Pathirana 4/154, Buddika Sanjeewa 2/94, Lahiru Samarakoon 2/33  & 357/9 d (83) Lasith Abeyrathna 73, Lahiru Madushanka 61, Minod Bhanuka 57, Madawa Warnapura 55, Wanindu Hasaranga 43, Alankara Asanka 2/28, Tatenda Taibu 3/24
vs
Badureliya Cricket Club248 (61.1) Pramud Hettiwatte 59, Nadeera Nawela 45, Subramanian Anand 40, Wanindu Hasaranga 5/78, Malinda Pushpakumara 3/91, Vishwa Fernando 2/41  & 63/5 (17) Wanindu Hasaranga 2/24, Ron Chandraguptha 2/01
Negombo vs Saracens
Negombo CC's second innings fell apart as they crashed to an outright loss against Saracens SC.
Hareen Buddila Weerasinghe's five wicket haul bowled out Negombo for just 138 runs, before Saracens cruised home by 8 wickets.
Negombo Cricket Club 216 (65) Shehan Jayasuriya 62, Lasith Croospulle 56, Angelo Jayasinghe 31*, Ashen Silva 26, Chamikara Edirisinghe 4/51, Hareen Weerasingha 2/29, Saliya Saman 2/30  & 138 (55.4) Ashen Silva 35, Sahan Arachchige 28, Hareen Weerasinghe 5/39, Chamikara Edirisinghe 3/41
vs
Saracens Sports Club 302 (134) Nipun Karunanayake 74, Ashen Bandara 64, Chamikara Edirisinghe 54, Milinda Siriwardana 41, Upul Indrasiri 5/76, Roshen Fernando 2/53, Shehan Jayasuriya 3/108  & 58/2 (6.4) Gamindu Kanishka 22,
Moors vs Tamil Union
The experienced Chamara Silva hit an eye catching century but it was not enough for his team who had already fallen behind on first innings.
Ramesh Mendis went onto capture a five wicket haul earlier in the day, before Moors replied with 329/6 in just 63 overs as they will have to fight it out in the plate tournament to stay in the Tier A for next season.
Moors Sports Club326 (95.3) Ramesh Mendis 76, Chamara Silva 43, Charitha Kumarasinghe 36, Nimanda Madushanka 35, Ayana Siriwadhana 31, Pabasara Waduge 24, Irosh Samarasooriya 24, Jeevan Mendis 5/121, Damitha Silva 3/59  & 329/6 (63) Chamara Silva 105, Pabasara Waduge 64, Ramesh Mendis 65, Lahiru Attanayake 52*, Ayana Siriwardana 31, Shehan Madushanka 2/26, Jeewan Mendis 2/115
vs
Tamil Union Cricket And Athletic Club361 (95.5) Sachithra Serasinghe 160, Tharnaga Paranavithana 57, Damitha Slva 49*, Sithara Gimhan 30, Ramesh Mendis 5/124
Colts vs BRC
Raminda Wijesuriya hit his second century of the competition, but it wasn't enough for BRC who fell 37 runs short of Colts' 391 all out.
Photo Album : BRC v Colts | Major League Tier A Tournament 2018/19 
Akila Dananjaya picked four crucial wicket for Colts while Rumesh Buddika made another half century to continue his good form.
Colts batting a second time around ended the day on 194/5 with Sangeeth Cooray making a flamboyant 95.
Colombo Colts Cricket Club391 (128.5) Priyamal Perera 200*, Nishan Madushka 46, Hashan Dumindu 42, Tillakaratne Sampath 6/86, Duvindu Tillakaratne 2/129  & 194/5 (57.3) Sangeeth Cooray 95, Vishad Randika 50*, Hashan Dumindu 33, Duvindu Thilakarathne 2/90, Rumesh Buddika 2/41
vs
Burgher Recreation Club354 (80) Raminda Wijesoriya 104, Rumesh BUddika 62, Vikum Sanjaya 48*, Hashen Ramanayaka 47, Bhanuka Rajapaksha 21, Akila Dananjaya 4/104, Sangeeth Cooray 2/38
NCC vs SLPA CC
NCC made a dramatic comeback to record a stunning outright victory by 258 runs over a hapless Ports Authority unit.
The fightback began via a quick-fire century from Chathuranga de Silva as his knock helped them to 365/5 declared in just 72 overs.
Chasing 354 for an outright win, SLPA crashed to just 95 all-out with right arm off spinner Sachintha Peiris – who is having a dream season – picking up a five wicket haul.
Nondescripts Cricket Club218 (59.1) Malinga Amarasinghe 54, Samitha Ranga 42, Chaturanga de Silva 39, Hasitha Boyagoda 34, Saranga Rajaguru 27, Chaminda Bandara 3/55, Anuk de Alwis 2/11, Imesh Udayanga 2/52, Chanaka Komasaru 2/59,  & 365/5 d (72) Chaturanga de Silva 100, Mahela Udawatta 93, Lahiru Udara 64, NImesha Gunasinghe 50*, Malinga Amarasinghe 43*, Chanaka Komasaru 2/94
vs
Sri Lanka Ports Authority CC230 (74.5) Primosh Perera 76, Adeesha Nanayakkara 56*, Anuk de Alwis 37, Ramesh Nimantha 26, Sachintha Pieris 3/42, Chaturanga de Silva 4/99  & 95 (23.5) Imesh Udayanga 22, Sachintha Pieris 5/49, Dilesh Gunarathne 3/27