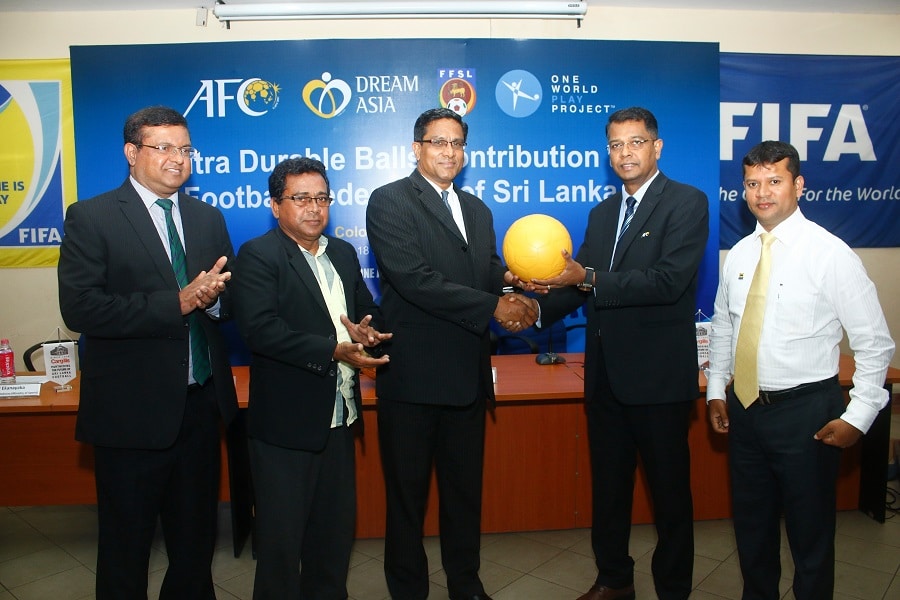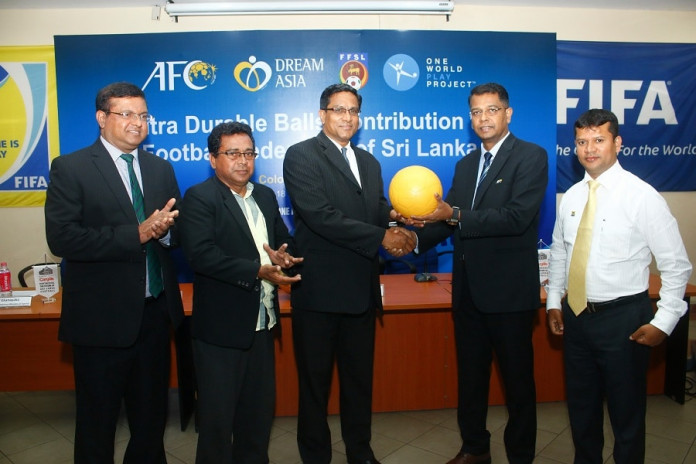 The Asian Football Confederation (AFC) has extended the reach of its social responsibly efforts with 5,400 ultra-durable footballs being donated to the Football Federation of Sri Lanka (FFSL) in Colombo today.
Supplied in partnership with the One World Play Project, the ultra-durable balls initiative won gold in the 'Best Sports CSR Initiative' category at the prestigious Asia Sports Industry Awards (SPIA) last month. The initiative features the award-winning, ultra-durable One World Futbol developed by One World Play Project.
Recognised as a breakthrough in ball technology, the One World Futbol never needs a pump, never goes flat and is designed to withstand the harshest environments.
AFC President Shaikh Salman bin Ebrahim Al Khalifa said: "As we have witnessed across the continent, football has the power to improve lives and empower communities. One of our missions under the AFC's Vision and Mission is to use football for social development.
"Through this contribution, we are committed to demonstrating how football, under the banner of One Asia, One Goal, can be a gateway to bring about positive social outcomes. I would like to thank our friends from One World Play Project for their significant role in bringing our aspirations to life."
As part of the launch, the Sri Lankan national team players lent their support to the project by participating in a grassroots football clinic and health awareness campaign for aspiring footballers organised by the FFSL.
Anura De Silva, FFSL President, expressed his appreciation to the AFC for the impact that the contribution would create on Sri Lankan football: "We would like to express our gratitude to the AFC and One World Play Project for sharing the belief in using football as platform to enrich lives.
"Through this generous contribution, we are able to give tomorrow's generation wider access to football and inspire hope and purpose to lead more fulfilling lives."
Through the unique and transformative power of play, One World Play Project is helping to ensure that football continues to be accessible for children and young people of all backgrounds. The donation of the One World Futbols will leave a lasting impact on the country's grassroots activities in some of the most rural and remote schools.
"Our partnership with the AFC has enabled us to further extend our mission and empower the youth of Asia with something as simple, but yet ingenious, as an ultra-durable ball", said Stephen Sonderman, the Asia Director of One World Play Project. "Together through the power of play and the One World Futbol, we're helping youth reach their full potential and become strong leaders for future generations."
The ball contribution to FFSL marks the final stage of a very successful partnership between the AFC and One World Play Project. Since 2013, more than 120,000 ultra-durable footballs have been donated by the AFC and One World Play Project, benefitting 1.5 million children in 29 Member Associations across Asia.