Dineth Jayakody slammed a terrific hundred with the support of fresher Sadeesh Jayawardene's half-century as St. Joseph's College took major honours on day one in their 86th Battle of the Saints cricket encounter against St. Peter's College on Friday at P. Sara Oval Grounds.

Live – St. Joseph's College vs St. Peter's College – 86th Battle of the Saints
After being four down for 43, Jayakody and Jayawardene broke the record for the all-time Josephian fifth-wicket partnership against their arch-rivals, adding 148 unbeaten runs to take the boys from Darley Road to 191 for 4 at stumps. They broke the record of Kirthi Caldera's and Carlyle Perera's 141-run stand made in 1957. 
Jayakody, after scoring two half-centuries in the previous two editions, reached the magical three-figure mark late in the day in 110 balls. His brilliant innings consisted of 12 fours and 2 massive sixes. 15-year old Jayawardene played the second fiddle scoring 50 off 84 balls as the Peterites lost the plot with the ball. 
Photos: St. Joseph's College vs St. Peter's College | 86th Battle of the Saints – Day 1
Some disciplined seam bowling by Vinuda Liyanage and Trishen Wickramasinghe removed the Josephian top order early on. Captain Johanne De Zilva was struck plumb in-front by Liyanage, while his opening partner Sheran Fonseka chopped one onto the stumps of Wickramasinghe.
Can St. Joseph's end a 12-year winless hoodoo?
Both, Shevon Daniel and Dunith Wellalage were dismissed by Liyanage as the left-arm spinner turned seamer took three crucial wickets.
Earlier on day one, after being sent into bat, St. Peter's College made a cautious start but lost wickets at regular intervals as last year's Josephian captain Ashian Daniel ripped through the Peterite batting lineup. Off-spinner Daniel was the pick of the Josephian bowlers taking 4 for 70, bowling 25 overs.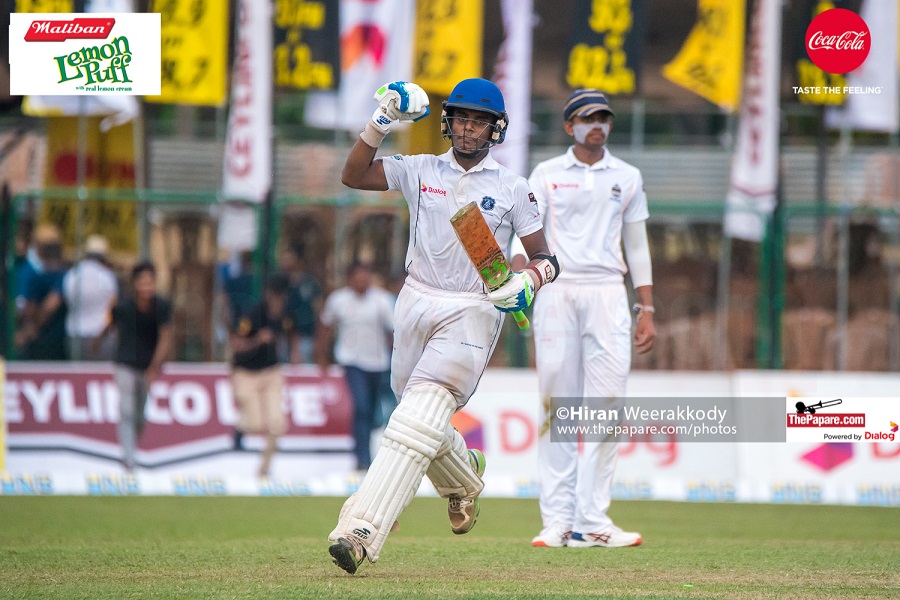 Fresher Lahiru Dawatage, batting at number four, anchored the Peterite innings with a fine 95-ball 64 which had 4 boundaries and 4 sixes. He was ably supported by Wanuja Sahan, who made 48 off 72 deliveries. Both Dawatage and Sahan shared a crucial 80-run stand for the sixth wicket. The Josephians, however, restricted the Peterites to 224 in their allotted 60 overs.
St. Joseph's College trail by 33 runs with 6 wickets in hand. They will try and push for a bigger lead with 18.2 overs remaining in their first innings.
105 overs are scheduled for day two with play set to resume at 9.30 am on Saturday.
224/10 (60) & 288/8 (87.4)


Batsmen
R
B
4s
6s
SR
S Botheju
b Ashen Daniel
37
46
7
0
80.43
Rishika Santhush
b Johanne De Zilva
9
9
2
0
100.00
Shannon Fernando
b Ashen Daniel
9
36
1
0
25.00
Lahiru Chethaka
c Shalinda Senevirathne b Ashen Daniel
64
95
2
2
67.37
Nipunaka Fonseka
run out (Dinal Anuradha)
10
44
1
0
22.73
Kanishka Maduwantha
c Johanne De Zilva b Ashen Daniel
10
35
1
0
28.57
Wanuja Sahan
run out (Ashen Daniel)
48
72
4
0
66.67
V Liyanage
c Johanne De Zilva b Dunith Wellalage
12
16
1
0
75.00
Ruwin Senevirathne
b Dunith Wellalage
8
6
1
0
133.33
Danal Hemananda
run out (Shevaan Rassool)
7
3
0
1
233.33
Trishen Herath
not out
0
0
0
0
0.00
| | |
| --- | --- |
| Extras | 10 (b 2 , lb 0 , nb 2, w 6, pen 0) |
| Total | 224/10 (60 Overs, RR: 3.73) |
| Fall of Wickets | 1-23 (3.1) Rishika Santhush, 2-57 (13) S Botheju, 3-64 (16.5) Shannon Fernando, 4-95 (29.2) Nipunaka Fonseka, 5-114 (38.3) Kanishka Maduwantha, 6-194 (54.3) Lahiru Chethaka, 7-198 (57.1) Wanuja Sahan, 8-216 (59.1) V Liyanage, 9-224 (59.4) Danal Hemananda, 10-224 (60) Ruwin Senevirathne, |
| Bowling | O | M | R | W | Econ |
| --- | --- | --- | --- | --- | --- |
| Lakshan Gamage | 8 | 0 | 32 | 0 | 4.00 |
| Johanne De Zilva | 5 | 0 | 29 | 1 | 5.80 |
| Ashen Daniel | 25 | 6 | 70 | 4 | 2.80 |
| Shalinda Senevirathne | 7 | 2 | 20 | 0 | 2.86 |
| Miranga Wickramage | 7 | 0 | 32 | 0 | 4.57 |
| Dunith Wellalage | 8 | 0 | 39 | 2 | 4.88 |


Batsmen
R
B
4s
6s
SR
Johanne De Zilva
lbw b V Liyanage
21
18
4
0
116.67
Sheran Fonseka
b Trishen Herath
8
27
0
0
29.63
Shevon Daniel
c Kanishka Maduwantha b V Liyanage
1
5
0
0
20.00
Dineth Jayakody
c V Liyanage b Trishen Herath
122
130
13
3
93.85
Dunith Wellalage
c & b V Liyanage
6
7
1
0
85.71
Sadeesh Jayawardana
c Nipunaka Fonseka b Trishen Herath
70
103
5
1
67.96
Lakshan Gamage
c Kanishka Maduwantha b Danal Hemananda
13
11
1
0
118.18
Miranga Wickramage
b V Liyanage
1
3
0
0
33.33
Ashen Daniel
run out (V Liyanage)
5
5
0
0
100.00
Dinal Anuradha
c Shannon Fernando b Danal Hemananda
2
4
0
0
50.00
Shalinda Senevirathne
not out
1
1
0
0
100.00
| | |
| --- | --- |
| Extras | 9 (b 0 , lb 2 , nb 5, w 2, pen 0) |
| Total | 259/10 (51.3 Overs, RR: 5.03) |
| Fall of Wickets | 1-31 (6.2) Johanne De Zilva, 2-33 (7.4) Sheran Fonseka, 3-33 (8.3) Shevon Daniel, 4-43 (10.3) Dunith Wellalage, 5-235 (47.3) Dineth Jayakody, 6-235 (47.5) Sadeesh Jayawardana, 7-242 (48.5) Miranga Wickramage, 8-253 (50.2) Ashen Daniel, 9-258 (51.1) Dinal Anuradha, 10-259 (51.3) Lakshan Gamage, |
| Bowling | O | M | R | W | Econ |
| --- | --- | --- | --- | --- | --- |
| Trishen Herath | 12 | 0 | 57 | 3 | 4.75 |
| Danal Hemananda | 6.3 | 0 | 40 | 1 | 6.35 |
| V Liyanage | 13 | 1 | 56 | 4 | 4.31 |
| Kanishka Maduwantha | 9 | 0 | 44 | 0 | 4.89 |
| Ruwin Senevirathne | 6 | 0 | 34 | 0 | 5.67 |
| Wanuja Sahan | 5 | 0 | 24 | 0 | 4.80 |


Batsmen
R
B
4s
6s
SR
S Botheju
c Shevon Daniel b Lakshan Gamage
5
11
0
0
45.45
Rishika Santhush
c Lakshan Gamage b Shevon Daniel
68
144
7
0
47.22
Shannon Fernando
c Lakshan Gamage b Ashen Daniel
10
33
0
1
30.30
Lahiru Chethaka
c Dinal Anuradha b Dunith Wellalage
10
25
1
0
40.00
Nipunaka Fonseka
b Dunith Wellalage
47
110
5
0
42.73
Kanishka Maduwantha
c Shenuka De Silva b Dunith Wellalage
22
31
3
0
70.97
Wanuja Sahan
c & b Dunith Wellalage
2
4
0
0
50.00
Ruwin Senevirathne
not out
53
104
4
1
50.96
V Liyanage
c M Thenura b Miranga Wickramage
8
15
1
0
53.33
Danal Hemananda
not out
50
54
4
2
92.59
| | |
| --- | --- |
| Extras | 13 (b 4 , lb 1 , nb 5, w 3, pen 0) |
| Total | 288/8 (87.4 Overs, RR: 3.29) |
| Did not bat | Trishen Herath, |
| Fall of Wickets | 1-7 (2.4) S Botheju, 2-32 (13.5) Shannon Fernando, 3-67 (24.2) Lahiru Chethaka, 4-133 (46.2) Rishika Santhush, 5-174 (58.1) Kanishka Maduwantha, 6-174 (58.4) Nipunaka Fonseka, 7-179 (60.1) Wanuja Sahan, 8-200 (67.1) V Liyanage, |
| Bowling | O | M | R | W | Econ |
| --- | --- | --- | --- | --- | --- |
| Lakshan Gamage | 6 | 0 | 22 | 1 | 3.67 |
| Johanne De Zilva | 7.4 | 0 | 36 | 0 | 4.86 |
| Ashen Daniel | 22 | 0 | 49 | 1 | 2.23 |
| Dunith Wellalage | 28 | 1 | 84 | 4 | 3.00 |
| Shalinda Senevirathne | 7 | 0 | 39 | 0 | 5.57 |
| Miranga Wickramage | 10 | 0 | 29 | 1 | 2.90 |
| Dineth Jayakody | 2 | 0 | 8 | 0 | 4.00 |
| Shevon Daniel | 5 | 0 | 15 | 1 | 3.00 |