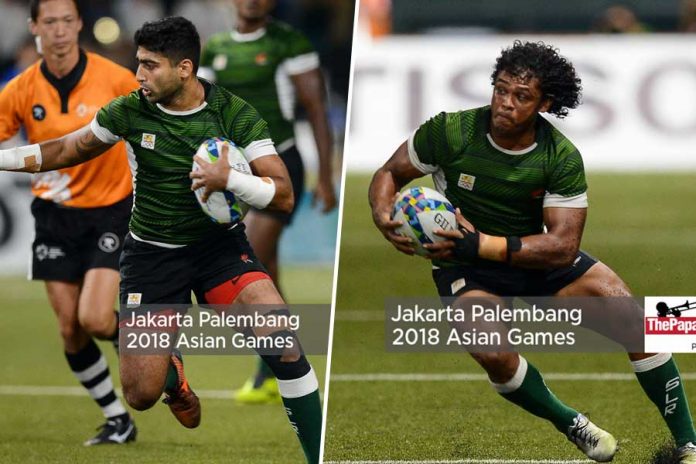 If it was only dessert you could have, every single time you dine out, life would be a treat. Giving the meat and potatoes the skip. Surely, after what was a mercurial semifinal which almost felled the Asian Goliath in Japan, Sri Lanka sevens succumbed to a misfiring zinc-oxide like performance in the Bronze medal game (against South Korea).
The Tuskers, for their effort prior at least, deserved an Aluminum-but it was not to be, although briefly, it felt like 8 carat Gold, half way through their semifinal against Japan.
For there were only three medals and no biscuits for coming fourth. That was the cold hard truth but the warm fuzzy feeling of the day will keep Sri Lankan Rugby fires burning, which is genuinely more than just hope, instead, fueled by some skills, plenty of will and considerable thrill.
In what was essentially the best showing by a Sri Lankan representative side of rugby union in the recent past, the shorter format almost pulled off a mother of an upset. Almost. Going the distance with Asian heavyweights Japan first up, eventual Silver medalists who themselves were stunned by Hong Kong. Only to be denied of a medal by South Korea after an energy sapping semifinal. This may very well be the new order and changing of the guard as Hong Kong stamped their authority.
What could have been a major upset and an equally bigger boil over since the day when Polly forgot her kettle, Sri Lanka were a stroke within playing for their podium. In an agonizing case of so close-but yet so far. It wasn't meant to be. That said, this team and coaching staff can take solace that their day under the sun is not far away. That destiny, based on the weekend evidence is very much in their hands.
So, after three grueling days under the hot Jakartha sun, what do we know after the Asian games sevens?
1. Good odds in a bad numbers game
Sri Lanka sent a rather "generous" contingent of 185 athletes and 66 officials. A very charitable ratio of 1 official for every 2.88 athletes. A comforting thought for those who compete knowing that if and when it goes all wrong, they have a shoulder or two to cry on for counselling.
Compare that to India, who had 524 in total, a country almost fifty times larger than the island nation. They however, did not have a sevens rugby team.
The SLR sevens contingent consisted of 12 players, a coach, a trainer, a physio, manager and a late arrival of a selector on tour. 17 members in total and almost made it to the podium, possibly for the final match. It was a worthy performance, albeit coming up empty handed with the strides they have made. It could have been Gold or Silver, in a 12 way go and instead finishing 4th. Making a genuine claim that this team is as good as anyone in that top 2 spots. Japan and possibly Hong Kong.
Making up 6.5% of the total games contingent and given that they were in medal contention right till the death, it was taxpayer and sponsorship money spent well. Given that the medal count stayed at nought for the overall campaign, at least, rugby football can put forward a very strong case and be "content". No right-thinking fan can begrudge this team's effort. This team was a genuine contender and weren't there to make up the numbers unlike some other sports.
I hope there was plenty of counselling given the sheer number of "officials" on tour with no shortage of defeat, it was famine for medals. The odds of failure, looking at the numbers were remarkably good and it duly obliged. Oh, and for the record, India won 69 medals out of which 15 were Gold.
2. What the ruck!
Ruck. Rucking rugby. Much like the U20, Junior Tuskers, the seniors found this part of their game a real let down. Physically being overshadowed when it mattered, and every single ruck made for nervous viewing. Whenever the Tuskers looked for secure ball after a collision, on the floor, they seemed to be easily rag dolled and out muscled. When they lost it or looked like losing it, resorting to illegal tactics and giving away needless penalties at the breakdown.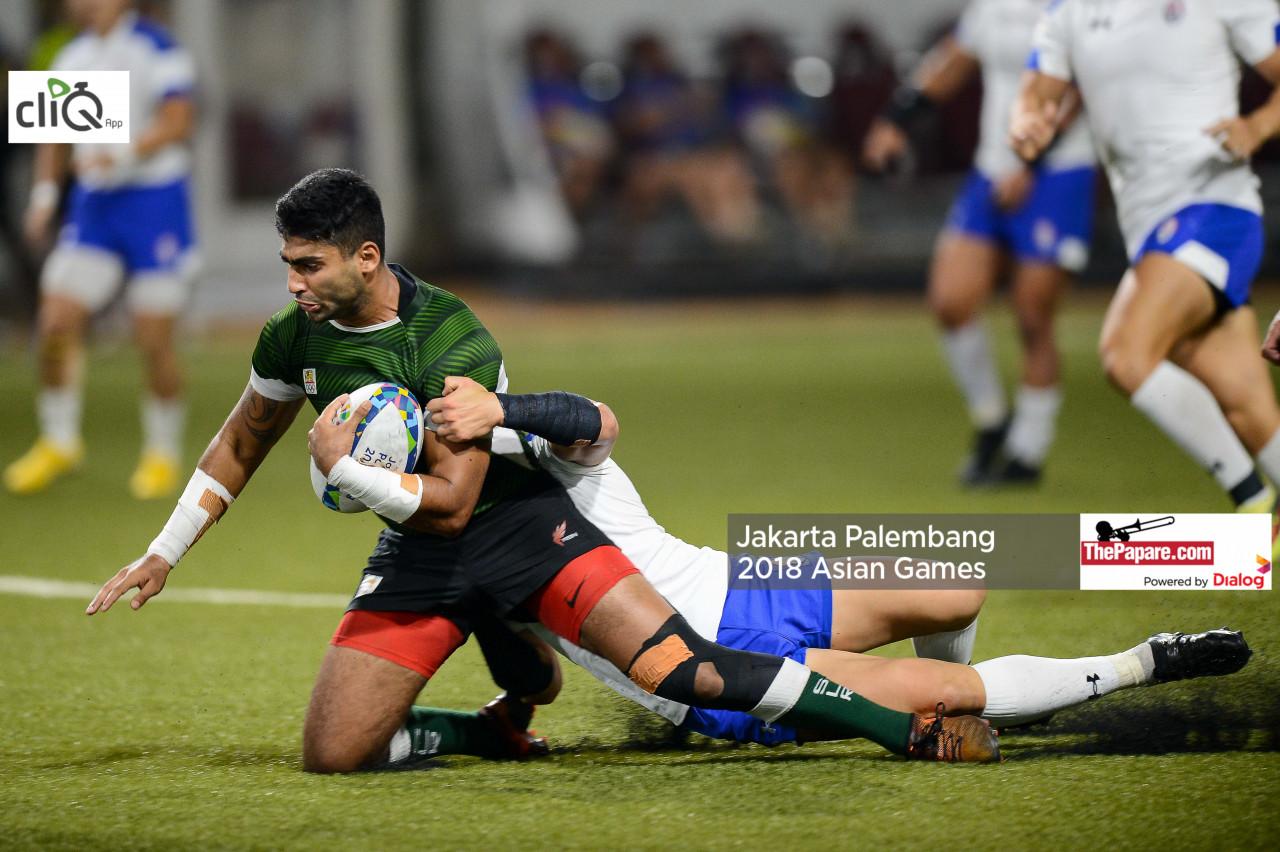 Understandably, with a slogan of "Fastest rugby team in Asia"– these men were intent on turning this into a game of touch at every opportunity. They did for most parts and it looked sensational when it came off. Not so, when it didn't and they couldn't.
The visible blunder in the Bronze medal game saw them hitting it up close and getting turned over against much bigger men. As opposed to looking to go wide and stretching the Korean defence.
Read: Korea break Lankan hearts
This is a huge area of continual concern and one for high performance management. Engaging in skills and tactical fortitude which is consistent with it will win this team matches. Ruck, ruck and sort it out for ruck's sake. Without it, they get no ball.
If not, this will be a broken CD track stuck on repeat for some time to come.
3. Japandemonium 
Having drawn Japan, the defending champions and white-hot favorite to win Gold, many would have expected for an academic semifinal. Japan to come out on cruise control and walk all over the Island nation. A regulation match and result. That was supposed to be the script.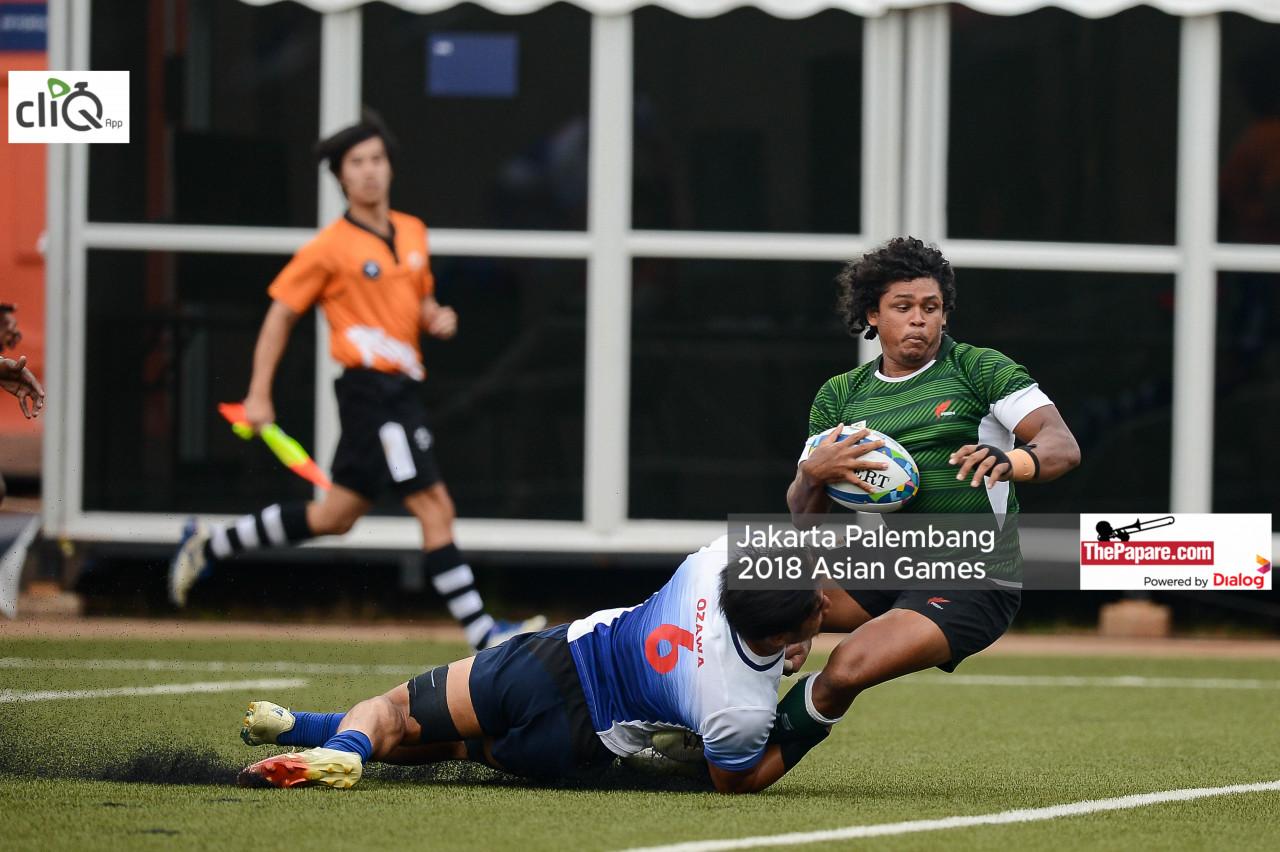 However, the rugby gods forgot to tell Sri Lanka that and they tore up that script. Fashioning their own, like David trying to fell Goliath with his slingshot, they went bang bang with two brilliant at pace tries. Unfortunately, these went unconverted.
Japan, who looked and played in panic mode were feeling the pandemonium which was unfolding. They looked shaken and quite stirred. Taking a slim 12-10 lead at half time, remaining scoreless for only an unforced error by the Tuskers saved Japan their blushes. It showed all over and on their coach's face. Had the unthinkable happened, it would have certainly made headlines and the next episode of Japandemonium.
4. Kicking conversions and licking your own wounds
As fate would have it, when things get very close in rugby, it always comes down to who kicks their goals. It was no different when it came to crunch time for Sri Lanka. Taking an improbable 10-05 lead midway in the first half, Japan struck back on the stroke of half time.
They however, goaled their second try which turned out to be the match winner. The score read 12-10 and it remained so after a dramatic but barren second half. Given the overwhelming favoritism which the defending champions carried, it was an alarming escape of desperation but a win nonetheless. Progressing to the gold medal game and meeting their waterloo.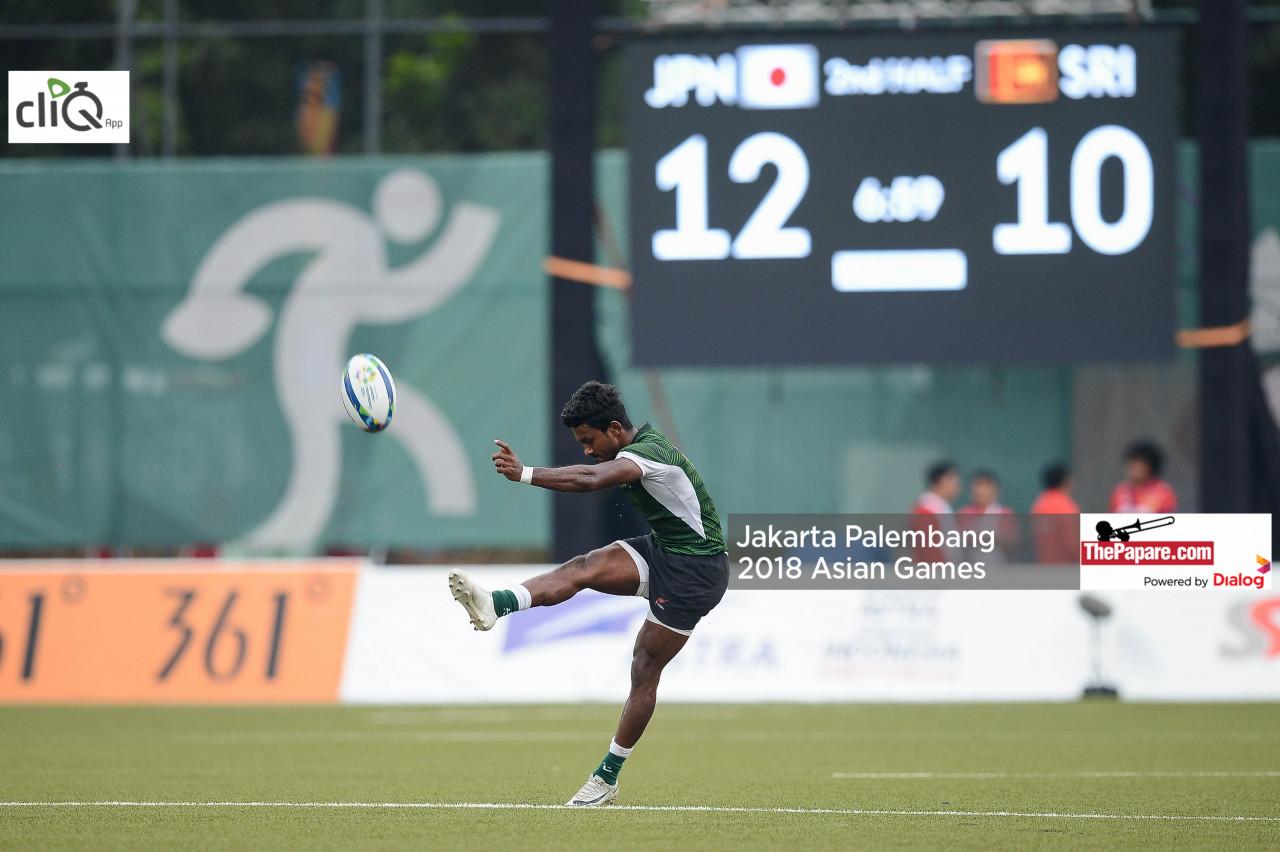 Had Sri Lanka made both conversions, they would have taken Japan's place against Hong Kong and played for Gold. Two points isn't much but that's all it took to separate both teams. Such a slim yet cruel margin. This left players, coaches, fans and almost the entire rugby fraternity of Asia shaking their heads, more in disappointment for Sri Lanka than disbelief at Japan. That's how much the gap had closed between these two nations, for at least this game.
There was a real feeling of being crestfallen. You MUST lick your own wounds from battle, hunker down and prepare for the challenge ahead. These Tuskers probably forgot the last part after an admirable battle Royale. Losing next up to Korea and a medal.
5. The walking wounded
On the eve of the departure to Indonesia, Sri Lanka were dealt a cruel blow. That of star player and game breaker Danushka Ranjan, picking up a hamstring strain during the last training session. Initially, whilst downplaying the severity of it but rolling into a back to back- three day competition was going to be a real test. Against the level of competition, being anything but 100% would be risky.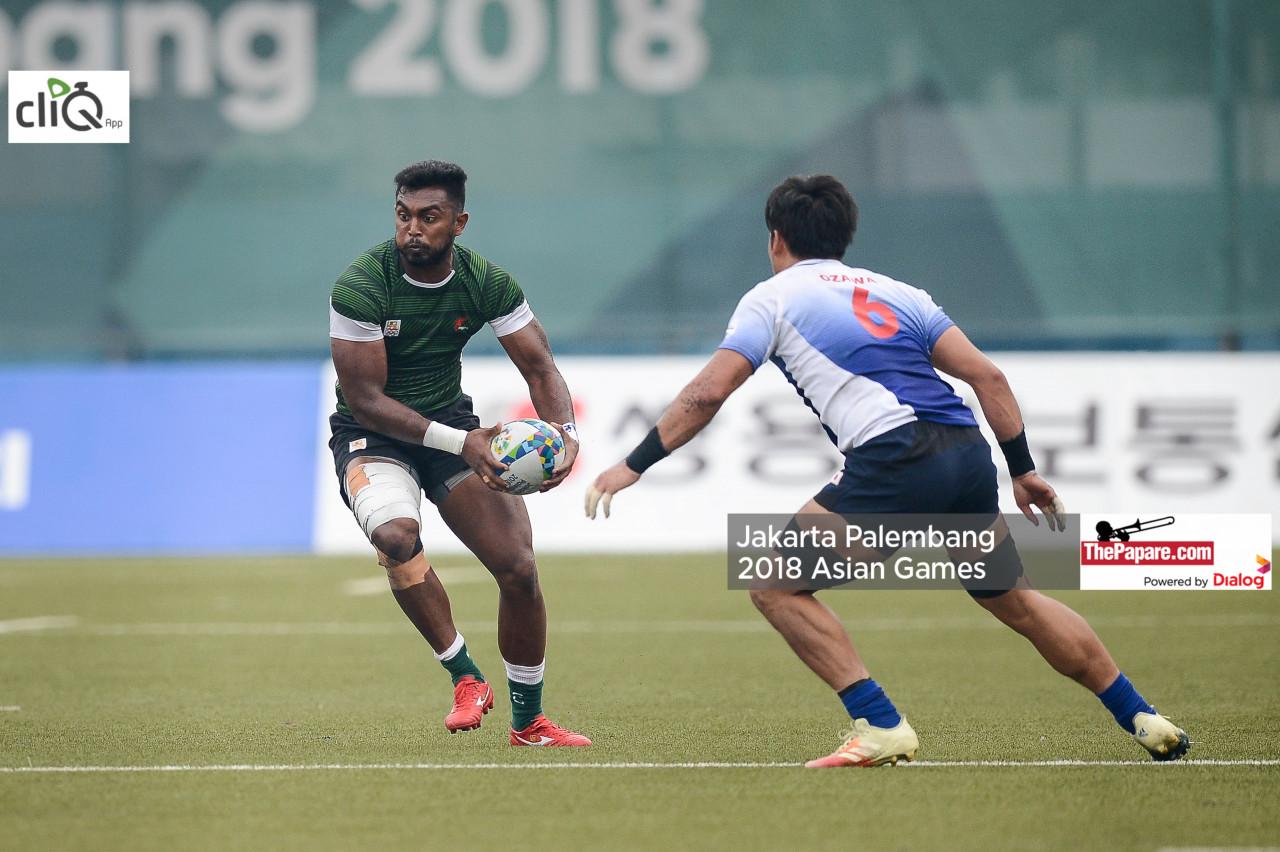 Given the gravity of the occasion and pressure to succeed, he was risked despite being unable to fire on all eight cylinders. A potential error in hindsight. A very big one.
Read: Ranjan in doubt for opener!
To compound matters, a sweeping flu bug made for disrupted preparations to hamper Sri Lanka further. Not ideal. The Tuskers were quite literally, walking wounded. Making for their performances all the more admirable.
6. So far but by far so close…
Looking at the selection for this tournament and there was a glaring omission, Omalka Gunaratne. It was crystal clear at what game plan Sri Lanka were pursuing. Out wide, fast threes and turbos from the outset. This method worked against the lesser teams but as the top flight began, it was evident this team needed a Ferdinand the bull type ball carrier.
It was an oversight and just like with the Junior Tuskers, these seniors were missing up front grunt. There isn't much more which can be said about this, other than, players should be selected for what lies ahead in competition. That being overseas tours and tournaments-not what is perceived as applicable for local gigs. When in Rome, pick and take an army for what will work in Rome and not Colombo. In this case, the Asian games.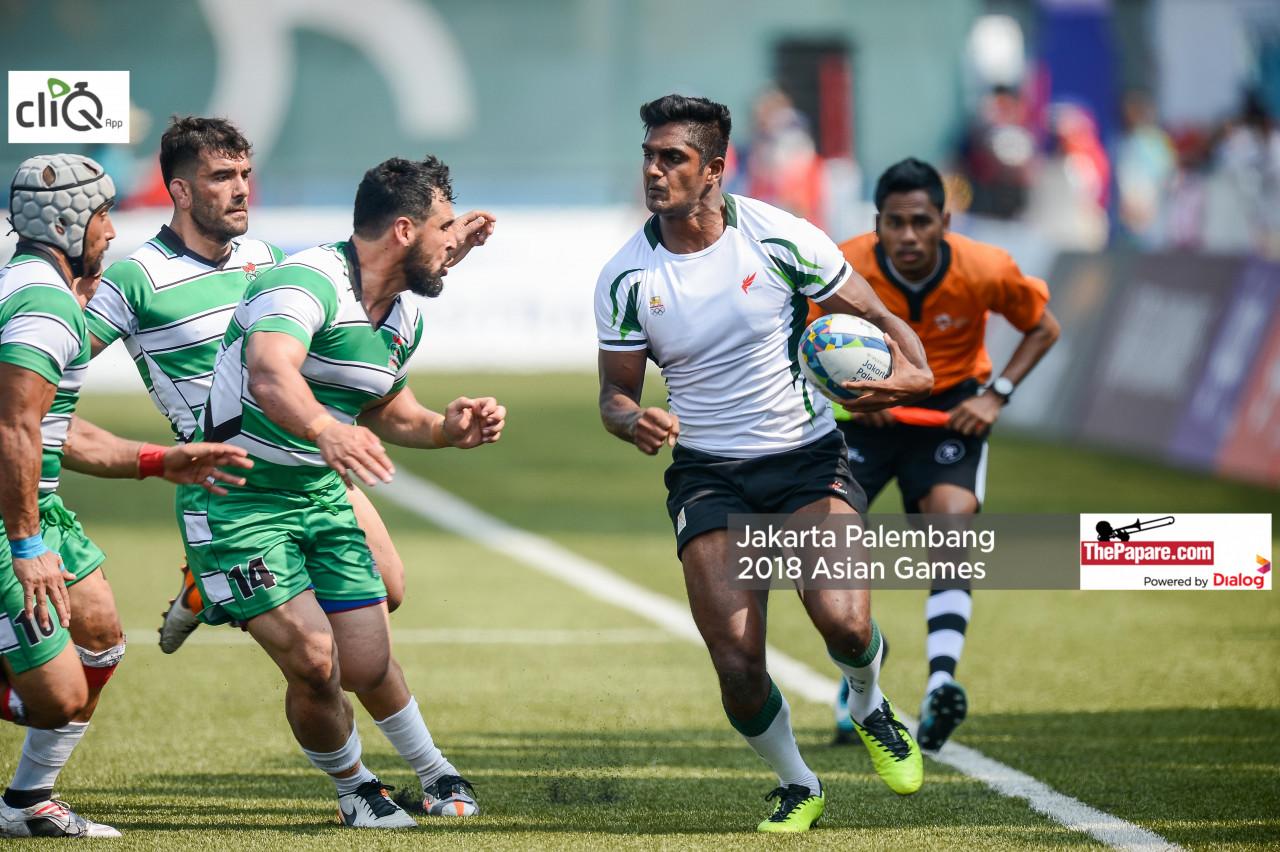 7. RUN ON form versus EXPOSED FORM
Taking a quick look at the numbers. It will tell you a very interesting story. Sri Lanka were on the cusp of a breakthrough but had to dial back the clock with their final game. Outdone on exposed form. Driving on empty with their RUN ON form. Let me explain.
| | | | |
| --- | --- | --- | --- |
| Team | PF | PA | Diff + / – |
| UAE | 68 | 0 | 68 |
| Korea | 26 | 31 | -5 |
| Afghanistan | 36 | 0 | 36 |
| China | 17 | 12 | 5 |
| Japan | 10 | 12 | -2 |
| Korea | 14 | 36 | -22 |
| Total | 171 | 91 | 80 |
| AVE | 28.5 | 15.2 | 13.3 |
Looking at the above table, there is a clear-cut difference in class and form between the two top sides who bested SLR (Korea and Japan). Everyone else bar China was demolished with ease. Going 3 straight games with initial try fests (even first loss to Korea) and then getting closer at the business end (10-12 loss to Japan).
Responding positively to the pressure situations largely due to RUN ON form this team established. It is the form gained by purely playing regular footy throughout the competition and in this case, spread over three days. The more they played, the better they got.
Read more from Boa Athu
However, as the game of the competition against Japan took a toll on the playing squad, using up what can be argued as almost all their RUN ON form, falling apart in dramatic fashion to a team they should have beaten. South Korea.
SKR, who had bested them earlier in the comp saved up their best EXPOSED form for last and trumped Sri Lanka with ease. That being said, the experience they had on board and ability understand playing patterns with prior exposure. This came down to better prep on the training paddock and game days, over three days.
The Tuskers made it easier for them by going against the script and looking for carries closer to the collision area, as opposed to out-wide. Possibly falling victim to both mental and physical fatigue.
This stays true in all forms of sport where short bursts with regular breaks are available. The result fell right into a confidence interval (95% V 5% or 9/10 V 1/10) of success or failure. Depends on how you see it. Numbers don't lie.
8. Mirror, mirror on the wall
A few weeks back, the Junior Tuskers who competed in the Asia sevens Hong Kong leg ended up in 4th pace. They, much like this team were beaten twice by Korea and had a golden opportunity to progress to the final match.
Given that both teams lost to the same opponent twice over and when it mattered most, more or less making the same errors in the ruck with turnover ball, you can't help but feel a sense of Snow White and the evil queen.
Unfortunately for Sri Lanka, a herculean effort against Japan was undone by their inability to follow up their combined form for the Bronze medal. This is all part of learning and executing at the right time. No different for the juniors.
From a playing pattern, there is a strong resemblance and correlation. Here is one for the black book of high performance management. Don't say I didn't say so, twice. Hopefully, next time, the seven dwarfs would carry Snow White all the way and truly be the fairest of them all.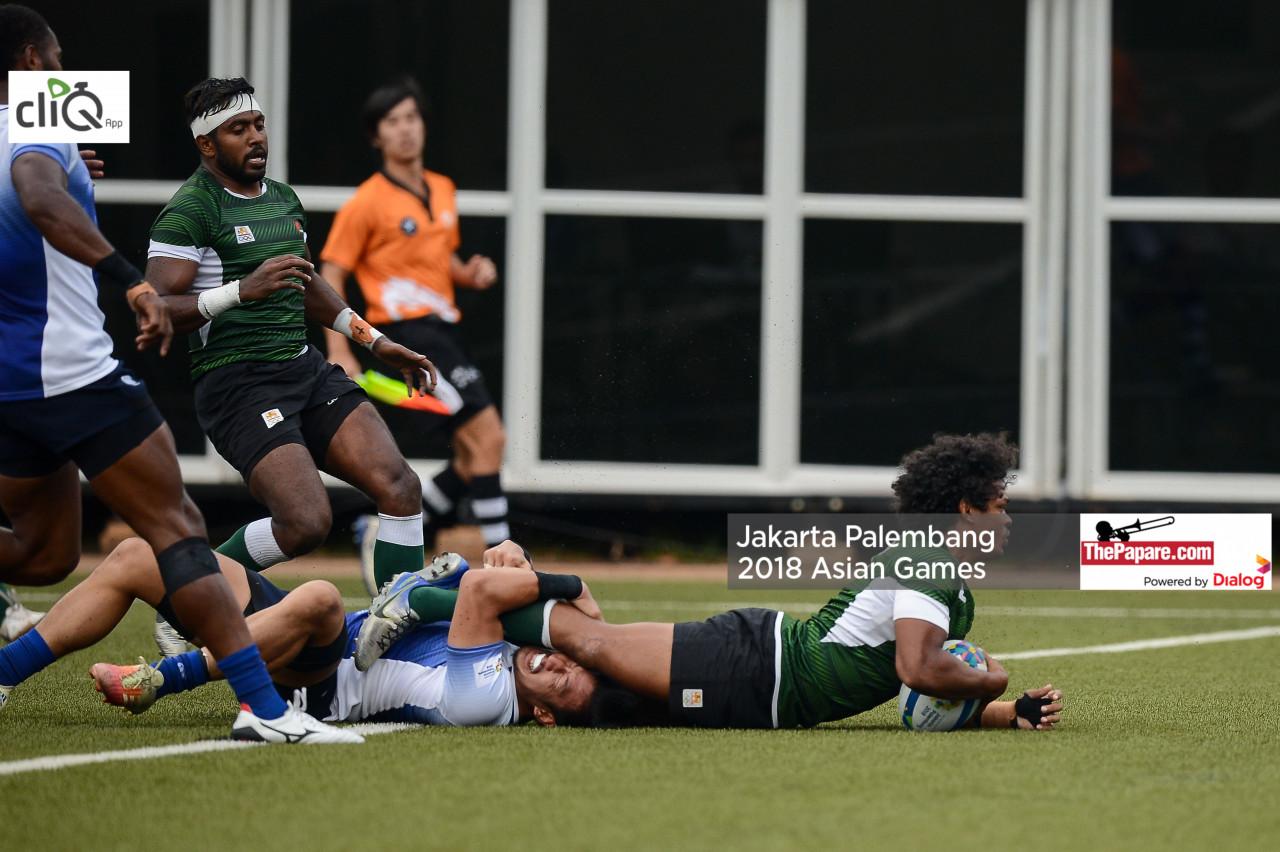 Sudharshan Muthuthanthri's try against Japan. He scored it but it was a team try from a beautiful set piece. Moving the ball side to side and going forward off a line out, 25 out from the left-hand corner, they moved it right and came back to the same end it all started. A jinxing effort by Muthu after every man handled the Gilbert, he was over mid-way in goal for a memorable try.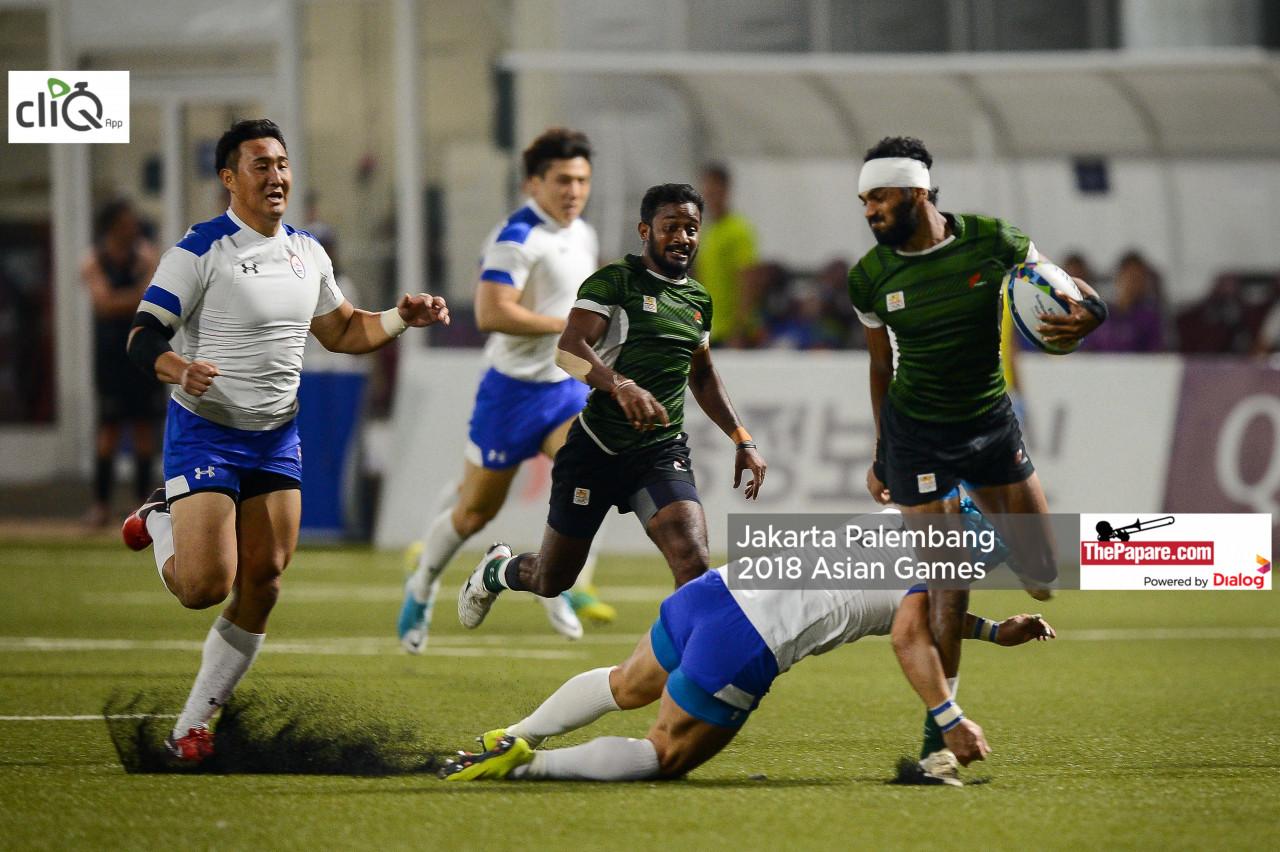 Kavindu Perera for his outstanding tournament, scoring tries, leading the run meters category and was one of the fastest in the entire games.
An honourable mention for Srinath Sooriyabandara. A sterling third appearance at an Asian games. A testament to his skills and longevity.
If you ever wanted to date the better-looking sister, did almost everything right-almost, sent her roses, wrote her poems with a box of chocolates; but that one little blunder, the chocolates expired a week ago and she noticed it.
All that hard work and romancing got undone and she chucks the goodies in the bin, only for her other sister to pick them up. She then calls you and you end up messing that up by calling her by the better-looking sisters name.
That's kind of what these Tuskers and their fans would be feeling right now. Little things along the way, when it mattered most-cost Sri Lanka. Depriving SL a taste of metal, Gold at best and Bronze at worst. Right now though, tasting like lead wrapped in tin foil. Leftover wrappers from those chocolates.
Disclaimer: The views and opinions expressed in this article are those of the author's and do not necessarily reflect the official policy or position of ThePapare.com