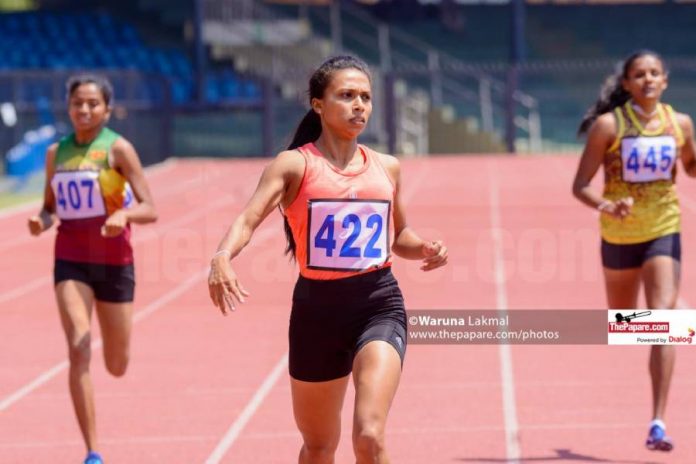 The selection process to grab the eligible performers for the Asian Athletic Championships 2019 to be held in Doha – Qatar 2019 which began on the 1st of January 2019 concluded on 22nd of March 2019 at the Sugathadasa Stadium, with the Final Selection trial.
Still rounding up the dawn of the new athletic season, many athletes celebrated their personal best performances in the events held last Friday but only a handful performed well enough to secure their slots in the pool.
The day kickstarted with a dashing victory by U. K. N. Rathnayake clocking a time of 9:55:15 secs in the women's 3000m Steeplechase event. The selection standards set by the Athletic Association of Sri Lanka back in August 2018, proposed a time of 10:00:00.
Sri Lanka Army housing many leading sports personalities pushed R. M. S. J. Ranasinghe an affirmed slot in the Javelin Throw event with a distance of 79.65m. Evaluating the medal tables for the past three Asian Athletic Championships Sumedha Ranasinghe, who was also a Commonwealth games finalist will be a man to watch.
>> Click here to view full results
The 800m duo Nimali Liyanaarachchi and Gayanthika Abeyratne who competed in the Commonwealth games held last year, once again managed to secure spots in the Asian Athletic Championships. They showcased timings of 2:02.65 mins and 2:03.62 mins respectively, a bit off the mark when compared to their performances of the past.
Sprinter Himasha Eshan managed to maintain his title as the fastest Sri Lankan with a performance of 10.24 secs in the 100m, behind his national record which sits at a time of 10.22 supported by the wind gauge of +1.4.
Some well known figures managed to get their names on the selected list, but the junior athletes too showed their class with numerous outstanding performances. The women's 100m event was a highlight with Shelinda Jensen in first place, Shermila Jan in second and Sadeepa Henderson in third, a race outrun by the youngsters. Kavindu Rajakaruna, Pasindu Kodikara, Randi Cooray, Navodya Sankalpa, Lakwijaya and Dilshi Kumarasinghe were also among the top performing Juniors.