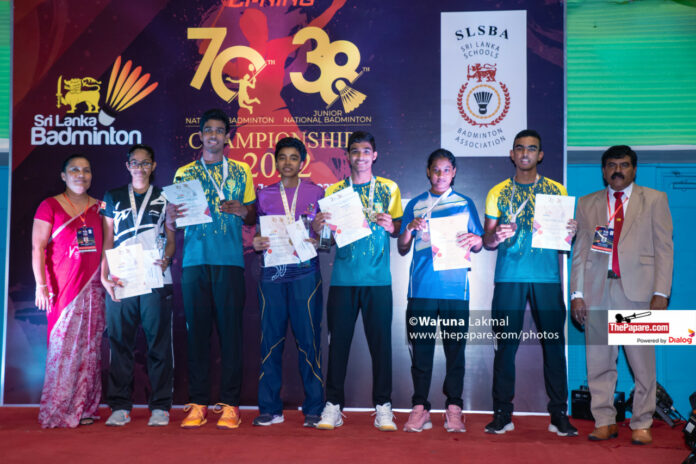 Savinka Weerasekera of DS Senanayake College and Rashmi Mudalige of Gateway International School emerged as Under 19 Boys and Girls Badminton champions respectively while Pulina Wellalage of St. Sebastian's College, Moratuwa clinched a triple crown at the 38th National Junior Badminton Championships held in Colombo.
At the annual event conducted by Sri Lanka Badminton with the support of Sri Lanka Schools Badminton Association, Weerasekera defeated Jason Homer of the Royal Institute International School 21-11, 21-11 in the Under 19 Boys' Singles final at the Sugathadasa Indoor Sports Complex.
Weerasekera then teamed up with Homer to beat Ashinsa Herath and Vidusha Sumanadasa of Royal College 21-18, 21-16 to win the Doubles title in the same age group.
In the Under 19 Girls' Singles final, Rashmi Mudalige beat Ondi Sethuki (Southland's College, Galle) 16-21, 21-14, 21-14.
Mudalige also secured her second title when she teamed up with young badminton sensation Wellalage to defeat Shenuk Samararatne and Sithuki Onadee 17-21, 21-19, 21-19 win the Under 19 Mixed Doubles final.
In the U19 Girls' Doubles final, Thisuni Liyanarachchi and Lawandi Umagiliyage of Sanghamitta College, Galle, denied Mudalige a third title when they defeated the latter and her Gateway College team-mate Natasha Gunasekara 21-15, 21-18 in the final.
Meanwhile, Wellalage, the younger brother of national cricketer Dunith Wellalage, beat Thilina Rajakaruna in straight sets (21-10, 21-16) to win the U17 Boys' Singles title, his second in the championships.
Wellalage's Triple Crown was completed when he and partner Shenuk Samararatne defeated Sanjula Handapangoda and Thilina Rajakaruna 21-13, 18-21, 25-23 in an all-Sebastianites Boys' U-17 doubles final.
Meanwhile, the young national shuttle sensation Ranithma Liyanage of the Christ Church College, Baddegama, who later became the National Singles Champion, defeated her Girls' U-17 singles opponent Ranumi Manage (Musaeus College) in the final comfortably (21-2, 21-13).
Full Results
Under 11 Boys Singles

Champion – Prithish Abeygunawardena (Richmond), Runner-up – Nesandu Hapukotuwa (Dharmaraja)

Under 11 Girls Singles

Champion – Gajali Padmabandara (St. Anthony's Girls, Katugastota), Second Runner-up – Sanumi Metsara (Musaeus)

Under 13 Boys Singles

Champion – Hasandu Fernando (St Sebastian's, Moratuwa), Runner-up – Amawan Amarasinghe (Panadura Lyceum)

Under 13 Girls Singles

Champion – Fatima Amani (Hill Country Girls, Kandy), Runner-up – Thenuki De Silva (Siridhamma College)

Under 13 Boys Doubles

Champions – Duvindu Edirisinghe/ Satsara Pubudu (St. Sebastian's, Moratuwa), Runners-up – Tenuja Galahitiawa/ Satish Avishka (St. Anthony's, Katugastota)

Under 13 Girls Doubles

Champions – Fatima Amani/ Netsara Yenuri (Hill Country Girls/ Sujatha Girls, Nugegoda), Runners-up – Inuki Bandara/ Divyadharani Dayaratne (Musaeus/ Lyceum, Wattala)

Under 15 Boys Singles

Champion – Tejana Herath (St. Anthony's Katugastota), Runner-up – Senut Sethmina (Ananda College)

Under 15 Girls Singles

Champion – Viswani Vanniarachchi (Gateway International), Runner-up – Lakshya Sajeevakumar (Lyceum Wattala)

Under 15 Boys Doubles

Champions – Janeesha De Silva/ Mihila Jayaweera (St. Joseph's/ Wattala Lyceum), Runners-up – Akash Shamal/ Tejana Herath (St. Anthony's Katugastota)

Under 15 Girls Doubles

Champions – Sanuti Gurusinghe/ Pavani Ileperuma (Sanghamitta Galle), Runners-up – Dihini Mendis/ Lakshya Sajeevakumar (Southland Galle/ Wattala Lyceum)

Under 17 Boys Singles

Champion – Pulina Wellalage (St. Sebastian's Moratuwa), Runner-up – Thilina Rajakaruna (St. Sebastian's, Moratuwa)

Under 17 Girls Singles

Champion – Ranithma Liyanage (Christ Church Girls, Baddegama), Runner-up – Ranumi Manage (Musaeus)

Under 17 Boys Doubles

Champions – Pulina Wellalage/ Shenuk Samararatne (St. Sebastian's, Moratuwa), Runners-up – Sanjula Handapangoda/ Thilina Rajakaruna (St. Sebastian's, Moratuwa)

Under 17 Girls Doubles

Champions – L.A. Dinethya/ Devmi Ubesirivardhana (Sujatha Balika, Matara), Runners-up – Dilini Ambalangodage/ H.G. Sandani (Anula College/ Sujatha College Matara)

Under 19 Boys Singles

Champion – Savinaka Veerasekera (DS Senanayake), Runner-up – Jason Homer (Royal Institute)

Under 19 Girls Singles

Champion – Rashmi Mudalige (Gateway), Runner-up – Ondi Sethuki (Southlands, Galle)

Under 19 Boys Doubles

Champions – Jason Homer/Savinaka Weerasekera (Royal Institute/ DS. Senanayake), Runners-up -Ashinsa Herath/ Vidusha Sumanadasa (Royal)

Under 19 Girls Doubles

Champions – Tisuni Liyanarachchi/ Lavandi Umagaliyage (Sanghamitta, Galle), Runners-up – Natasha Gunasekara/ Rashmi Mudalige (Gateway)

Under 19 Mixed Doubles

Champions – Pulina Vellalage/Rashmi Mudalige (St. Sebastian's, Moratuwa/Gateway), Runner-up – Shenuk Samararatne/ Situki Onadi (St. Sebastian's, Moratuwa/ Sujata Vidyalaya Matara)