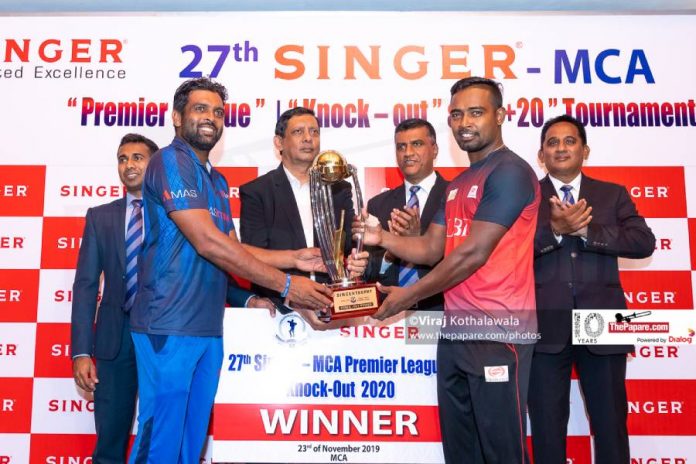 LB Finance were well on their way to a second MCA title during the 2019/20 season, but rain and bad light brought a premature end to the 27th MCA Premier Knockout Tournament Fina before they were declared  joint champions along with MAS Unichela. 
After being sent into bat, LB Finance posted a challenging 259/7 in their 37 over after starting the game as a 42 over affair due to bad weather. This meant that MAS Unichela were given a revised DLS target of 279 runs to win in 37 overs, which they never quite came to terms with. 
LB rode on a superb unbeaten 97* by Sadeera Samarawickrama, who was very unfortunate not to reach the three figure mark.  He got great support from Dhananjaya de Silva as the duo added a century stand for the 3rd wicket with De silva making a half century. 
>>Photos: LB Finance Cricket Team Preview 2020<<
It was LB skipper Lakshan Rodrigo who came out all guns blazing in the rain-shortened affair as he blasted 45 runs off 19 balls for LB Finance, setting the aggressive tone at the top of the order and making batting easier for the batsmen to follow. 
Charith Asalanka also made a useful 25 which included a couple of towering sixes, while Lahiru Jayaratne captured two wickets for MAS Unichela. 
Having been set a massive target, veterans TM Dilshan, TM Sampath and Mahela Udawatte all blasted the LB Finance bowling early on, but they eventually threw their wickets away as Unichela were reduced to 109/6 after 15 overs, well and truly out of the contest.
Photos: LB Finance vs MAS Unichela | 27th Singer-MCA Premier League 2020 – Knock-Out stage – Finals
The star studded MAS batting line up crumbled under pressure and Kavika Dilshan and Shiran Fernando captured two crucial wickets apiece to set LB Finance well on their way to victory.      
Chamara Silva remained unbeaten on 25* when the umpires eventually decided to call off the game as the two teams were declared joint champions. 


Batsmen
R
B
4s
6s
SR
Lakshan Rodrigo
c T. M. Sampath b Lahiru Jayaratne
45
19
6
3
236.84
Sadeera Samarawickrama
not out
97
97
5
3
100.00
Kusal Mendis
c T. M. Sampath b Lahiru Jayaratne
5
11
0
0
45.45
Dhanajaya de Silva
c Priyamal Perera b T M Dilshan
59
65
1
0
90.77
Angelo Perera
c Priyamal Perera b Dilruwan Perera
18
13
2
1
138.46
Charith Asalanka
c Priyamal Perera b Lahiru Madushanka
25
16
1
2
156.25
Shiran Fernando
run out (Lahiru Madushanka)
0
1
0
0
0.00
Ashen Bandara
run out (T. M. Sampath)
1
2
0
0
50.00
| | |
| --- | --- |
| Extras | 9 (b 0 , lb 0 , nb 1, w 8, pen 0) |
| Total | 259/7 (37 Overs, RR: 7) |
| Fall of Wickets | 1-62 (5.1) Lakshan Rodrigo, 2-80 (9.4) Kusal Mendis, 3-181 (27.2) Dhanajaya de Silva, 4-212 (31.3) Angelo Perera, 5-254 (36.1) Charith Asalanka, 6-254 (36.2) Shiran Fernando, 7-259 (36.6) Ashen Bandara, |
| Bowling | O | M | R | W | Econ |
| --- | --- | --- | --- | --- | --- |
| Lahiru Madushanka | 8 | 0 | 68 | 1 | 8.50 |
| Lahiru Jayaratne | 7 | 0 | 47 | 2 | 6.71 |
| Nipun Ransika | 6 | 0 | 57 | 0 | 9.50 |
| Kamindu Mendis | 5 | 0 | 29 | 0 | 5.80 |
| Dilruwan Perera | 6 | 0 | 40 | 1 | 6.67 |
| T M Dilshan | 5 | 0 | 18 | 1 | 3.60 |


Batsmen
R
B
4s
6s
SR
T. M. Sampath
c Charith Asalanka b Dhanajaya de Silva
13
10
0
2
130.00
Kusal Janith
b Shiran Fernando
4
3
1
0
133.33
T M Dilshan
c Lahiru Udara b Shiran Fernando
15
9
3
0
166.67
Mahela Udawatte
st Sadeera Samarawickrama b Kavika Dilshan
22
18
2
1
122.22
Priyamal Perera
b Charith Asalanka
12
14
0
1
85.71
Chamara Silva
not out
25
25
1
1
100.00
Kamindu Mendis
c Shiran Fernando b Kavika Dilshan
6
12
0
0
50.00
Lahiru Madushanka
not out
1
2
0
0
50.00
| | |
| --- | --- |
| Extras | 11 (b 0 , lb 5 , nb 3, w 3, pen 0) |
| Total | 109/6 (15 Overs, RR: 7.27) |
| Fall of Wickets | 1-7 (0.4) Kusal Janith, 2-24 (2.2) T M Dilshan, 3-41 (3.2) T. M. Sampath, 4-67 (6.6) Priyamal Perera, 5-88 (10.5) Mahela Udawatte, 6-105 (14.1) Kamindu Mendis, |
| Bowling | O | M | R | W | Econ |
| --- | --- | --- | --- | --- | --- |
| Shiran Fernando | 3 | 0 | 44 | 2 | 14.67 |
| Chathuranga Kumara | 1 | 0 | 7 | 0 | 7.00 |
| Dhanajaya de Silva | 6 | 0 | 29 | 1 | 4.83 |
| Charith Asalanka | 1 | 0 | 5 | 1 | 5.00 |
| Kavika Dilshan | 4 | 0 | 17 | 2 | 4.25 |