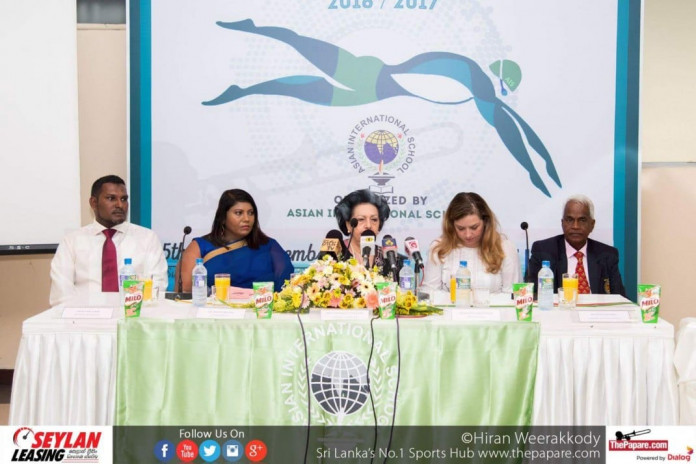 With a record participation of over 800 swimmers from 21 schools, the 22nd instalment of the Inter-International Swimming Championship will come alive at the Sugathadasa Swimming Pool Complex this weekend.
A brainchild of Asian International School, the Inter- International Swimming Championship is one of the main sporting events in the school calendar and the 2016 edition will take place on the 5th and 6th of November.
Speaking at the press conference held ahead of the championship, Principal of Asian International School Dr Mrs Goolbai Gunasekara addressed about the emergence of the championship at a time where international schools were barred from the national school meets.
"At that time international schools were not allowed to participate with the national schools in the meets so the children from the international schools did not get any opportunity."
"AIS along with nine other schools then came together to organise this Inter-International Swimming Championship in the year 1996 and since then it has been continuing.."
Photos of the 22nd Inter International Schools Swimming 2016 | Press Confrenc
From the 1st meet that was held on the 1st of March 2016, the championship has come a long way gaining momentum gradually. With the 22nd edition on the cards, hosts Asian International School has claimed the title on 12 occasions, Lyceum International School Wattala four times, Colombo International School three times and Lyceum International School Nugegoda three times.
A total of 21 schools will participate this year along with hosts Asian International School who would compete in 84 individual and 22 relay events.
The Inter-International is renowned to be a proving-grounds for many athletes who rose to the top most level in swimming such as Olympians Matthew Abeysinghe and Kimiko Raheem who were both products of Asian International School.
The championship is set to commence at 8.30 a.m. on Saturday with the opening ceremony and is set to conclude with the awards on Sunday (6th) at 3.30 p.m.
Log in to thepapare.com for updates, photos and highlights of the event