Royal ended day 2 in a commanding position with a lead of 341 at the 144th Battle of the Blues played at the Sinhalese Sports Club Grounds.
Royal declared overnight with the score on 326 for 8 looking to exploit the day 2 bowler friendly morning conditions. They did just that, picking four Thomian wickets for 94 by lunch. Bulan Weerathunga took the 1st wicket, with a brilliant bouncer, which Thisen Eheliyagoda could only nick it to Sandesh Ramanayake at first slip.
RELATED COVERAGE
Then, Ramanayake trapped Dineth Goonewardena leg-before wicket for 10 and Ranuka Malaviarachchi got the big wicket of the Thomian captain Romesh Mendis (4). Just as S. Thomas' were putting together a partnership (38) Nathan Caldera was brilliantly caught by Dasis Manchanayake off the bowling of Ramiru Perera for 20.
After lunch, Senadhi Bulankulame's dogged 40 off 103 deliveries was ended, caught down the leg-side by Sanvidu Senaratharachchi off Malaviarachchi. Ramanayake picked Charuka Peiris for 17 as S. Thomas' were reeling at 130 for 6. Substitute Anush Polonowita took an exceptional catch off Sineth Jayawardena to dismiss Senesh Hettiarachchi and the very next over Thomian vice-captain was dismissed for 30 by Bulan Weerathunga.
Jayawardena and Weerathunga took the next two wickets as the Thomians were bowled out for 153, still 23 runs behind the follow-on target. However, Royal skipper Manchanayake decided not to force the follow-on as Royal came to bat in their 2nd innings.
Akash Fernando, who took 4 wickets in the 1st innings, bagged two more as Royal were 13 for 2. However, Uvindu Weerasekara and Manchanayake added a 72-run partnership in no time before Fernando bowled Weerasekara for 28. Manchanayake went onto score 57 (49 balls) and he too was bowled by Fernando.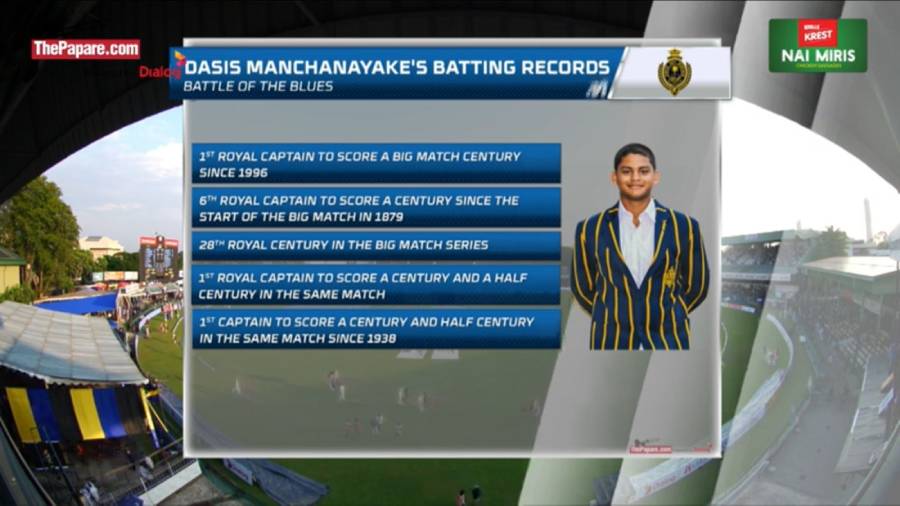 Ramiru Perera kept hitting fours and sixes scoring 46* in 34 balls as Royal ended day 2, 168 for 4 in 26 overs and they are likely to declare overnight once again.
Catch all the action from Day 3 of the 144th Battle of the Blues LIVE on ThePapare.com, Dialog TV Channel 22 and the Dialog ViU app.
153/10 (55) & 161/10 (58.5)


Batsmen
R
B
4s
6s
SR
Rehan Peris
c Senesh Hettiarachchi b Akash Fernando
4
4
1
0
100.00
Sineth Jayawardena
b Nathan Caldera
1
3
0
0
33.33
Ovina Ambanpola
b Akash Fernando
30
71
1
0
42.25
Uvindu Weerasekara
c Nathan Caldera b Kavindu Dias
3
13
0
0
23.08
Dasis Manchanayake
b Kavindu Dais
137
150
17
0
91.33
Ramiru Perera
c Romesh Mendis b Kavindu Dais
128
186
15
2
68.82
Sandesh Ramanayaka
lbw b Akash Fernando
0
4
0
0
0.00
Sanvidu Senartharachchi
not out
8
8
0
0
100.00
Bulan Weerathunga
b Akash Fernando
2
3
0
0
66.67
Nethwin Dharmarathne
not out
0
5
0
0
0.00
| | |
| --- | --- |
| Extras | 13 (b 8 , lb 0 , nb 3, w 2, pen 0) |
| Total | 326/8 (74 Overs, RR: 4.41) |
| Bowling | O | M | R | W | Econ |
| --- | --- | --- | --- | --- | --- |
| Akash Fernando | 13 | 1 | 55 | 4 | 4.23 |
| Nathan Caldera | 16 | 2 | 64 | 1 | 4.00 |
| Kavindu Dias | 13 | 2 | 58 | 3 | 4.46 |
| Dinura Gunawardena | 7 | 0 | 35 | 0 | 5.00 |
| Charuka Peiris | 13 | 0 | 55 | 0 | 4.23 |
| Abheeth J Paranawidana | 10 | 0 | 39 | 0 | 3.90 |
| Senadhi Bulankulama | 1 | 0 | 3 | 0 | 3.00 |
| Mahith Perera | 1 | 0 | 9 | 0 | 9.00 |


Batsmen
R
B
4s
6s
SR
Senadhi Bulankulama
c Sanvidu Senartharachchi b Ranuka Malaviarachchi
40
104
5
0
38.46
Thishen Ehaliyagoda
c Sandesh Ramanayaka b Bulan Weerathunga
5
7
1
0
71.43
Dineth Gunawardena
lbw b Sandesh Ramanayaka
10
26
2
0
38.46
Romesh Mendis
c Sandesh Ramanayaka b
4
9
1
0
44.44
Nathan Caldera
c Dasis Manchanayake b Ramiru Perera
20
25
3
0
80.00
Charuka Peiris
c Sineth Jayawardena b Sandesh Ramanayaka
17
66
2
0
25.76
Mahith Perera
c Sanvidu Senartharachchi b Bulan Weerathunga
30
43
5
0
69.77
Senesh Hettiarachchi
c b Sineth Jayawardena
9
33
1
0
27.27
Akash Fernando
not out
1
9
0
0
11.11
Kavindu Dais
st Sanvidu Senartharachchi b Sineth Jayawardena
0
6
0
0
0.00
Abheeth J Paranawidana
b Bulan Weerathunga
0
4
0
0
0.00
| | |
| --- | --- |
| Extras | 17 (b 6 , lb 0 , nb 2, w 9, pen 0) |
| Total | 153/10 (55 Overs, RR: 2.78) |
| Bowling | O | M | R | W | Econ |
| --- | --- | --- | --- | --- | --- |
| Ranuka Malaviarachchi | 12 | 1 | 39 | 2 | 3.25 |
| Bulan Weerathunga | 14 | 6 | 26 | 3 | 1.86 |
| Sandesh Ramanayaka | 10 | 0 | 36 | 2 | 3.60 |
| Dasis Manchanayake | 2 | 0 | 11 | 0 | 5.50 |
| Sineth Jayawardena | 7 | 3 | 9 | 2 | 1.29 |
| Ramiru Perera | 10 | 1 | 29 | 1 | 2.90 |


Batsmen
R
B
4s
6s
SR
Sineth Jayawardena
lbw b Akash Fernando
4
5
1
0
80.00
Ovina Ambanpola
c Romesh Mendis b Akash Fernando
5
11
0
0
45.45
Uvindu Weerasekara
b Akash Fernando
28
43
2
1
65.12
Dasis Manchanayake
b Akash Fernando
57
49
6
0
116.33
Ramiru Perera
not out
46
34
3
2
135.29
Sanvidu Senartharachchi
not out
11
16
0
0
68.75
| | |
| --- | --- |
| Extras | 17 (b 11 , lb 0 , nb 2, w 4, pen 0) |
| Total | 168/4 (26 Overs, RR: 6.46) |
| Bowling | O | M | R | W | Econ |
| --- | --- | --- | --- | --- | --- |
| Nathan Caldera | 7 | 0 | 28 | 0 | 4.00 |
| Akash Fernando | 9 | 0 | 59 | 4 | 6.56 |
| Kavindu Dias | 6 | 0 | 39 | 0 | 6.50 |
| Dinura Gunawardena | 3 | 0 | 16 | 0 | 5.33 |
| Charuka Peiris | 1 | 0 | 15 | 0 | 15.00 |


Batsmen
R
B
4s
6s
SR
Thishen Ehaliyagoda
lbw b Ranuka Malaviarachchi
0
3
0
0
0.00
Dineth Gunawardena
c Uvindu Weerasekara b Sandesh Ramanayaka
15
44
1
0
34.09
Romesh Mendis
lbw b Bulan Weerathunga
12
20
2
0
60.00
Senadhi Bulankulama
c b Nethwin Dharmarathne
13
39
2
0
33.33
Nathan Caldera
b Nethwin Dharmarathne
18
40
1
0
45.00
Mahith Perera
lbw b Dasis Manchanayake
7
8
1
0
87.50
Senesh Hettiarachchi
c Dasis Manchanayake b Sineth Jayawardena
46
87
7
0
52.87
Charuka Peiris
b Ramiru Perera
22
86
3
0
25.58
Akash Fernando
c Uvindu Weerasekara b Ramiru Perera
0
1
0
0
0.00
Kavindu Dais
lbw b Sineth Jayawardena
14
19
3
0
73.68
Abheeth J Paranawidana
not out
0
8
0
0
0.00
| | |
| --- | --- |
| Extras | 14 (b 8 , lb 4 , nb 2, w 0, pen 0) |
| Total | 161/10 (58.5 Overs, RR: 2.74) |
| Bowling | O | M | R | W | Econ |
| --- | --- | --- | --- | --- | --- |
| Ranuka Malaviarachchi | 10 | 2 | 34 | 1 | 3.40 |
| Bulan Weerathunga | 9 | 4 | 18 | 1 | 2.00 |
| Sandesh Ramanayaka | 7 | 1 | 24 | 1 | 3.43 |
| Sineth Jayawardena | 9.5 | 3 | 14 | 2 | 1.47 |
| Dasis Manchanayake | 4 | 0 | 9 | 1 | 2.25 |
| Nethwin Dharmarathne | 10 | 2 | 27 | 2 | 2.70 |
| Ramiru Perera | 9 | 2 | 25 | 2 | 2.78 |