A splendid bowling performance by Kushan Madhusha and Ashen Kandambi helped Mahinda College to a strong position at the end of day 1 of the 114th Lovers' Quarrel, the Annual Big Match encounter between traditional rivals Richmond College at the Galle International cricket stadium.
Madhusha and Kandambi were brought into bowl after the completion of the first 10 overs in the Richmond innings with the score at 34 for 1, and from there on soon had the Richmond College batsmen in all sorts of trouble. Madhusha ended the day with 3 for 15 and Kandambi 2 for 8.
At the start of the Richmond innings, openers Aditiya Siriwardhana and Vinuja Kiriella got off to a sound start by putting on 34 runs for the first wicket. However, from there on, they lost wickets at regular intervals and were 56 for 6 at one stage. Sandun Mendis, 20 not out and Sammu Vimud, 18 not out with an unfinished 43-run partnership helped Richmond College to finish the day on 99 for 6.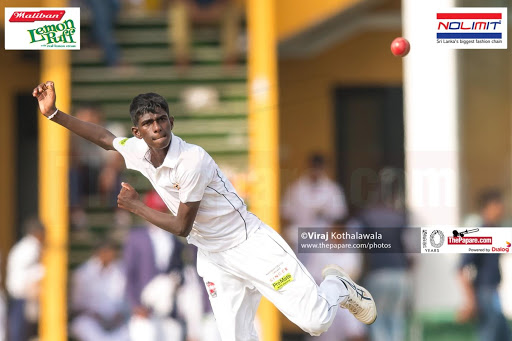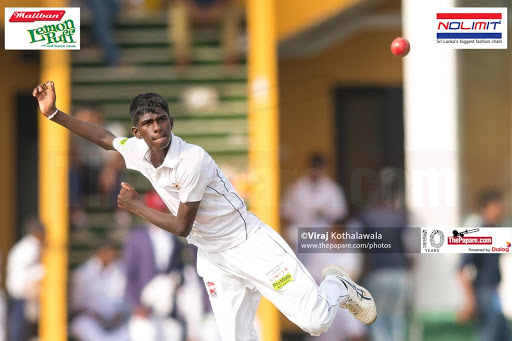 Photos: Richmond College vs Mahinda College – 114th Lovers' Quarrel | Day 1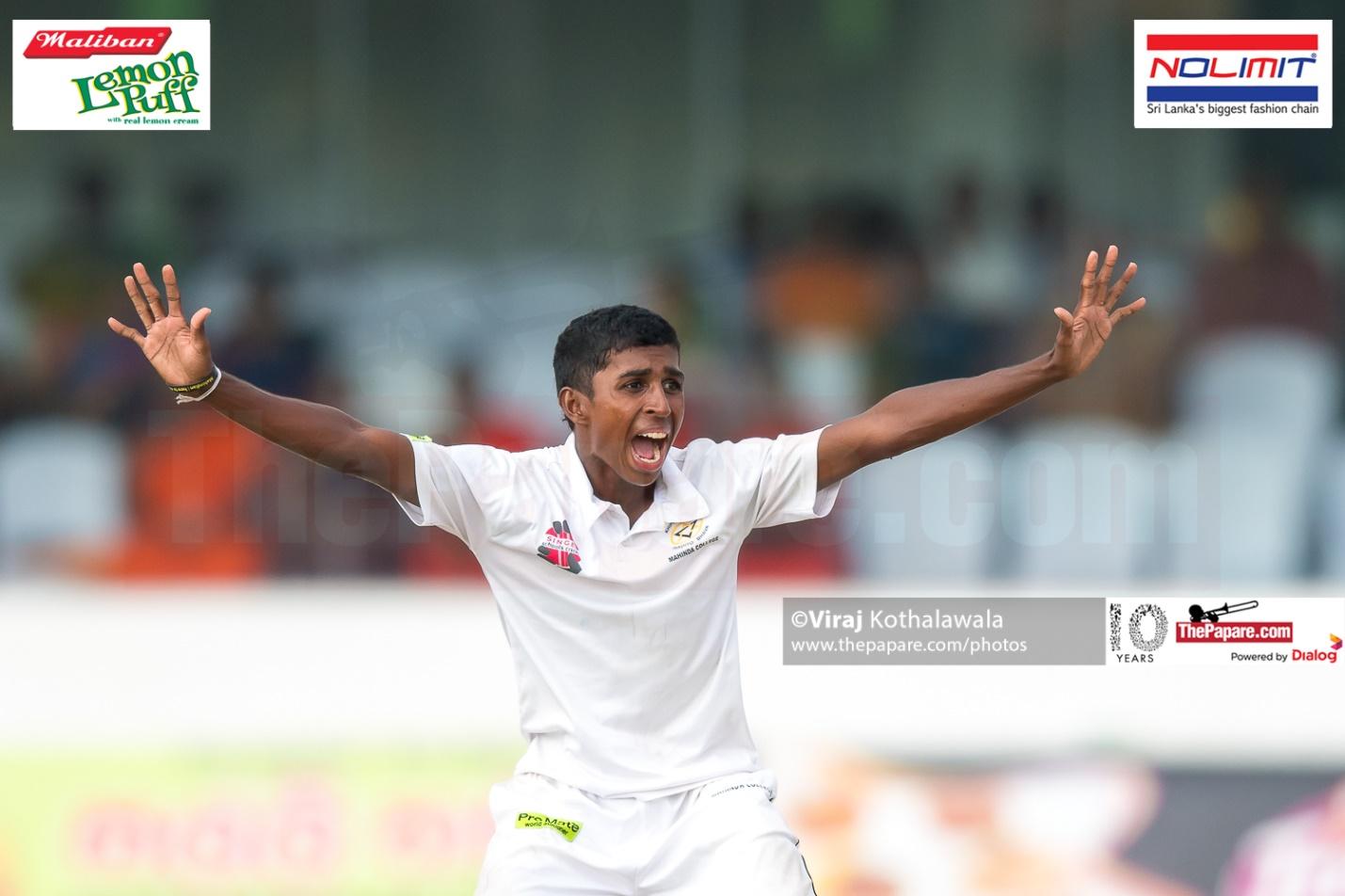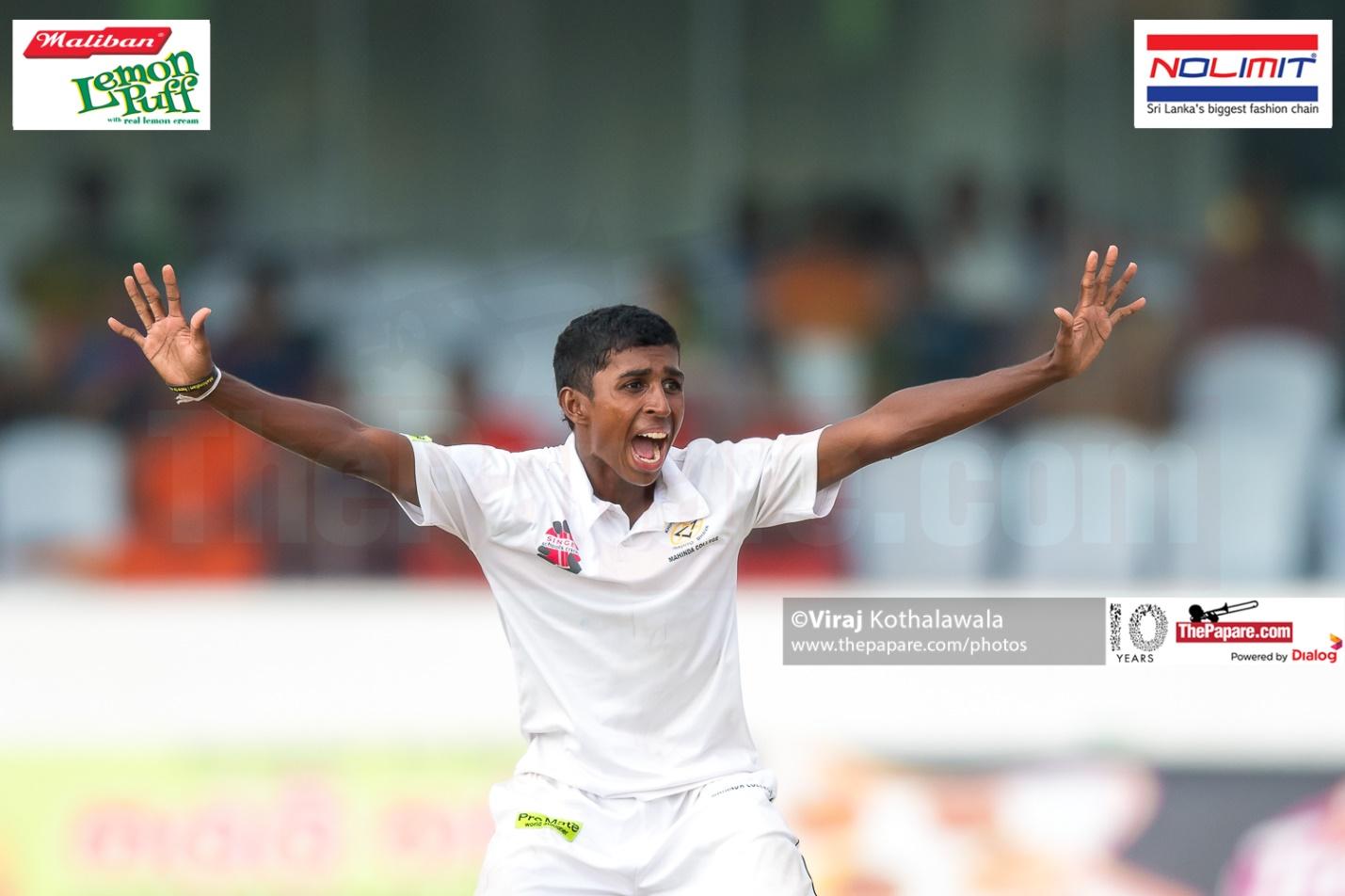 Earlier in the day Richmond College captain Thaveesha Abishek won the toss and surprisingly decided to put Mahinda College into bat on a wicket which looked ideal for batting. Mahinda openers Navod Paranavithana and Kawshitha Kodithuwakku got off to a flying start by putting on 58 runs for the first wicket. Later in the innings, Nipun Malinga 44 (2 boundaries and 4 sixers) and skipper Vinura Dulsara 27 batted well to take the Mahinda College score to 129 for 4, but the rest of the batsmen failed to make an impression against some tight bowling by the Richmond spinners. The last seven Mahinda College wickets fell for just 66 runs.
For Richmond, Dilum Sudeera 5 for 49, Sandun Mendis 3 for 53, and Dimuth Sandaruwan 2 for 33 bowled their hearts out to restrict the strong Mahinda batting line up.
Richmond College trail Mahinda by 98 runs with four wickets intact.  The stage seems set for a thrilling day of cricket tomorrow with Mahinda College and Richmond College both looking to muscle into a commanding position in the game – whether it be scoring runs or making early inroads into the batting line up, as batting towards the latter part of the second day will not be easy with the wicket assisting the spin bowlers.
Scorecard


Batsmen
R
B
4s
6s
SR
Navod Dinusri Paranavithana
lbw b Sandun Mendis
26
30
3
0
86.67
K Kodithuwakku
c Kavindu Hansika Edirweera b Dilum Sudeera
36
50
3
0
72.00
D Induwara
lbw b Dilum Sudeera
9
18
2
0
50.00
Ravindu Hansika Welihinda
c Vinuja Kiriella b Sandun Mendis
0
5
0
0
0.00
Nipun Malinga
b Sandun Mendis
44
29
1
4
151.72
Vinura Hiranjith Dulsara
c Thaveesha Abhishek b Dimuth Sadaruwan
26
91
2
0
28.57
Ashen Janith Gunasekara Kandambi
b Dilum Sudeera
17
18
1
0
94.44
K Madusha
c Thaveesha Abhishek b Dilum Sudeera
3
11
0
0
27.27
Pasan Ranmal Pethangoda
c Dilum Sudeera b Dimuth Sadaruwan
11
68
1
0
16.18
Kushan Randeepa
c Thaveesha Abhishek b Dilum Sudeera
4
28
1
0
14.29
Subanu K Rajapaksha
not out
8
29
1
0
27.59
| | |
| --- | --- |
| Extras | 13 (b 3 , lb 7 , nb 3, w 0) |
| Total | 197/10 (63.3 Overs, RR: 3.1) |
| Bowling | O | M | R | W | Econ |
| --- | --- | --- | --- | --- | --- |
| Kalpa Nethsara | 5 | 0 | 18 | 0 | 3.60 |
| Amshi Oren | 5 | 0 | 26 | 0 | 5.20 |
| Sandun Mendis | 18 | 2 | 42 | 3 | 2.33 |
| Dilum Sudeera | 23.3 | 3 | 48 | 5 | 2.06 |
| Dimuth Sadaruwan | 12 | 3 | 34 | 2 | 2.83 |


Batsmen
R
B
4s
6s
SR
Adithya Siriwardena
st Vinura Hiranjith Dulsara b K Madusha
20
48
2
0
41.67
Vinuja Kiriella
b K Malliyawadu
6
25
0
0
24.00
Bhanuka Manohara
lbw b Ashen Janith Gunasekara Kandambi
13
29
1
1
44.83
Thaveesha Abhishek
st Vinura Hiranjith Dulsara b K Madusha
6
14
1
0
42.86
Dimuth Sadaruwan
b K Madusha
0
4
0
0
0.00
Dilum Sudeera
c Vinura Hiranjith Dulsara b Ashen Janith Gunasekara Kandambi
0
3
0
0
0.00
Sandun Mendis
b Navod Dinusri Paranavithana
36
42
6
0
85.71
Vimud Sapnaka
lbw b Navod Dinusri Paranavithana
20
44
0
0
45.45
Amshi Oren
c Subanu K Rajapaksha b K Madusha
5
12
1
0
41.67
Chamath Dilsara
c Ravindu Hansika Welihinda b K Madusha
15
27
1
0
55.56
Kalpa Nethsara
not out
3
2
0
0
150.00
| | |
| --- | --- |
| Extras | 20 (b 10 , lb 5 , nb 0, w 5) |
| Total | 144/10 (46 Overs, RR: 3.13) |
| Bowling | O | M | R | W | Econ |
| --- | --- | --- | --- | --- | --- |
| Nipun Malinga | 10 | 1 | 36 | 0 | 3.60 |
| Pasan Ranmal Pethangoda | 5 | 0 | 22 | 0 | 4.40 |
| K Malliyawadu | 6 | 1 | 18 | 1 | 3.00 |
| Navod Dinusri Paranavithana | 9 | 2 | 24 | 2 | 2.67 |
| K Madusha | 9 | 2 | 20 | 5 | 2.22 |
| Subanu K Rajapaksha | 5 | 3 | 7 | 0 | 1.40 |
| Ashen Janith Gunasekara Kandambi | 2 | 0 | 10 | 2 | 5.00 |


Batsmen
R
B
4s
6s
SR
Navod Dinusri Paranavithana
not out
13
21
0
1
61.90
K Kodithuwakku
b Sandun Mendis
13
12
0
0
108.33
Ravindu Hansika Welihinda
b
1
3
0
0
33.33
| | |
| --- | --- |
| Extras | 0 (b 0 , lb 0 , nb 0, w 0) |
| Total | 27/1 (7 Overs, RR: 3.86) |
| Bowling | O | M | R | W | Econ |
| --- | --- | --- | --- | --- | --- |
| Sandun Mendis | 4 | 0 | 9 | 1 | 2.25 |
| Dilum Sudeera | 3 | 0 | 18 | 0 | 6.00 |