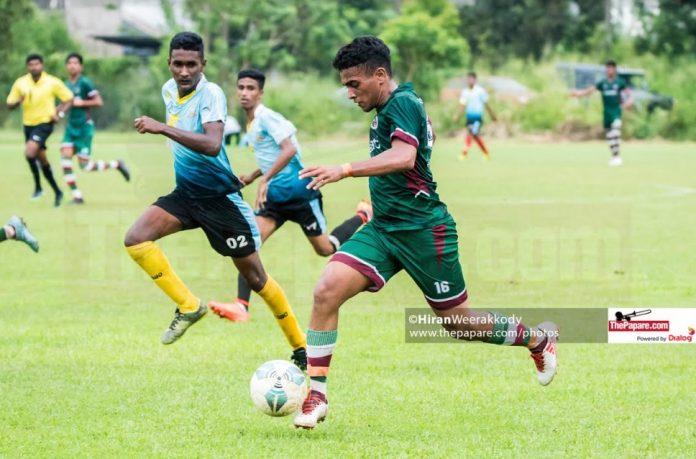 Zahira College Colombo beat Al Aqsha College Kinniya 3-1 at the ThePapare Football Championship Under 20 Group C match played at Kelaniya Football Complex.
Zahira came into the game after a disappointing draw with Mahajana College in week 1 whereas Al Aqsha was buoyed by a win over St. Benedict's College.
St. Peter's College showed no remorse as they thrashed Baduriya Central College 7-1, in a week 2 Group D fixture of ThePapare…
From the kick off it was one way traffic as Zahira College dominated play completely. Al Aqsha boys couldn't get hold of the ball as the Maradana boys went on the attack.
The first chance fell to Mohamed Murshid as early as the second minute of the game. A through ball from Mohamed Sajid was perfect, however Murshid was unable to slot it in from close range.
Wave after wave the Zahira boys attacked with some slick passing and ball possession. The forward trio of Mohamed Sajid, Mohamed Murshid and Mohamed Hammad were poor in executing the final ball.
Skipper Mohamed Aakib was also not spared with the poor finish as he too failed to convert easy chances. At one point it looked as if the Zahira boys left their goal scoring instinct back in Maradana.
The standout player for Al Aqsha was their goal Keeper Mohamed Askhan who played a pivotal role in keeping the ball out of his net with some sublime saves.
Zahira College came close to scoring when Mohamed Askhan was beaten by a shot by Hassan Raza only to be deprived by the upright.
All the possession and attack finally paid off in the added minute the first half when Mohamed Aakib finally managed to slot in from close range after exchanging passes with Mohamed Murshid.
Half Time – Zahira College 1 – 0 Al Aqsha College
Start of the second half once again it was Zahira who held the ball fluently and passed around expertly. This time around they were able to capitalize on a mistake from Al Aqsha.
Sahil Ahamed was sent through by Mohamed Aakib with a well weighted high ball. The advancing Aqsha keeper Mohamed Askhan missed the bounce and let the ball through. Sahil Ahamed following up tapped in to an empty net to give Zahira a comfortable lead.
After conceding the second goal Al Aqsha College started to penetrate the Zahira goal with pace and purpose which was lacking till that point.
Zahira Goal Keeper Mohamed Sakir was called to make several saves and the pressure mounted on the Maradana lads.
On the other side Zahira got several opportunities to kill the game which they failed thanks to Mohamed Askhan's heroics and this gave the boys from Kinniya hope.
In the 77th minute the opportunity opened for Al Aqsha when Mohamed Fahath was brought down inside the penalty box and referee pointing to the spot.
Mohamed Rohan converted the penalty to give more hope to Al Aqsha College. They kept pressing for a equalizer through some hard running by their midfield and forward.
All their hopes demised when Mohamed Rifakathulla trying a cross from right wing got deflection off Mohamed Rohan ended up in the Al Aqsha net sending Zahira to jubilation and agony for the Kinniya Boys.
Photos: St.Peter's College v Ginthota Zahira College – Galle | ThePapare.com Football Championship 2018
Full Time – Zahira College 3 – 1 Al Aqsha College
ThePapare.com spoke to both coaches following the match with Zahira College Asst Coach Fazul Rahuman saying, "In our first game we played according to the opponents. We spoke about it and tried to rectify the mistakes. Even in this game at the start we played as per their strength. Soon we managed to get the message out to the boys and we played better and got the win"
Al Aqsha College head coach A.L.M Nafeel disappointingly stated, "we had very limited time to prepare and travel for the game as we were not confirmed of the match. We manage to bring in only 13 players due to transport issues. Despite this I'm happy we played well and had the opportunity to take something back. Hopefully we will bounce back as the next 2 games we will play in our home grounds."
Skipper of Zahira College Mohamed Aakib expressing his views, "we did well to win today. The team is still getting in to rhythm  as we have not played together for long. We hope to reduce our mistakes and try to qualify for the knockout stage.
ThePapare.com Player of the Match – Mohamed Sajid (Zahira College)
Goal scorers

Zahira College  – Mohamed Aakib 45+1', Sahil Ahamed 51', Mohamed Rohan (OG) 81'

Al Aqsha College – Mohamed Rohan 77'

Yellow Card

Al Aqsha College – Mohamed Rohan 36'
>>For more Football News Click Here<<