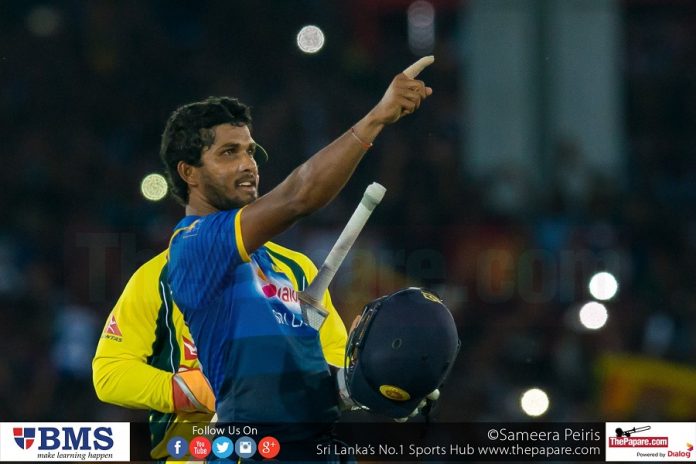 Some people use statistics in the same way drunkards use lamp posts; for support rather than illumination. When Dinesh Chandimal was axed from Sri Lanka's ODI squad for the home series against Zimbabwe last year, it was pointed out that his strike rate of 75 was no good for limited overs cricket.
Statistically with an average of 32 and strike rate of 75, he was only marginally below par to one of Sri Lanka's most successful ODI batsmen ever – Mahela Jayawardene (average 33 and strike rate 78).
Numbers, in any case, shouldn't be the only criterion when you make big calls. Chandimal's form in Test cricket has been stupendous however. In 2017, he made over 1000 runs in Tests. More importantly, there was a match winning hundred in Abu Dhabi and another match saving effort in Delhi. Prolific returns in the longer format of the game mostly away from home helped him to break into the top ten rankings for Test batsmen for the first time. Sri Lanka will play 12 Test matches this year and Chandimal is going to win a lot of games and fans with his steely determination.
If the fans get to know him more, their admiration will grow steadily. A loyal man to his roots, Chandimal made the move from Ambalangoda to Colombo reluctantly. Initially, he turned down the request from Ananda College. Then his mother reminded him of the need to look at the bigger picture. Well, they weren't dreaming of the son playing for Sri Lanka one day. But simple things like how a move to Colombo will help him to find a decent employment and that eventually easing the burdens on a large family where the father was the only bread winner.
At Ananda, Chandimal had built up a reputation as one of the brightest prospects for the future. His First Class debut will never be forgotten. It wasn't representing NCC, but against the visiting Kiwis for Sri Lanka Board President's XI in a three day game.
Rex Clementine has played a long innings for Sri Lanka cricket as a top journalist…
It was a decent attack comprising Chris Martin, Daryl Tuffey, Daniel Vettori and Jacob Oram. Chandimal went in at number three and cut the first ball he faced in First Class cricket for four. Sri Lanka Board President's XI managed only 159 in their first innings. Chandimal scored the only half-century. His spectacular 64 comprised of 11 boundaries.
A few months later, he was drafted into the senior side and went onto make his debut under Kumar Sangakkara.
His recent recall to the ODI squad has much to do with Chandika Hathurusingha. The new Head Coach must be feeling confident that he is able to bring the best out of him when it comes to shorter formats of the game.
"My last tour with the Sri Lankan team was in 2010. That was Chandi's first tour with the senior team as well. In his second ODI, he scored a hundred. This was against India. I still remember he reached three figures by hitting a six. That instinct, I saw in him is lacking. I am now asking where it has gone? We have to find answers for that," Hathurusingha recalled.
Hathurusingha's departure was a massive blow to Sri Lankan cricket. Had he succeeded Trevor Bayliss as it was initially planned, things wouldn't have been this bad.
SLC bigwigs at that time appointed those close to them to crucial positions and that was where things started going wrong. One of the players to suffer was Chandimal. When he broke into the side, Chandimal was predominantly a bottom hand player with an attacking instinct and was very strong square of the wicket with the cut and the pull being his bread and butter. This was tampered with and rather than backing natural talent, everything was stereotyped. As a result, his progress was retarded.
Still there has been the odd spark. Like when he made that stunning half-century in the World Cup pool match against Australia in Sydney. Sri Lanka had been set a daunting 377 runs and Chandimal made it look possible before being forced to retire with a hamstring injury.
Mitchell Johnson was bowling at 140 kmph plus and Chandimal stepped out and drove him through extra cover for a couple of boundaries much to the bewilderment of the bowler, who had the previous season broken Kumar Sangakkara's thumb. Michael Clarke was bemused. So what the Australian captain did was to take the mid-off fielder wider, so that Chandimal had little room to penetrate through the extra cover region. Cramped for room on the off-side, what Chandimal did was to step out for the next delivery and drive Johnson past the now vacant mid-off area.
Despite the strike rate issue, he never deserved the axe in June last year for a variety of reasons. To start with, he had been Sri Lanka's best ODI batsman in 2016. He was beginning to turn a new leaf when the axe fell on him for stranger reasons. In any case, it wasn't as if that the presence of Chandimal was keeping a prodigious talent out of the team.
Several Sri Lankan captains over the years have had that class that we have been extremely proud of. In Delhi, at the conclusion of the third Test, despite being repeatedly booed by Indian supporters, Chandimal graciously thanked the fans for the support extended to his team during the tour of India and then went onto wish Virat Kohli and the team all the very best in South Africa.
A leader not only has to be astute but he needs to be an ambassador as well as he is representing a whole nation. Guys like Chandimal and Angelo Mathews fit that bill perfectly.
You are yet to see the best of Chandimal and 2018 could be the landmark year for him. By the way, don't forget that he is only 28.