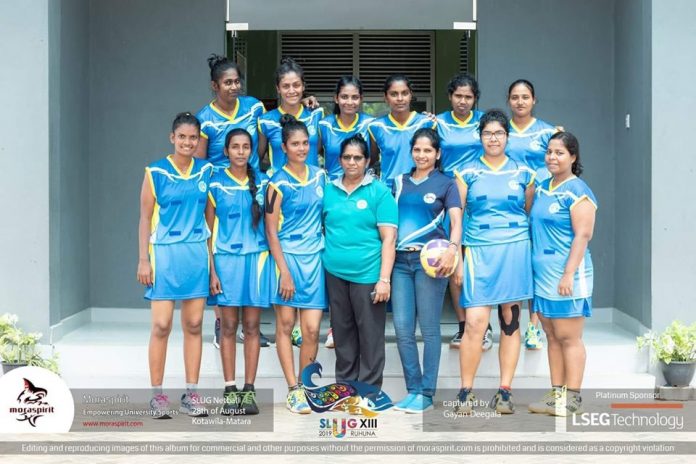 The Netball tournament conducted under the 13th Sri Lanka University Games concluded on the 29th of August with the University of Jaffna (UOJ) claiming the title after defeating the University of Colombo (UOC) in the final.
The tournament was conducted at the Ruhunu University premises and the Kotavila Sports Complex, where the University of Sri Jayawardenepura and the University of Moratuwa (UOM) claimed the 3rd and 4th places. 
Read More :HNB Mercantile Netball League champs once again

Two closely fought semi-finals saw UOJ defeat J'pura 25-24 and UOC scrape through against UOM 30-29. UOC put up a strong fight against the girls from Jaffna, but UOJ was ultimately victorious 47-42. The 3rd place playoff turned out to be a one-sided affair with J'pura romping home to a 47-27 win over UOM.
Recap of the tournament
1st Round
14 teams took part in the competition, with participants divided into 4 groups in the 1st round. 
Group A – Group A featured the University of Sri Jayawardenepura (UOSJ), University of Moratuwa and Uva Wellassa University (UWU), with J'pura finishing on top at the end of the 1st round, with 2 wins.
Scores
UOSJ 32 – 21 UOM

UOSJ 36 – 06 UWU

UOM 42 – 18 UWU
Group B – Group B saw University of Colombo, Sabaragamuwa University (SU) and University of the Visual and Performing Arts (UVPA) battle it out, with UOC topping the group unbeaten.
Scores
UOC 31 – 16 SU

UOC 44 – 22 UVPA

SU 39 – 16 UVPA
Group C – Group C contained 4 teams, University of Kelaniya (UOK), University of Peradeniya (UOP), University of Ruhuna (UOR) and Eastern University (EU). UOK won 3 out of 3 to claim the top spot in the group. 
Scores
UOK 32 -20 UOP

UOK 31 -17 UOR

UOK 55 – 07 EU

UOP 40 – 09 EU

UOP 37 – 32 UOR

UOR 42 -10 EU
Group D – Group D featured the University of Jaffna, Wayamba University (WU), Rajarata University (RU) and South Eastern University (SEU). The eventual champions UOJ topped the group, unscathed, with 3 wins.
Scores
UOJ 22 – 10 SEU

UOJ 40 -18 RU

UOJ 37 -12 WU

WU 20 -15 SEU

WU 24 – 18 RU

SEU 24 – 11 RU
Read More : Dominant Musaeus thump Gateway
Quarterfinals 
With the top 2 teams from each group moving to the quarters, J'pura, UOM, UOC, SU, UOK, UOP, UOJ and WU battled it out for semi-final spots.
Results
UOJ 32 – 21 SU

UOM 32 – 29 UOK

UOC 39 – 05 WU

UOSJ 40 -22 UOP
>>Click here for more Netball news<<