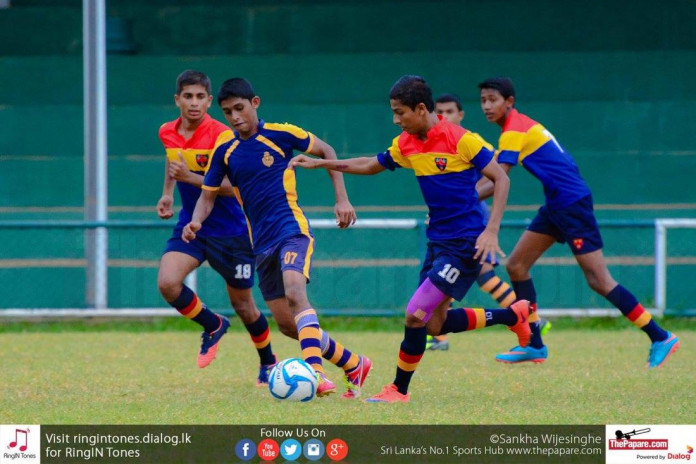 Trinity College Kandy took on Royal College Colombo in a Group A fixture of the Kotmale Chox Schools' Football tourney, played at the Trinity College grounds in Pallekale yesterday. 
The match took place in slightly muddy conditions. Trinity came into the match after a dominant performance against Ananda College, downing them 9-2 while Royal was set to play their first match of the season.
The game started with Trinity kicking off after referee P.C.Wijerathna's whistle. Trinity played with their normal 4-4-2 combination while the Royalists adopted a more attacking approach of 4-3-3. In the 2nd minute of the game Royal scored through Kalitha Hansajith, the ball falling into his path inside the penalty box when the Trinity Center Back tried to clear. (1-0) Throughout the next 20 minutes Trinity showed dominance, keeping possession with them. The Trinity goal keeper made two crucial back to back saves inside the box, first saving a free kick from just outside the box and then the rebound which was travelling at him. In the 34th minute, the hat-trick scorer from the last game Tarika Liyanage scored a stunner from just outside the box, chipping it neatly over the keeper making it (1-1). In the 42nd minute Trinity had a golden opportunity in the box, when a volley fell into the path of Dinura Ediriweera the captain, but he sent it powerfully over the net. That ended the first half with the scores level on 1 all.
Photo Album – Trinity College v Royal College – Schools Football 2016
The second half started with a yellow card to Harindu Rangajith for a foul on H.B. Meekotuwa, as he got a good part of Meekotuwa's leg instead of the ball. Royal, who had learnt from their mistakes in the first half, played a more possession oriented game in the second half making the game more interesting, where both teams created chances for themselves but failed to score. The best chance came in the 63rd minute when the Trinity players, who thought the throw in to the path of the Royal player was off side and did not contest, let the Royal striker go one on one with the goalie. There were plenty of corners for Trinity but all of them were cleanly defended by the Royal defense, which held strong for the whole game. At the end of the 90 minutes the scores remained at 1-1 and the game ended as a draw.
The man who stood out was Dinura Erandeera who was the playmaker, creating chances throughout the match for Trinity.
 GOALS 
Trinity
Tarika Liyanage (2')
Royal
Kalitha Hasanjith (34')
ThePapare Man of the match- Dinura Erandeera.