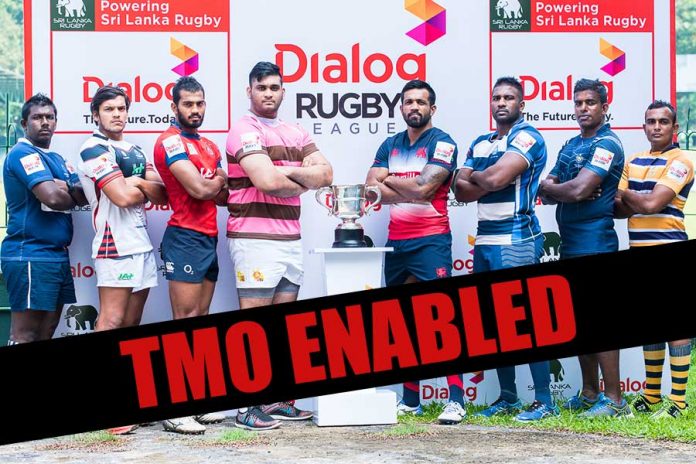 The TMO (Television Match Official) which was introduced by ThePapare.com last season will feature yet again for the Club Rugby season which will be starting this week.
TMO was introduced by ThePapare to the Sri Lankan club rugby structure in order to uplift the decisions and assist the referees in determining whether points have been scored or to request a reason why the try should not be allowed giving the Referees in Sri Lanka the benefit of the advanced technology to aid their decisions.
"Dialog's journey with rugby continues. We want to keep investing in rugby, and as one such concept we thought the time was right to introduce Television Match Official or TMO. So we made a proposal to SLRFU and the referee's union and I am very proud to say that both these unions were very keen and picked up on this and said that they are very supportive of this." stated  Mangala Hettiarachchi Senior General Manager Global & Content for Dialog Axiata when it was first introduced by ThePapare.com to the Dialog League last year.
The pilot project was a success with some good decisions given, some overturned and refereeing aided immensely.
This facility is being used all over the world but it was the first time in Asia that the TMO was introduced for a domestic rugby tournament in the previous season.
>> Click here for Dialog Rugby League 2017/18 Fixtures
The first Television Official was said to be used back in the year 2001. Since then TMO has been available for the international matches all over the world including the Rugby World Cup and the Rugby Championship.
There were 14 matches that had the TMO facility last season. This season the technology will be provided one match per week for the 14 weeks of the Club Rugby season.
In the opening week, the game between Navy Sports club vs Sri Lanka Army will have the TMO facility included.
Catch all the action of the Dialog Rugby League on www.thepapare.com