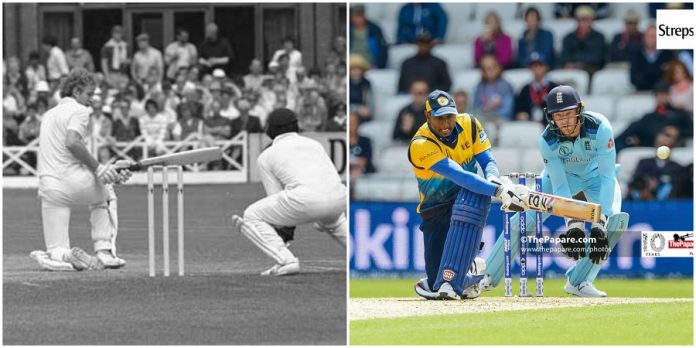 From the romance of Hollywood to the melancholy of Bollywood, we have seen an endless number of love stories, but nothing in comparison to England vs Sri Lanka in a World Cup fixture.

It was in the English summer of 1983 that the 'pair' first met on the highest stage. The Kingdom where the sun never sets was out of the reach of Sri Lanka back then and Cricket on such a scale was relatively new to the Islanders. 
Those were the times of Botham, Gower and Gatting. They were more impressed by Gavaskar, Border and Richards. Our Wettimuny, Mendis and Ranathunga were easily overlooked. 
Sri Lanka lost their first 5 games against England in World Cups. They had to wait 13 years to win one.
It was in 1996 that the boys from South Asia commanded the spotlight and that was exactly when they managed to impress the English. Sri Lanka was being celebrated by the cricketing fraternity. The English were star-struck. 
Remember Phil De Freitas? The English seamer who could bat? He scored one half-century in his 103-match career and that one saved England from embarrassment in this game. 
If you still don't remember it, ask the present day umpire Richard Illingworth about it. He wouldn't have forgotten the sight of a furious Sanath Jayasuriya, who had no mercy at the top of his crease. He struck a flashing 88 off just 44 deliveries. Sri Lanka recorded their first win against England in a World Cup game.1996, the unforgettable year.
A chase of 400+ beckoned if England …….
England vs Sri Lanka, the ICC Cricket World Cup 1999. The first game of the World Cup for England. Alec Stewart's men were eagerly looking forward to a World Cup at home. Finally, an opportunity for the architects of cricket to win a World Cup. Duly, the Lankans perhaps did not want to spoil their start at the 'home' of Cricket. 
Sri Lanka were bowled out for just 204 runs. Skipper Stewart scored 88 runs as England won the game with ease.
This is the point where the drama kicked in. Isn't it an essential aspect of a love story? Thereon, the Sri Lankans decided to spice things up and kept England winless for the next 20 years. There was drama in every Sri Lankan win thereafter. They are done giving, now it's their time to take!  
Sri Lanka next met England at a World Cup game in 2007 at Antigua. Sri Lanka scored only 235 runs and England lost two quick wickets at the start, but managed to keep up with the scoring rate.
By the penultimate over, England required 19 runs to win. It was Paul Nixon and Ravi Bopara at the centre. Malinga had the ball in his hand and kept the over to just 7 runs while getting rid of Nixon.
Last over, 12 to win for England. New man, Sajid Mahmood on strike and Dilhara Fernando is given the ball. Mahmood gets a quick single and Bopara gets the strike. Bopara calmly paddles the next ball over short-fine for a four. Then he picked up a couple and then a single and Mahmood managed another single. Last ball of the game. 3 to win for England. Bopara on strike and Fernando runs in and… he never released the ball, an anti-climax. Bopara was frustrated. Fernando walks calmly back to his mark, runs back in and uproots Bopara's off stump! Sri Lanka win!
It's been a roller coaster ride for Sri Lanka …….
Next was a special episode. You have to make this point of your love story memorable. That's exactly what Sri Lanka did!
England vs Sri Lanka, ICC Cricket World Cup 2011 in Colombo. The Lankan bowlers were spot-on from the word go. The English managed only 229 runs. Tillakaratne Dilshan and Upul Tharanga walked out and feasted on the English bowling. They chased down the target inside 40 overs to record the first 10 wicket win between the two teams in world cups. Memorable enough! 
England scored 333 runs in their very first World Cup game against Sri Lanka, which the latter failed to chase down. Since then, they have never gone past the 300-run mark. That is, until they met Sri Lanka in Wellington at the 2015 edition of Cricket World Cup. Joe Root took them to 309 runs almost single handedly. He was magical, as he started executed his delightful strokes with precise timing.
Sri Lanka staged the biggest upset of the …..
Sri Lanka had never gone past 300 runs against England in World Cups. Lahiru Thirimanne opened the innings with Dilshan. One felt Dilshan had to produce a quality knock to take Sri Lanka over the line, but he failed. What unfolded next was like a cricketing melody as Kumar Sangakkara and Lahiru Thirimanne mesmerized the spectators with their elegant and copybook stroke-play. Both of them raced to hundreds as Sri Lanka went past 300 runs for the first time against England in World Cups, winning the game by 9 wickets. 
Drama, drama and more drama!
In 2019, the English were oozing with confidence as the World Cup returned to England after twenty years. Their eyes were lit as they were rated firm favourites by almost all cricket pundits and smashed 300 after 300 in their games. Sri Lanka on the other hand, were facing their darkest days in international cricket. 
But still, it is England vs Sri Lanka in a World Cup. 
400 they said, but slipped up to post just 212 runs. It doesn't matter if Sri Lanka managed only 232 runs against an English pack for whom 300s are a cake-walk as long as you can dismiss them for fewer runs. And that is why thirty-six years and ten days since facing them for the first time in a World Cup, the 9th ranked team won beating the World no. 1. 
It's a love story!
>> ICC Cricket World Cup 2019 <<