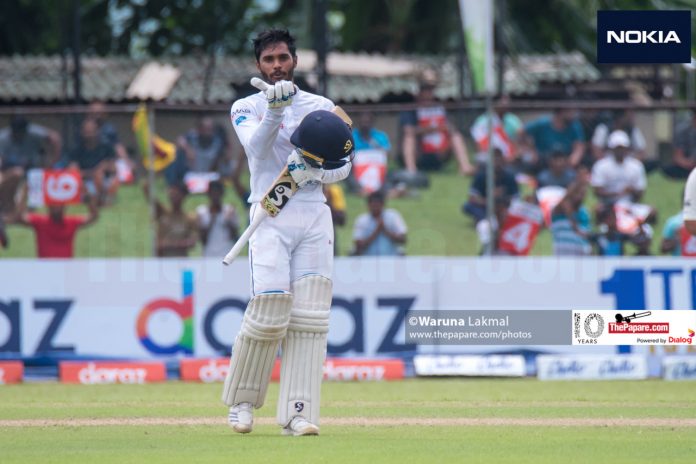 There are different types of cricketers you'll see in a lifetime; some can bat, some can bowl and the gifted can do both. Right throughout those all-rounder's careers, he/she survives in the international stage because of the batting, bowling or both. But yesterday we witnessed a special case, Dhananjaya de Silva.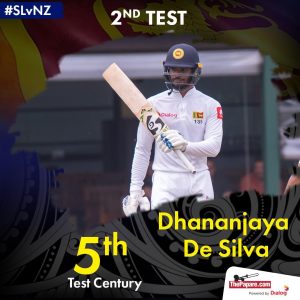 Players like Sanath Jayasuirya and Steve Smith broke out to the international arena as bowlers and excelled at batting, going on to do wonders in their generation while the likes of Ravi Ashwin and Anil Kumble started as batsmen in their teens but later mastered the other discipline. And there's Dhananjaya de Silva – a proper batsman, who debuted as a proper batsman, who then survived in the team because of his part time off spin,  but is still a proper batsman.
Read More: Sri Lanka's new generation – a 'true force' in Test Cricket?
Since his stellar Test debut in 2016 where he became the highest runs scorer of the series against Australia, Dhananjaya has been used to shim the gaps in the national team. In search of an opener for upcoming ODIs? let's call de Silva, need a solid number 5? let's call de Silva, no bowling all-rounders to fit in at no.07? let's call de Silva. Scarcity of spinners? you guessed it, they called de Silva.
The 27-year-old has been used from no. 01 to no. 09 in ODIs and from 3-9 in Test Cricket in his short career so far, and he just might be the most mismanaged player by SLC in the recent past.
Dhananjaya de Silva's Test career so far
Batting Pos.
Innings
Runs
Avg

3rd position

18

559

32.88

4th position

6

122

20.33

5th position

2

17

8.5

6th position

12

446

40.54

7th position

11

397

36.09

8th position

1

65

–

9th position

1

17

17
If he was just an ordinary player who comes and goes from Sri Lanka's domestic structure where the best talent is diluted among 24 first class teams, this would have been fine. But Dhananjaya is no ordinary player.
In just his 3rd Test match, he dug Sri Lanka out of a horrible position (26/5) with a counter -attacking century that helped Sri Lanka complete a whitewash against the Aussies. A year later, his gritty knock to save the Delhi Test match vs India on a day 5 pitch, reminded again of the composure and the talent this man possesses. Today, again when the chips were down, Dhananjaya held the fort with some graceful strokeplay to take Sri Lanka to a respectable position.
Highest scores of Dhananjaya de Silva
Score
Opposition
Ground

173

v Bangladesh (2018)

Chattogram

129

v Australia (2016)

Colombo (SSC)

127

v Zimbabwe (2016)

Harare

119*

v India (2017)

Delhi

109

v New Zealand (2019)

Colombo (PSS)

73

v England (2018)

Colombo (SSC)

65*

v Australia (2018)

Colombo (SSC)
All these adventures have come in his long white sleeves, an upright yet gentle stance, and a majestic bat swing where it feels like he has a minute and half to play a 135kph bumper, accompanied with his mouthwatering lofted drives through extra-cover. Of course he might attempt to reverse sweep thin air through deep point while the ball hits his helmet and look like the tailender of tailenders when he gets out even after making a century (happened today as well). But when he connects, it's pure, it's classy, it's something the poets dream of, not many things in world could beat the beauty of it.
Read More: Dhananjaya, Latham tons leave game in the balance
De Silva's ODI career suggests he is more of an opener than a number 6. He averages 49.8 at the top in 6 innings whilst 17.25 at number 06. Unfortunately, he has played most of his innings in that position.  A recent dip in form in Tests and ODIs might have forced him to be axed from the team, but the lack of a penetrative spinner in the squad paved the way for de Silva.
De Silva's simple but effective off spinners is the reason for his stay in Sri Lanka's team through the rough times. Sri Lanka were losing games from left to right and turning the team upside down from one series to another. But with Rangana Herath's retirement, Akila Dananjaya's ban due to an illegal bowling action and Jeffrey Vanderday's and Lakshan Sandakan's low return on investments, Sri Lanka had to turn to an unlikely contender who bowled part time off breaks. Somehow, he spun himself to a place in the World Cup squad.
What might have happened if Dhananjaya wasn't a part time bowler,
Making another go at international cricket when a senior player gets injured, fails in the one game given and is never seen international cricket's daylight again
Disappearing in Sri Lanka's first-class time-loop after having two consecutive years of 1000 runs
Featuring in every 'A' team, Development team and SLC Board President's team for eternity without making it into the National team
Acquiring the citizenship of Australia while playing country cricket
Retirement and turning to coaching
The batsman in Dhananjaya de Silva is far more precious for Sri Lanka and hopefully, the officials will offer him the stability he deserves. The spinner in him will be on display from time to time and may be the coaches need to work harder with him, but the batsman in him, is too good to be missed. Sri Lanka could have missed out on one of the most stylish and talented batsmen in this generation, but thankfully, Dhananjaya could spin the ball!