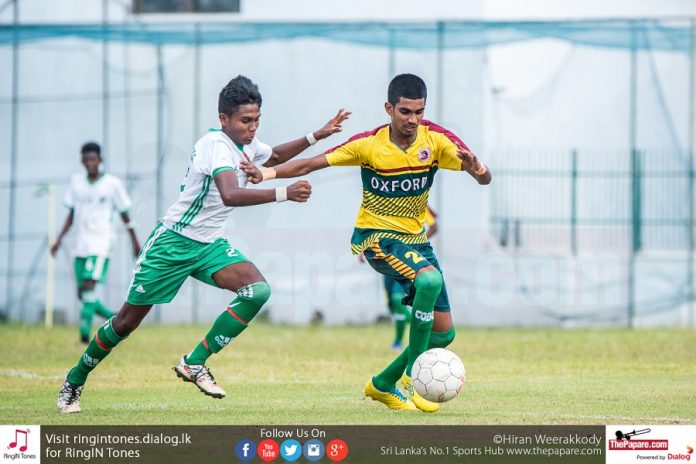 Hameed Al Husseinie College cruised past St. Benedict's College, Kotahena 5-0 in the U18 Division I Schools' Football Championship 2018 match played at St. Benedict's Ground.
Kinniya Central College held off a 2nd half comeback from Hameed Al Husseinie College to win their first match 2-1 at the…….
Hameedians got off to the worst possible start when their skipper and playmaker Mohamed Sahan came off worse in a tight challenge. Hameedia without their talisman gradually grew into the game and had a lion share of possession.
Bens were on the back foot and had to scrap for loose balls to thump up field. On the other hand, Hameedians with most of possession and goal mouth action were wasteful in capitalizing on their chances.
However, the breakthrough finally came in the 37th minute when Ajith Prasanth scored to open the scoring. Just before the break Prasanth converted his second goal with a well worked one two with Mohamed Ashiq.
Half Time – St Benedict's College 0 – 2 Hameed Al Husseinie College
Second half was no different to the first, where Hameedia were on the front foot. In the 50th minute Dinesh Suren dodged past the Bens defense and beat the goalkeeper with ease to score the 3rd.
Almost immediately Ajith Prasanth was sent clear once again and dully converted for his hat-trick. It looked as the Hameedians took the foot off the pedal as Bens gained ground on the right side of the field the threatened for a while.
St. Peter's College, Colombo edged out St. Sebastian's College, Katuneriya 2-1 in their U18 Division I Schools' Football…….
In the 75th minute the game was put to bed if it wasn't done earlier, when Prasanth got his 4th goal of the evening in a man of the match performance.
Hameedia still had several goal scoring opportunities, however Bens defended well. Iyan Eucherist and Rehan Sedric had a stellar game for the Kotahena boys.
Full Time – St Benedict's College 0 – 5 Hameed Al Husseinie College
ThePapare.com Player of the Match – Ajith Prasanth (Hameed Al Husseinie College)
Goal Scorers

Hameed Al Husseinie College – Ajith Prasanth 37', 43', 55' & 75', Dinesh Suren 50'

Bookings

Yellow Cards
St. Benedict's College – J. Manindra 86
Hameed Al Husseinie College – Mohamed Kurshid 13'
>>For more Schools' Football News Click Here<<