Spain who heads into the Euro with a surprising team selection will be eyeing to perform at their highest level to reimpose their lost European dominance.
Euro History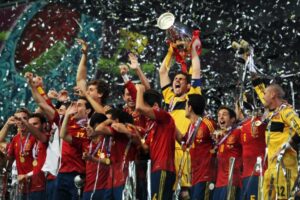 La Roja is amongst the most successful teams in Euro alongside Germany, winning the championship a record three times. They first claimed the trophy in the second edition of the tournament held in 1964 on their home soil after overcoming the Soviet Union by 2-1 goals in the finals.
Then they went onto win back-to-back Euros in 2008 and 2012 being the first and the only team in history to achieve such a feat, triumphing over Germany and Italy by 1-0 and 4-0 goals, respectively.  
They also emerged runners-up of the competition in 1984 after suffering a 0-2 defeat against France in the finals.  
How They Qualified 
After a thriving period of world dominance from 2008 to 2013 which saw them winning two consecutive Euros and the 2010 FIFA World Cup, La Roja then underwent a spell of turmoil under Vicente del Bosque, the same Manager under whom they won the World Cup and the subsequent Euro.  
They were knocked out from the group stages of the 2014 World Cup and afterwards had a disappointing 2016 Euro campaign, where they were eliminated from the round of 16 after suffering a 0-2 defeat against Italy.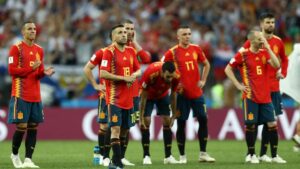 Following the departure Del Bosque after the 2016 Euro, Spain sustained a few managerial changes leading up to Euro 2020 during which they astonishingly got knocked out of the 2018 World Cup from the Round of 16.
However, it was Robert Moreno that guided La Roja during the Qualifiers except for one single match, where they enjoyed a decent qualification campaign, topping group F unbeaten, winning 8 out of the 10 matches that were played. Their notable victories in the qualification process included 7-0 and 5-0 wins over Malta and Romania, respectively.  
Conclusion of the Qualifiers saw Luis Enrique being reappointed as their head coach under whom they will now complete in the upcoming Euro. Although Spain's recent performances have not been that consistent compared to other top teams, they recently annhilated Germany by 6-0 goals during the UEFA Nations League group stages and recorded a 4-0 dominating victory over Lithuania in the recently concluded international friendlies, while the encounter between Portugal ended in a goalless draw.  
Manager & Playing Style 
Luis Enrique who is well known among the football circles for his heroics with FC Barcelona, where he led the Club to a historic Treble in 2015, is a capable Manager equipped with impressive tactics and strategies.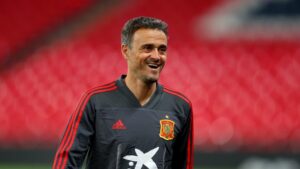 Lucho primarily employs a possession-based style of play coupled with a consistent 4-3-3 formation but diverges from other conventional Spanish Managers with him not being huge fan or a proponent of tiki-taka playing tactics. He approaches each game with a heavy attack mindset, strengthened by high-pressing and a direct and vertical play, pushing the ball forward in almost every opportunity they get rather than keep passing it sideways until some gap appears in the opposition defence. Lucho's sides are also famous to be deadly in counterattacks. 
He has constantly rotated players to find the perfect balance to the team, but however, performances of La Roja have not been consistent as he would have liked those to be, with flashes of brilliance being shown only then and there. Thus, he would have to step up his panache and consistency if he is to bring back Spain's glory days in the upcoming tournament.  
Strengths & Weaknesses    
Spain, as has been the case throughout their history, is blessed with a magical and staunch midfield that they could count on to deliver in any given situation. The midfield trio of Captain Sergio Busquets, Thiago Alcantara and Koke is more than capable of dominating even the strongest of oppositions, while the teenage midfield sensation Pedri adds a whole new dynamic to their unit.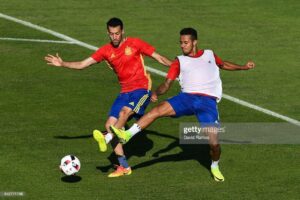 Having Lucho up their ranks as the Manager is both a plus and a minus with his tactics and ability to generate results and get the job done being huge advantages, while his lack of prior experience at a major international tournament could hinder his decision making at crucial moments. It is also doubtful as to whether he could replicate his success at Barcelona with Spain due to the unavailability of players in the caliber of MSN.  
It came as a huge surprise when their talismanic defender Sergio Ramos, despite recovering from an injury was left out of the final squad for the Euro and it is no doubt that La Roja would miss his leadership at the back and the intensity at which he plays. They seem to have two reliable centre-backs in the form of Aymeric Laporte and Pau Torres Torres, but the two have not really gotten the opportunity to play together to establish a formidable defensive partnership.  
The absence of an elite striker upfront, David de Gea's recent drip in form in between the posts and squad depth are further aspects where they lack in quality.  
Key Players & Ones to Watch 
Busquets, for years, has been the engine that has kept the machine running for Spain and his significance to the team is now felt more than ever with the leadership duties befalling upon him in the absence of Ramos.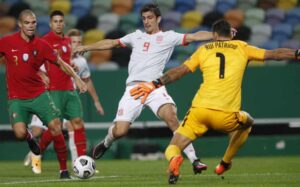 Although Busquets is set to miss the fist game after testing positive for COVID-19, he is expected to available for the rest of the tournament and his tactical awareness, ability to read the game and maintain tempo, and top-class passing ability would be crucial for the team all throughout.
Villareal striker Gerard Moreno who emerged as the second highest goalscorer in the recently concluded La Liga season with 23 goals while winning the UEFA Europa League is perhaps La Roja's best striking option upfront and thus, would be their key player going forward.  
Aymeric Laporte who had yet another splendid season with Manchester City has now finally chosen to play for Spain, giving up on his dream to represent France and will be crucial in taking the leadership of their defence, while the 18-year-old Pedri who has the world on its feet following an amazing season with Barcelona recording 3 goals and 3 assists and the 21-year-old Ferran Torress who has impressed for both Club and country when given the opportunity, would be the players to watch out for in the upcoming Euro.  
Squad 
Goalkeepers: Unai Simon (Athletic Bilbao), David de Gea (Manchester United), Robert Sanchez (Brighton) 

Defenders: Jose Gaya (Valencia), Jordi Alba (Barcelona), Pau Torres (Villarreal), Aymeric Laporte (Manchester City), Eric Garcia (Manchester City), Diego Llorente (Leeds), Cesar Azpilicueta (Chelsea) 

Midfielders: Marcos Llorente (Atletico Madrid), Sergio Busquets (Barcelona), Rodri (Manchester City), Pedri (Barcelona), Thiago (Liverpool), Koke (Atletico Madrid), Fabian (Napoli), Dani Olmo (RB Leipzig), Pablo Sarabia (Paris Saint-Germain) 

Forwards: Gerard Moreno (Villarreal), Alvaro Morata (Atletico Madrid), Ferran Torres (Manchester City), Adama Traore (Wolves), Mikel Oyarzabal (Real Sociedad) 
>> For more Euro 2020 News Click Here <<