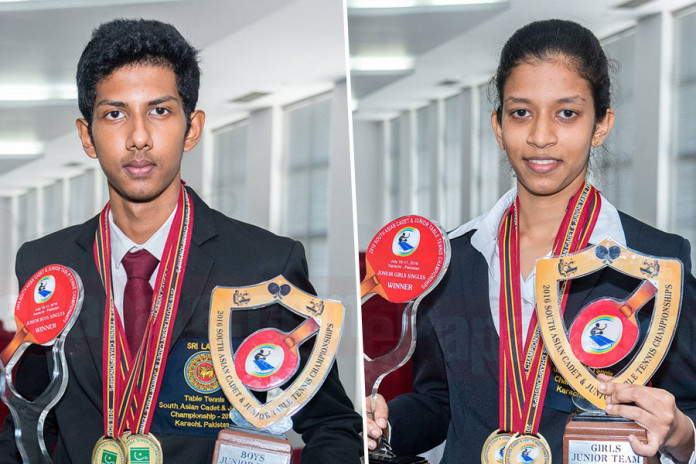 A ten-member Sri Lanka National Table Tennis team left the country for Germany ahead of the Liebherr 2017 World Table Tennis Championships that is set to commence today (29th).
Read about the South Asian Junior Table Tennis Championship
The national team will be participating in this year's world championships that will take place in Messe Dusseldorf and will feature top players from 106 nations. Organised by the International Table Tennis Federation (ITTF), this year's edition will be the 54th championship and will consist of five events; Men's Singles, Women's Singles, Men's Doubles, Women's Doubles and Mixed Doubles.
The team will be given leadership in the men's division by national champion Imesh Udaya Ranasingha while it will include Milinda Lakshitha, Chalitha Ranjana, Nirmala Jayasinghe and Rohan Sirisena.
The women's team will consist of Ishara Madurangi, Erandi Warusawithana, Hansani Kapugeekiyana, Nuwani Vithanage and Ruvini Kannangara.
Read also: Buddhadasa and Ranchagoda dominate Western Province TT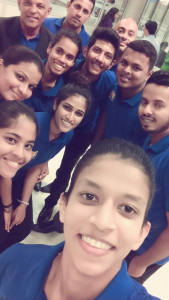 National champion Imesh Udaya Ranasingha who will be representing the country in the Men's Singles and will later team up with Ruvini Kannangara for the Mixed Doubles. Milinda Lakshitha and Chalitha Ranjana have their names listed in the Men's singles while Nirmala Jayasinghe will be playing doubles with Udaya Ranasingha. Rohan Sirisena will be playing a mixed-doubles with Ishara Madurangi.
In the women's category, Ishara Madurangi will be playing in the singles draw along with Erandi Warusawithana and Hansani Kapugeekiyana. Erandi will later team up with Hansani Kapugeekiyana for the women's doubles and the other doubles pair will be Ishara Madurangi & Nuwani Vithanage.
The tournament will be carried out in a group stage where the players are divided into groups of three. In the men's category, Udaya Ranasinghe is in group 12 while the other two players are in group 20 and 32 respectively.



In the Women's draw, Hansani Kapugeekiyana has been included in group 9 while the other two are in group 25 and 34 respectively.



The Sri Lankan players are set to start their campaign in the world championships later in the evening but it will be a tough challenge for the paddlers competing alongside top seeded players.