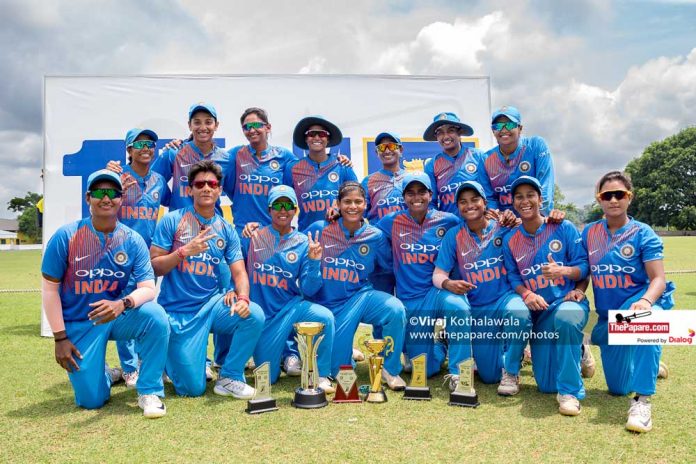 India completed their series sweep over hosts Sri Lanka, managing a comfortable 51-run win in the 5th and final WT20I at the FTZ Sports Complex in Katunayake a short while ago.
Sri Lanka skipper Chamari Attapattu won the toss and elected to field first. Much was expected from the Lankans this time around as they had failed to win a match in the series. Sripali Weerakkody opened proceedings with the ball, dismissing Smriti Mandhana in the very first over. Attapattu was able to pick up the price wicket of Mithali Raj in the 5th over, leaving the Indians at 30 for the loss of 2 wickets within the powerplay.
In form teenage sensation Jemimah Rodrigues walked into the crease and once again played some phenomenal shots, posting an important partnership of 75 runs with Indian Skipper Harmanpreet Kaur. Rodrigues fell four runs short of a fifty as India cruised to 105 for the loss of 3 wickets by the 11th over. Rodrigues' innings consisted of six fours and one six.
Kaur was devastating with the bat, landing six massive sixes on her way to 63. She did not get much support from her teammates as Shashikala Siriwardene and Inoshi Fernando kept picking up wickets at regular intervals. Kaur was eventually dismissed in the 18th over whilst the score was on 155. India were all out in the second to last over of the match for 156 with Fernando and Siriwardene picking up 3 wickets each.
Chasing a target of 157, Sri Lanka lost key batter Chamari Atapattu in the very first over to Deepti Sharma. Anushka Sanjeewani and Shashikala Siriwardene showed some resistance for Sri Lanka with the bat, but the pair could only accumulate 44 runs for the 3rd wicket as Radha Yadav broke the partnership with some impressive bowling. Oshadi Ranasinghe joined Anushka Sanjeewani as Sri Lanka looked to consolidate another partnership, but an unwanted mix up between the two cost the wicket of Ranasinghe who was well set on 22, as Sri Lanka once again sunk deeper. By the 14th over the Lankans had lost half their side with the score on 89.
A recovery at this stage looked quite impossible as Poonam Yadav picked up 3 quick wickets and was part of another run out. Sri Lanka were bowled out for 105 in the 18th over. With this win India completed a 4-0 sweep in the 5 match series (the 2nd T20I was abandoned due to bad weather) over Sri Lanka Women.
INDW won by 51 runs
India Women's Innings
Batting
R
B
Mithali Raj
b C Athapatthu
12
15
Smriti Mandhana
c Priyadarshani b S Weerakkody
0
2
Jenimah Rodrigues
c R Vandort b S Siriwardene
46
31
Harmanpreet Kaur
c R Vandort b O Ranasinghe
63
38
Veda Krishnamurthy
c C Athapatthu b I Priyadarshani
8
9
Anuja Patil
lbw by I Priyadarshani
1
2
Taniya Bhatia
(runout) K Dilhari
5
3
Arundhati Reddy
c N de Silva b I Priyadarshani
2
3
Deepti Sharma
lbw by S Siriwardene
2
5
Radha Yadav
b S Siriwardene
1
2
Poonam Yadav
not out
1
1
Total
156/10 (18.3 overs)
Fall of Wickets:
1-2 (S Mandhana, 0.3 ov), 2-30 (M Raj, 4.1 ov), 3-105 (J Rodrigues, 11.2 ov), 4-128 (V Krishnamurthy, 14.1 ov), 5-134 (A Patil, 14.5 ov), 6-141 (T Bhatia, 15.4 ov), 7-152 (A Reddy, 17.0 ov), 8-153 (H Kaur, 17.3 ov), 9-155 (D Sharma, 18.1 ov), 10-156 (R Yadav, 18.3 ov)
| Bowling | O | M | R | W | E |
| --- | --- | --- | --- | --- | --- |
| Sripali Weerakkody | 2 | 0 | 20 | 1 | 10.00 |
| Oshadi Ranasinghe | 3 | 0 | 26 | 1 | 8.67 |
| Shashikala Siriwardene | 3.3 | 0 | 19 | 3 | 5.76 |
| Chamari Athapatthu | 3 | 0 | 25 | 1 | 8.33 |
| Inoshi Priyadarshani | 4 | 0 | 24 | 3 | 6.00 |
| Kavisha Dilhari | 2 | 0 | 22 | 0 | 11.00 |
| Nilakshi de Silva | 1 | 0 | 20 | 0 | 20.00 |
Sri Lanka Women's Innings
Batting
R
B
Yasoda Mendis
st T Bhatia b D Sharma
10
9
Chamari Athapatthu
c A Patil b D Sharma
0
3
Anushka Sanjeewani
st T Bhatia b R Yadav
29
37
Shashikala Siriwardene
b R Yadav
22
18
Oshadi Ranasinghe
(runout) A Reddy
22
20
Nilakshi de Silva
c V Krishnamurthy b P Yadav
2
3
Eshani Lokusuriya
st T Bhatia b P Yadav
3
4
Rebeka Vandort
b P Yadav
1
5
Sripali Weerakkody
(runout) P Yadav
1
1
Kavisha Dilhari
not out
2
2
Inoshi Priyadarshani
(runout) P Yadav
2
4
Extras
11 (b 4, lb 5, w 2)
Total
105/10 (17.4 overs)
Fall of Wickets:
1-1 (C Athapatthu, 0.4 ov), 2-13 (Y Mendis, 2.4 ov), 3-47 (S Siriwardene, 7.4 ov), 4-86 (O Ranasinghe, 13.4 ov), 5-89 (N de Silva, 14.2 ov), 6-94 (A Sanjeewani, 15.3 ov), 7-99 (E Lokusuriya, 16.0 ov), 8-101 (R Vandort, 16.3 ov), 9-101 (R Vandort, 16.4 ov), 10-105 (I Priyadarshani, 17.4 ov)
| Bowling | O | M | R | W | E |
| --- | --- | --- | --- | --- | --- |
| Deepti Sharma | 3 | 0 | 18 | 2 | 6.00 |
| Arundhati Reddy | 4 | 0 | 25 | 0 | 6.25 |
| Poonam Yadav | 4 | 0 | 18 | 3 | 4.50 |
| Radha Yadav | 3 | 0 | 14 | 2 | 4.67 |
| Anuja Patil | 2.4 | 0 | 11 | 0 | 4.58 |
| Harmanpreet Kaur | 1 | 0 | 10 | 0 | 10.00 |