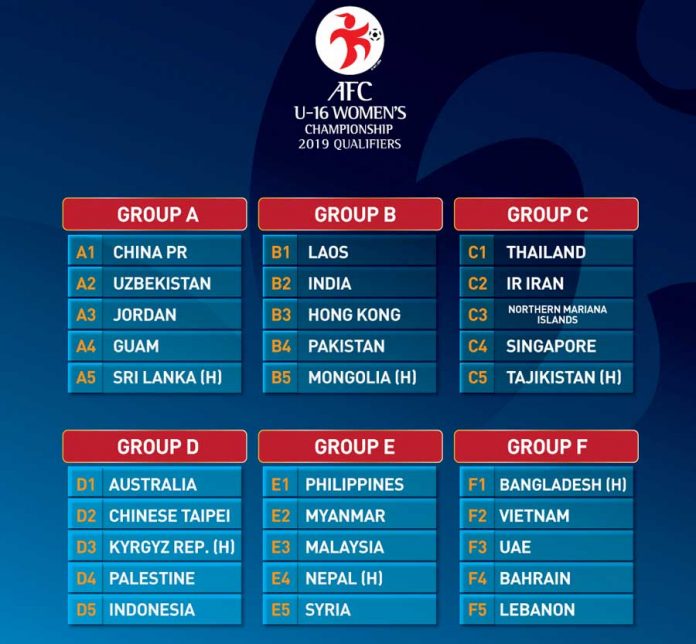 Sri Lanka will host the AFC U16 Women's Championship Qualifiers – Round 1 from 15th – 23rd September at CR & FC grounds.
Sri Lankan U15 Women's National Football team will be taking..
Sri Lanka will host Group A of the Qualifiers Round 1, alongside China PR – fourth in the 2017 edition, Uzbekistan, Jordan and Guam, who all have made one appearance in the Finals in previous editions.
This is the 1st qualifying round for the Championship tournament which will be played between February/March 2019 in Thailand.
4 teams, hosts Thailand, Japan, South Korea and DPR Korea have qualified automatically. The remaining 30 teams in Asia will be drawn in 6 groups and will compete to fill the final 4 spots.  
Defending champions DPR Korea have won consecutive titles and will be looking for their third in a row and fourth overall. Other winners are Japan (3) and South Korea (1).
This is the first time the Island nation is taking part in the AFC U16 women's category.
Sri Lanka have been preparing for this tournament with the team which took part in the recent SAFF U15 Women's championship which was held in Bhutan.  Despite losing both matches with a huge margin, the Sri Lankan team has gained much needed international experience.
Having the qualifying matches played on home soil, it gives added motivation to the girls to do well in front of the local fans.
There has been additional player inclusion to the existing squad in order to select the best team and give more opportunity for those players who missed out on the earlier tournament.
Read: Bhutan pounds Sri Lanka U15
Schedule of Matches:
| | | | | |
| --- | --- | --- | --- | --- |
| 15th Sep | Jordan | Uzbekistan | CR&FC Grounds | 11.00am |
| 15th Sep | Sri Lanka | Guam | CR&FC Grounds | 3.00pm |
| 17th Sep | Guam | China | CR&FC Grounds | 11.00am |
| 17th Sep | Sri Lanka | Jordan | CR&FC Grounds | 3.00pm |
| 19th Sep | Uzbekistan | Guam | CR&FC Grounds | 11.00am |
| 19th Sep | China | Sri Lanka | CR&FC Grounds | 3.00pm |
| 21st Sep | Jordan | China | CR&FC Grounds | 11.00am |
| 21st Sep | Uzbekistan | Sri Lanka | CR&FC Grounds | 3.00pm |
| 23rd Sep | Guam | Jordan | CR&FC Grounds | 11.00am |
| 23rd Sep | China | Uzbekistan | CR&FC Grounds | 3.00pm |
>>For more Football News Click Here<<