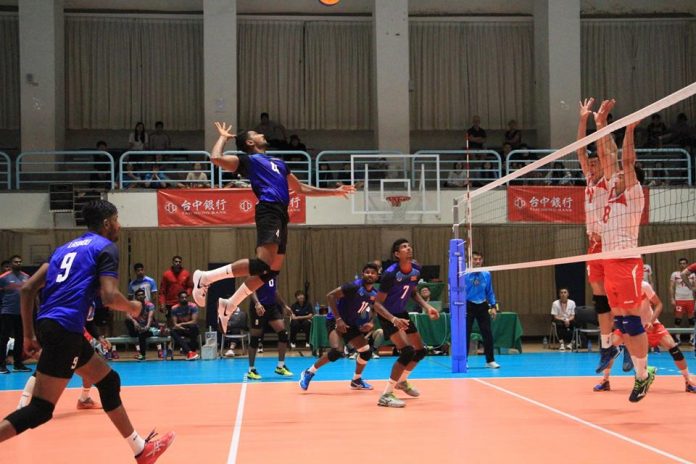 Sri Lanka Ports Authority qualified for the final 8 round after finishing 2nd in Pool B of the 2019 Asian Men's Club Volleyball Championship played in Taipei, Chinese Taipei.
Malintha Yapa and Indika Tiron were the only pair ……
Ports Authority qualified for the tournament after becoming champions of the 2018 Sri Lankan National League (Munchee National Volleyball Championship). Sri Lanka were drawn in Pool B along with Shahrdari Varamin (Iran), Polri Samator (Indonesia) & Galkan (Turkmenistan).
Last year the Sri Lanka National Team participated in the tournament as Lanka Lions where they finished in 7th place.
Sri Lanka Ports Authority v Galkan
Their first game against Galkan, Ports Authority went the distance, finishing 3-2 in favor of Ports. It was in fact Galkan who were leading 0-2 at the end of the opening two sets, winning 22-25 & 20-25 however, Ports Authority staged a magnificent comeback to win the next three sets 25-22, 25-21 & 15-12.
For Ports, Janitha Surath led the way, scoring 30 points – with 25 spikes, 3 aces & 2 blocks. Lasindu Methmal Wasanthapriya scored 18-points with spikes while Malith Dinidu scored 13.
Sri Lanka Ports Authority v Polri Samator
This game too went to 5-sets which Ports won 3-2. The Indonesians won the 1st set 20-25 before the Sri Lankans responded winning the next two 25-22 & 26-24. Ports lost the next set 24-26 setting up a thrilling final set. In the 5th, Ports were able to win 15-10.
Once again it was Janitha Surath who scored the highest points with 27, from 21 spikes, 4 blocks & 2 aces. Lasindu Methmal had 24-points from 20 spikes, 3 blocks & 1 ace.
Sri Lanka Ports Authority v Shahrdari Varamin
Ports Authority were comprehensively beaten 3-0 by the Iranian champions Shahrdari Varamin. Ports lost the 1st set rather tamely 25-17 but gave a good fight in the next two sets only to lose 25-21 & 25-21. Janitha scored 17-points for the losers with 15 spikes & 2 aces.      
Pool B
>>For more Volleyball News Click Here<<