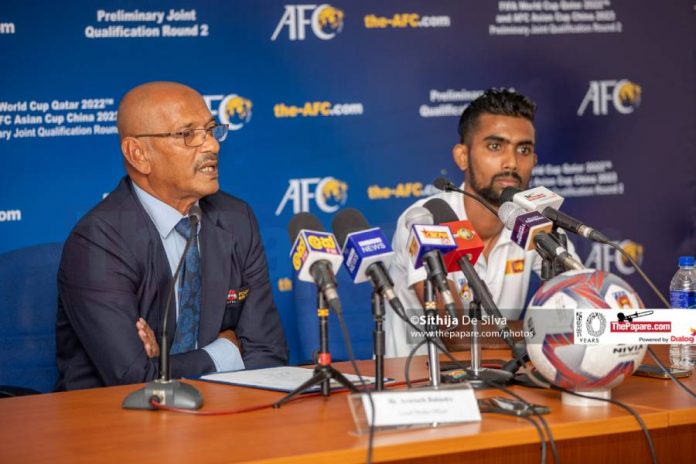 The pre-match press conference for FIFA World Cup 2022 Preliminary Qualification Round 2 match between Sri Lanka and Turkmenistan took place at the Football House in Colombo with the Team Management of both sides in attendance.
Sri Lanka are set to begin their 2022 FIFA World ……
Speaking to the media, both coaches were confident and promised a good tussle on the field. 
Addressing the gathering first, the Head Coach of Sr Lanka Nizam Packeer Ali said that his team is looking forward to playing a good game tomorrow, win or lose.
"The preparation was good, we have been training for a long time. We played some international matches. We played against UAE which was a very good experience for the players and they did well."
Asked why the captaincy was moved to Kavindu Ishan from Sujan Perera, Packeer Ali stated the importance of the captain being with the team throughout.
"A captain is not only in the field. He should be with the team throughout. Sujan has commitments in the Maldives and can't be with the team all the time. There is no problem with him or his performance. I want the captain to attend to every matter of his players."
On the selection of his team with very few opportunities to have a proper look at them, Packeer Ali stated that he has selected players based on their current performances and form.
 "There are no new inclusions, I have given the final squad of 20 to the team manager and secretary. I cannot comment on why it's not put out. I have done my part of selecting the squad."
In terms of injuries, he is confident of Jude Suman being in the squad. Mohamed Fazal has been named as the vice-captain.
"I have a word with every player when they come from injuries. The physio as well. We have done a fitness test and he and Fazal both are in the squad and fit."
He went on to state on the matter of less friendlies and competitive matches for the national team. 
"We can't sit and wait for things to happen. We have to try and make use of every match we get. If we don't play we don't know our level."
Kavindu Ishan, the newly appointed skipper of the National Team said his team is confident of coming good in the game.
"As a team and under the guidance of our coach the team is physically and mentally ready for tomorrow's game. I wish to say that as a team we will play our best for the country and the football loving people. Our team is a good team now and so is there team. So, we hope to give a good performance tomorrow."
Turkmenistan Head Coach Ante Misė addressing the media shared his thoughts on tomorrow's game.
"We have prepared our team well. It will be a difficult game tomorrow. In any competition, the first match is the most difficult. We have analyzed Sri Lanka and they have some new players. We trained in Dubai for 5 days and this was done purposely as the conditions (in Sri Lanka) are difficult." 
He went on to say that Turmenistan are fully focused on the game against Sri Lanka and are not thinking of the South Korea game in 5 days.
"We respect Sri Lanka, we focus about this game and we think about South Korea after this match. We will focus on our game first. We know what good things Sri Lanka does and what areas they are not so good."
Captain for the Emeralds Arslanmyrat Amanov speaking to the media expressed his gratitude to Sri Lanka for hosting them.
"Thank you for the people of Sri Lanka for this visit. We have some new players and it will take some time for us. We have a new coach and we hope for a good game."
On the injuries of two of his main midfield partners, "if will be difficult without them but we have good young players to support me in the midfield."
>>for more Football News Click Here<<