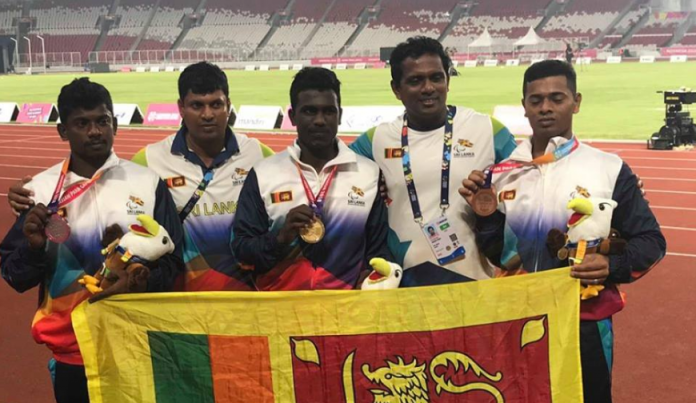 Three medals were added to the Sri Lankan medal tally at the Asian Para Games 2018, with the local Para Athletes dominating the Men's 100m T42/63 event as they managed to clinch all three medals on offer.
Amila completes the sprint double in T42/63 category
Amila Prashan who won Gold in the 200m T42/63, came back with a terrific performance to secure the sprint double in the T42/63 category as he raced to victory in the event clocking 12.56secs clinching the Gold medal. Similarly, Indika Chuladasa collected his second silver of the games clocking 12.87secs. Keerthi Bandara clinched the Bronze medal clocking 12.92secs making it the second all Sri Lankan podium in two days.
Havin won 5 medals on the opening day of the athletic competitions of the 3rd Asian Para Games, the tally is now increased to 8 medals consisting of 02 Gold, 04 Silver and 02 Bronze medals placing Sri Lanka 15th in the overall medal tally.
Sri Lanka won five medals on the opening day of the track and field competitions …
Four Sri Lankan Para Athletes competed in 3 finals today but failed to win a top three spot and were denied of a podium finish.
Amara finish 5th in the Women's 200m T45/46/47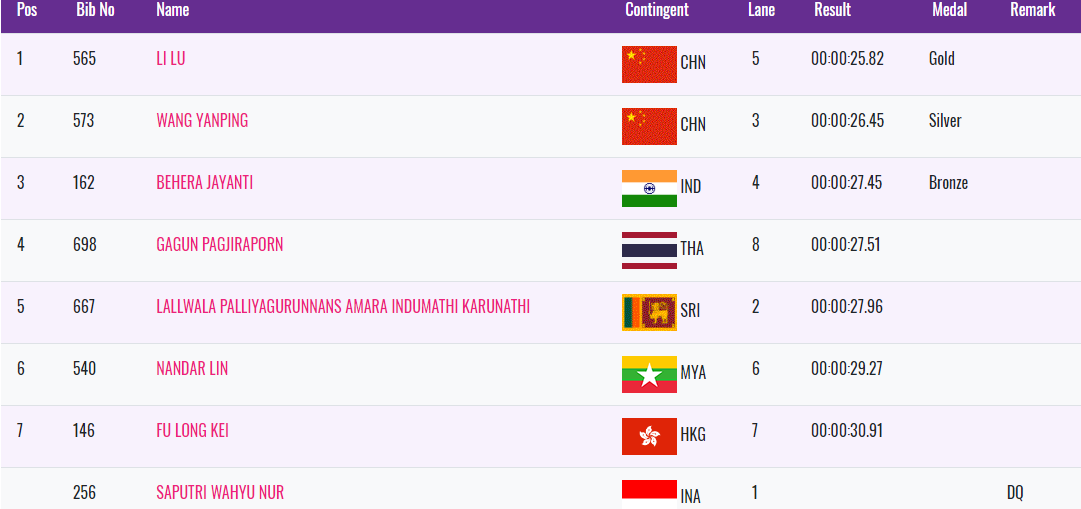 Yesterday's Silver medalist in the Women's Long Jump Amara Indumathi, who competed in the Women's 200m T45/46/47 was placed 5th competing in the 2nd lane. Amara clocked 27.96secs crossing the finish line. China's Lu Li won Gold clocking 25.82secs with Yangping Wang also from China finishing second clocking 26.45secs and Jayanthi Behera from India securing Bronze 27.45secs.
Pradeep and Maduranga finish 5th & 6th
Two Sri Lankan sprinters Pradeep Somasiri and Maduranga Subasinghe were placed 5th and 6th respectively in the Men's 200m T45/46/47 event. The Sri Lankans competed in the difficult 7th and 8th lane which could have affected the result. Pradeep clocked 23.12secs while Madurange clocked 23.17secs. Hao Wang of China won Gold clocking 21.17secs, Rial bagus of hosts Indonesia finished second clocking 22.36secs to bag Silver with Ahmad Ojaghlou of Iran clinching silver clocking 22.53secs.
Ajith clocks 24.99 in the Men's 200m T44/ T62/ 64
Ajith Hettiarachchi who competed in the Men's 200m T44/T62/T64 event was placed 6th running in lane 01 of the competition. Japanese Keita Sato won the Gold with a time of 23.87secs and was the only athlete to breach 24 secs in the event. Nour Alsana of Saudi Arabia clocked 24.10secs to be placed second while Anandan Gunasekaran of India won bronze clocking 24.45secs.