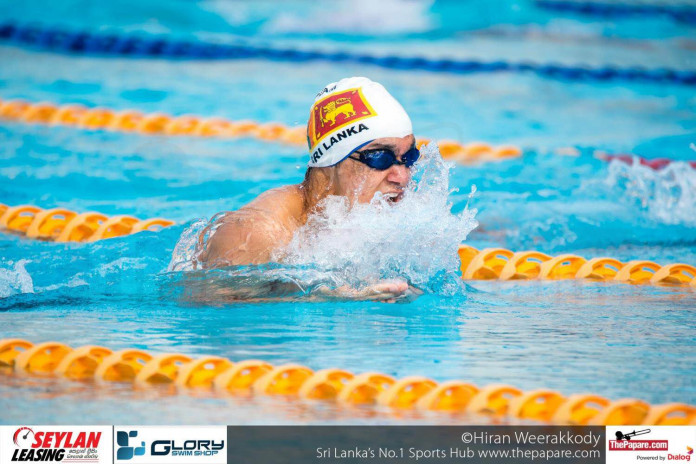 The Sri Lanka team earned 7 more gold medals during the events held on the second day of the South Asian Aquatic Championship. Apart from this Sri Lanka also bagged a further 32 silver medals and 48 bronze medals to earn a total of 98 medals at the end of the second day.
India continued to dominate the Sri Lankan waters earning 34 gold medals during the second day apart from 24 silver medals and 6 bronze medals to take them to a grand total of 124 medals.
The first event for the day was the girls under 18 100M freestyle event which the young Kimiko Raheem won, showing her class once again by winning by almost 3 seconds.
Akalanka Peiris won the under 18 50M Backstroke event after facing stiff competition from Natraj Srihari of the Indian team who finished just a few milliseconds behind him at 27.74s whilst Akalanka was 27.37s.
Photos of the South Asian Aquatic Championship 2016 – Day 3
Mathew Abeysinghe won all his events for the day, cruising to gold in the boys' 18 and over 200M individual medley and 200M freestyle. It seemed to be a good day for him as he completed both his races 2 seconds ahead of the runners up who represented India.
However, his younger brother Kyle won gold for Sri Lanka in the boys' under 18 100M freestyle a whole 2 seconds faster than Akalanka Peiris who won silver in this event.
The final gold medal for the day was one by the Sri Lankan mixed under 18 400M freestyle relay team consisting of Kimiko Raheem, Kyle Abeysinghe, Vinoli Kaluarachchi and Akalanka Peiris who were all winners in their individual events as well. The team had a clear victory coming in at 3:44.65 seconds whilst the second place Indian team came in at 3:58.10 seconds.
As the second day came to an end India was leading with a total of 124 medals with Sri Lanka in second place with 98 whilst Bangladesh had 1 gold 1 silver and 3 bronze medals giving them a total of 5 and Pakistan had 1 gold and 1 bronze; Maldives had no gold medals but 1 silver and 10 bronze medals giving them a total of 11 medals.