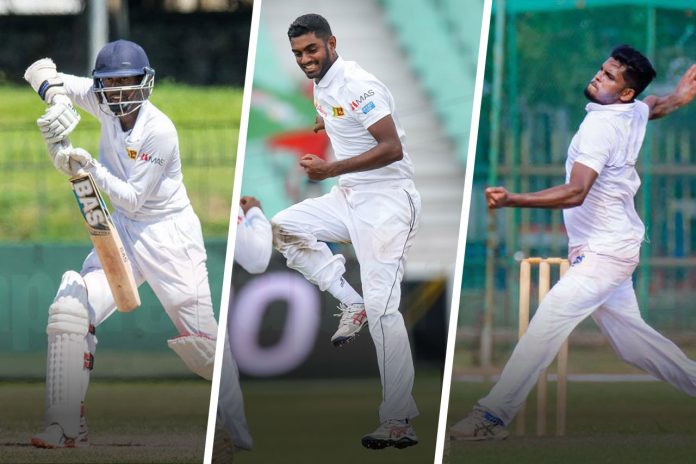 Starting the fourth and final day of the 1st Unofficial Test against South Africa Emerging team, Sri Lanka Emerging were a cool camp at 144 for 1, chasing 330 runs for victory at Potchefstroom.
Close of play on day-three – SA Emerging 382/10 (99.2) | SL Emerging 230/9 (57) & 145/1 (40)
In a rather surprising manner, Sri Lanka Emerging team put themselves in a commanding position in the game. Following a sloppy first half of the game, they fought back strongly to enter into the game again. The first two days of the game looked heavily one-sided. The hosts roasted the Islanders on their way to 382 runs in the first innings and got rid of them quite comfortably for 241 runs. 
But Sri Lanka bowled out the hosts for 189 runs in the second innings taking them by surprise courtesy of a Lasith Embuldeniya's fifer. They added to it with a brilliant start to the chase. Lankan top three scored 144 runs by the end of day-three.
Sri Lanka Emerging team slipped away from the jaws of defeat and put themselves ahead of thE….
With 186 runs for victory, Sri Lanka had Minod Bhanuka and Pathum Nissanka at the centre on 80 and 25 runs respectively. Bhanuka was dismissed in the third over of the day by Tladi Bokako. Bhanuka batted exceptionally well for 89 runs but was beaten by the extra pace of Bokako and edged one to the wicket keeper. 
Nissanka built his innings slowly from thereon but the other end stumbled. Captain Charith Asalanka and Ashen Bandara departed without making an impression. Nissanka too lost his composure as he fell next at 47 runs, again nicking it to the keeper. 
Kamindu Mendis got a good start to his innings but failed to convert it into a big knock. He was out LBW for 17 runs off Nandre Burger. 
Day 2 Report: Batting collapse puts SL Emerging behind SA Emerging on day 2
Chamika Karunaratne who was having a poor game slipped deep into it as he was also trapped in front of his stumps for just 10 runs. 
The middle-order failed terribly in the chase. They couldn't capitalise on the start they got from the top three resulting in a disappointing defeat for Sri Lanka. Except for the partnerships built around the first two wickets, Sri Lanka lacked it largely. 
Fast-bowler Mohammad Shiraz produced an unexpected knock down the order taking Sri Lanka closer to the winning line. He scored a valiant 49 runs coming in at no.9. 
Day 1 Report: Tough day at work for SL Emerging in South Africa
In fact, Sri Lanka looked as if they would go past the line comfortably when Nishan Peiris and Mohammad Shiraz were putting up a spirited partnership for the 8th wicket. Their 58-run stand came to an end with Nishan Peiris being bowled for 25 runs. 
Bokako and Burger ran through Sri Lankan batting line-up with 3 wickets each to pull the game back towards the Proteas. Sri Lanka were eventually bowled out for 302 runs, 28 runs short of their target, but the fight was praiseworthy. 
South Africa Emerging takes 1-0 lead in the series after winning the first of the two unofficial Tests scheduled in Sri Lanka Emerging team's tour to South Africa.
>>>Click here for more Cricket News<<<
241/10 (60.5) & 302/10 (94.1)
South Africa Emerging Team
382/10 (99.2) & 189/10 (39.4)


Batsmen
R
B
4s
6s
SR
Janneman Malan
b Mohamed Shiraz
75
93
12
1
80.65
Matthew Breetzke
c Minod Bhanuka b Chamika Karunarathne
114
187
10
0
60.96
Raynard van Tonder
c Kamindu Mendis b Asitha Fernando
69
117
6
0
58.97
Jason Smith
c Mohamed Shiraz b Lasith Embuldeniya
1
12
0
0
8.33
Sibonelo Makhanya
c Minod Bhanuka b Nishan Peiris
22
42
2
0
52.38
Sinethemba Qeshile
b Lasith Embuldeniya
20
34
3
0
58.82
Dayyaan Galiem
lbw b Mohamed Shiraz
28
43
4
0
65.12
Kyle Simmonds
lbw b Nishan Peiris
4
17
0
0
23.53
M Jansen
c Charith Asalanka b Lasith Embuldeniya
3
8
0
0
37.50
Nandre Burger
c Pathum Nissanka b Asitha Fernando
9
42
1
0
21.43
Tladi Bokako
not out
14
6
2
1
233.33
| | |
| --- | --- |
| Extras | 23 (b 10 , lb 8 , nb 5, w 0, pen 0) |
| Total | 382/10 (99.2 Overs, RR: 3.85) |
| Fall of Wickets | 1-145 (33.1) Janneman Malan, 2-259 (61.6) Matthew Breetzke, 3-266 (64.5) Jason Smith, 4-288 (69.6) Raynard van Tonder, 5-318 (78.2) Sibonelo Makhanya, 6-328 (81.1) Sinethemba Qeshile, 7-339 (86.2) Kyle Simmonds, 8-348 (89.3) M Jansen, 9-368 (96.6) Dayyaan Galiem, 10-382 (99.2) Nandre Burger, |
| Bowling | O | M | R | W | Econ |
| --- | --- | --- | --- | --- | --- |
| Asitha Fernando | 18.2 | 3 | 63 | 2 | 3.46 |
| Mohamed Shiraz | 15 | 4 | 63 | 2 | 4.20 |
| Lasith Embuldeniya | 31 | 2 | 120 | 3 | 3.87 |
| Chamika Karunarathne | 11 | 1 | 40 | 1 | 3.64 |
| Nishan Peiris | 24 | 1 | 82 | 2 | 3.42 |


Batsmen
R
B
4s
6s
SR
Minod Bhanuka
c Raynard van Tonder b Kyle Simmonds
0
1
0
0
0.00
Hasitha Boyagoda
lbw b Kyle Simmonds
40
52
7
0
76.92
Pathum Nissanka
lbw b Tladi Bokako
7
5
1
0
140.00
Charith Asalanka
b Kyle Simmonds
56
84
6
2
66.67
Ashen Bandara
c Nandre Burger b Kyle Simmonds
10
14
1
0
71.43
Kamindu Mendis
lbw b M Jansen
33
54
5
0
61.11
Chamika Karunarathne
b Nandre Burger
27
49
5
0
55.10
Nishan Peiris
not out
52
56
8
2
92.86
Lasith Embuldeniya
lbw b M Jansen
0
2
0
0
0.00
Asitha Fernando
b Nandre Burger
0
11
0
0
0.00
Mohamed Shiraz
c & b Nandre Burger
12
37
2
0
32.43
| | |
| --- | --- |
| Extras | 4 (b 1 , lb 3 , nb 0, w 0, pen 0) |
| Total | 241/10 (60.5 Overs, RR: 3.96) |
| Fall of Wickets | 1-0 (0.1) Minod Bhanuka, 2-7 (1.2) Pathum Nissanka, 3-89 (16.5) Hasitha Boyagoda, 4-111 (24.1) Ashen Bandara, 5-116 (28.3) Charith Asalanka, 6-176 (42.6) Chamika Karunarathne, 7-176 (43.1) Kamindu Mendis, 8-176 (43.3) Lasith Embuldeniya, 9-185 (46.6) Asitha Fernando, 10-241 (60.5) Mohamed Shiraz, |
| Bowling | O | M | R | W | Econ |
| --- | --- | --- | --- | --- | --- |
| Kyle Simmonds | 19 | 4 | 88 | 4 | 4.63 |
| Tladi Bokako | 5 | 0 | 24 | 1 | 4.80 |
| Nandre Burger | 13.5 | 3 | 58 | 3 | 4.30 |
| M Jansen | 14 | 8 | 32 | 2 | 2.29 |
| Dayyaan Galiem | 8 | 1 | 28 | 0 | 3.50 |
| Matthew Breetzke | 1 | 0 | 7 | 0 | 7.00 |


Batsmen
R
B
4s
6s
SR
Janneman Malan
c Nishan Peiris b Asitha Fernando
1
2
0
0
50.00
Matthew Breetzke
lbw b Lasith Embuldeniya
14
35
1
0
40.00
Jason Smith
b Lasith Embuldeniya
2
11
0
0
18.18
Sibonelo Makhanya
c Minod Bhanuka b Lasith Embuldeniya
5
4
1
0
125.00
Sinethemba Qeshile
lbw b Chamika Karunarathne
31
38
7
0
81.58
Raynard van Tonder
lbw b Nishan Peiris
17
48
1
0
35.42
Dayyaan Galiem
lbw b Lasith Embuldeniya
0
3
0
0
0.00
Kyle Simmonds
c Minod Bhanuka b Asitha Fernando
50
44
5
2
113.64
M Jansen
b Lasith Embuldeniya
49
44
7
2
111.36
Nandre Burger
c Hasitha Boyagoda b Asitha Fernando
16
12
2
0
133.33
Tladi Bokako
not out
0
0
0
0
0.00
| | |
| --- | --- |
| Extras | 4 (b 0 , lb 1 , nb 3, w 0, pen 0) |
| Total | 189/10 (39.4 Overs, RR: 4.76) |
| Fall of Wickets | 1-2 (0.5) Janneman Malan, 2-14 (5.1) Jason Smith, 3-20 (5.6) Sibonelo Makhanya, 4-29 (9.6) Matthew Breetzke, 5-62 (18.4) Sinethemba Qeshile, 6-63 (19.4) Dayyaan Galiem, 7-86 (25.2) Raynard van Tonder, 8-151 (34.6) Kyle Simmonds, 9-183 (38.6) Nandre Burger, 10-189 (39.4) M Jansen, |
| Bowling | O | M | R | W | Econ |
| --- | --- | --- | --- | --- | --- |
| Asitha Fernando | 9 | 0 | 47 | 3 | 5.22 |
| Lasith Embuldeniya | 15.4 | 2 | 74 | 5 | 4.81 |
| Chamika Karunarathne | 6 | 2 | 16 | 1 | 2.67 |
| Mohamed Shiraz | 3 | 0 | 12 | 0 | 4.00 |
| Nishan Peiris | 6 | 0 | 39 | 1 | 6.50 |


Batsmen
R
B
4s
6s
SR
Hasitha Boyagoda
c Sibonelo Makhanya b Kyle Simmonds
33
49
7
0
67.35
Minod Bhanuka
c Sinethemba Qeshile b Tladi Bokako
89
134
12
0
66.42
Pathum Nissanka
c Sinethemba Qeshile b Dayyaan Galiem
47
117
3
1
40.17
Charith Asalanka
b M Jansen
9
17
0
0
52.94
Ashen Bandara
c Sinethemba Qeshile b Tladi Bokako
1
6
0
0
16.67
Kamindu Mendis
lbw b Nandre Burger
17
31
2
0
54.84
Chamika Karunarathne
lbw b Nandre Burger
10
22
1
0
45.45
Nishan Peiris
b Nandre Burger
25
57
2
0
43.86
Mohamed Shiraz
c Sinethemba Qeshile b M Jansen
49
96
7
0
51.04
Lasith Embuldeniya
c Sinethemba Qeshile b Tladi Bokako
7
35
1
0
20.00
Asitha Fernando
not out
0
4
0
0
0.00
| | |
| --- | --- |
| Extras | 15 (b 8 , lb 4 , nb 3, w 0, pen 0) |
| Total | 302/10 (94.1 Overs, RR: 3.21) |
| Fall of Wickets | 1-74 (15.6) Hasitha Boyagoda, 2-159 (42.3) Minod Bhanuka, 3-170 (47.1) Charith Asalanka, 4-173 (48.6) Ashen Bandara, 5-201 (57.2) Pathum Nissanka, 6-207 (60.6) Kamindu Mendis, 7-214 (62.5) Chamika Karunarathne, 8-272 (80.6) Nishan Peiris, 9-302 (93.2) Mohamed Shiraz, 10-302 (94.1) Lasith Embuldeniya, |
| Bowling | O | M | R | W | Econ |
| --- | --- | --- | --- | --- | --- |
| Nandre Burger | 16 | 7 | 38 | 3 | 2.38 |
| Tladi Bokako | 21.1 | 4 | 70 | 3 | 3.32 |
| Dayyaan Galiem | 15 | 2 | 37 | 1 | 2.47 |
| M Jansen | 17 | 2 | 58 | 2 | 3.41 |
| Kyle Simmonds | 22 | 0 | 74 | 1 | 3.36 |
| Sibonelo Makhanya | 3 | 0 | 13 | 0 | 4.33 |