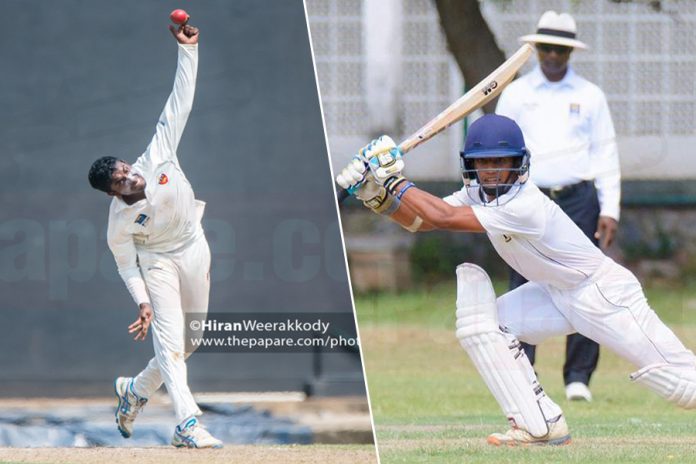 10 games in the SLC Major Emerging Tournament came to a close today, 11th October, across the Island. 
Colts record huge win in the first week of Major Club Emerging Tournament
Sinhalese Sports Club (SSC) recorded a massive win of an innings and two runs over Galle Cricket Club (Galle CC) at their home grounds in Maitland place. Akash Senaratne was the stand out performer of the game as he bagged an 11-wicket haul. 
Galle CC scored 119 runs after being sent in to bat by SSC who won the toss. SSC replied with 265 runs in just 50 overs. 
Former youth international stars Charith Asalanka and Krishan Sanjula scored half-centuries to boost the innings after which SSC bowled out the rather brittle Galle CC outfit for 144 runs. 
Tamil Union Cricket & Athletic Club (Tamil Union C & AC) too recorded an easy win over the Nugegoda Sports & Welfare Club (Nugegoda S&WC) in a group 'D' game today. Nugegoda S & WC who batted first after winning the toss was undone for 120 runs by the Tamil Union C & AC at P. Sara Oval. 
Left-arm spinner Damitha Silva and right-arm off-spinner Supun Waragoda picked up 4 wickets each in the pursuit. 
Former Thomian, Yohan Mendis led the batting for the host team with 86 runs as they posted 231 runs for the loss of 8 wickets and declared the innings. Left-arm spinner Sadish Pathiranage came in handy in the second-innings for Tamil Union C&AC recording a fifer as Nugegoda S&WC were ripped off for 119 runs. 11 runs were needed for victory and the host chased it down unscathed.
SLC U23 Emerging Tournament revamped, fixtures announced
8 other games played today ended in draws. Explosive right-handed wicket-keeper batsman Malindu Maduranga, right-hander Suminda Lakshan, and former Pathanian Heshan Dhanushka all struck 108 runs each to become the top performers with the bat. 
Maduranga struck a stroke-filled ton for Colombo Cricket Club against Negombo Cricket Club while the Air Force Sports Club all-rounder Lakshan brought up his century against Panadura Sports Club and followed it up with a fifer to become the stand out performer. Heshan Dhanushka registered his ton in a run-fest against Nondescripts Cricket Club for Colombo Colts Cricket Club.
Apart from Pathiranage, Senaratne and Lakshan, Shehan Wijerathna of Army Cricket Club, Pramod Maduwantha of Saracens Sports Club, Thisara Dilshan of Galle Cricket Club, Nadeera Madushanka of Police Sports Club, Ashain Daniel of Ragama Cricket Club, Lakshitha Rasanjana of Negombo Cricket Club, Kaumal Nanayakkara Panadura Sports Club and Praveen Jayawickrama of Colombo Colts Cricket Club all recorded five-wicket-hauls. 
>>> Click here for more club cricket news <<< 
Brief scores
Sinhalese Sports Club vs Galle Cricket Club

At SSC Ground (Toss: SSC won & field)

Galle CC 119 (47.3) 

Kavindu Ediriweera 40, Akash Senarathne 5/48, Himesh Ramanayake 2/21, Kalana Perera 2/24 

& 144 (53.1) 

Kavindu Ediriweera 48, Lashan Silva 35, Kalana Perera 3/42, Akash Senarathne 6/33

SSC 265 (50.1) 

Charith Asalanka 78, Krishan Sanjula 77, Sammu Ashan 33, Kalana Perera 33, Akash Senarathne 21, Thisara Dilshan 5/65, Ravishka Wijesiri 2/43

SSC WON BY AN INNINGS & 2 RUNS

---

Tamil Union Cricket And Athletic Club vs Nugegoda Sports & Welfare Club

At P Sara Oval (Toss: Nugegoda S&WC won & bat)

Nugegoda S&WC 120 (44.1) 

Sandaru Chanditha 34, Kavindana Perera 20, Damitha Silva 4/19, Supun Waragoda 4/14 

& 119 (48.5) 

Sandaruwan Fernando 71*, Pasindu Dilshan 22, Sadish Pathiranage 5/34, Tilanga Udeeshana 2/14, Supun Waragoda 2/24

Tamil Union C&AC 231/8d (60.5) 

Yohan Mendis 86, Kamesh Nirmal 56, Damitha Silva 32, Ranmith Jayasena 20, Abhishek Jayasuriya 2/37, Nishan Perera 2/65 

& 11/0 (1)

TAMIL UNION WON BY 10 WICKETS

---

Kurunegala Sports Club vs Army Cricket Club

At Welagedara Stadium (Toss: Army CC won & bat)

 

Kurunegala SC 127/8 (44.3)

Dineth Chandimal 37, Dilshan Kollure 29, Shehan Wijerathna 5/59, Kavindu Kularathne 2/15

Army CC 

MATCH DRAWN

---

Moors Sports Club vs Lankan Cricket Club

At Moors grounds (Toss: Moors SC won & bat)

Moors Sports Club 142/3 (39)

Nisal Francisco 55, Dinuka Dilshan 46*, Bhagya Shavinda 24

Lankan Cricket Club

MATCH DRAWN

---

Bloomfield Cricket and Athletic Club vs Saracens Sports Club

At Bloomfield Ground (Toss: Bloomfield C&AC won & bat)

Bloomfield C&AC 233 (63.2)

Revan Kelly 87, Kasun Ekanayaka 41, Asel Sigera 36, Pramod Maduwantha 7/53

Saracens SC 168/8 (59)

Pramod Maduwantha 85*, Rukshan Dissanayaka 38, Asel Sigerra 2/20, Mohommad Shabir 2/12, Andrew Parys 2/15

MATCH DRAWN

---

Police Sports Club vs Navy Sports Club

At Police Ground (Toss: Navy SC won & field)

Police SC 176 (76.5) 

Lakshitha Amarasekara 79*, Sandaru Nethmina 34, Sangeeth Deshan 27, Kavika Dilshan 4/28, Hashin Dilman 2/47 

& 70/6 (23) 

Sangeeth Deshan 25, Kavika Dilshan 4/23, Sarindu Peries 2/26

Navy SC 229 (57.3) 

Shalith Fernando 61, Navod Samarakoon 39, Johanne De Zilva 33, Kavindu Gimhana 31, Hasin Dilman 20*, Nadeera Madushanka 5/51, Lakshitha Amarasekara 2/46

MATCH DRAWN

---

Ragama Cricket Club vs Burgher Recreation Club

At BRC Ground (Toss: BRC won & field)

Ragama CC 142 (48.1) 

Kalhara Senarathna 35, Kanishka Uggalpaya 30, Danushka Perera 30, Ashain Daniel 5/54, Hashan Sandeepa 2/12, Duvindu Tillakaratne 2/34 

& 106/5 (40.2) 

Sanjula Bandara 35*, Kalhara Senarathna 20, Hashan Sandeepa 3/15, Ashain Daniel 2/20

Burgher RC 141 (47.5) 

Leshan Amarasinghe 40, Raminda Wijesooriya 31, Ashain Daniel 30, Kalhara Senarathna 3/36, Nishan Peris 3/42, Shanon Fernanndo 2/35

MATCH DRAWN

---

Colombo Cricket Club vs Negombo Cricket Club

At CCC Ground (Toss: Negombo CC won & field)

Colombo CC 302 (75.4) 

Malindu Maduranga 108, Pawantha Weerasinghe 62, Manelkar De Silva 66, Chalana Sankalpa 25, Harin Buddila 4/117, Pawan De Silva 2/05, Dinwen Fernando 2/35

Negombo CC 130 (49.4) 

Wageesha Madushan 43, Umesh Lakshan 26, Lakshitha Rasanjana 5/35, Pawantha Weerasinghe 2/11, Malinga Dharmasena 2/14 

& F/O 111/5 (52) 

Umesh Lakshan 53*, Dinan Fernando 33, Lakshitha Rasanjana 2/20

MATCH DRAWN

---

Air Force Sports Club vs Panadura Sports Club

At Air Force Ground (Toss: Panadura SC won & field)

Air Force SC 226 (78.1)

Suminda Lakshan 108, Umeshka Dilshan 36*, Kaumal Nanayakkara 5/68, Sithum Dissanayake 2/24

Panadura SC 141 (46.3)

Janidu Induwara 55*, Vishwa Chathuranga 23, Suminda Lakshan 5/47, Nusky Ahmed 3/44

MATCH DRAWN

---

Nondescripts Cricket Club vs Colombo Colts Cricket Club

At Colts Ground (Toss: NCC won & bat)

NCC 145 (52.4)

Hasitha Boyagoda 52, Samitha Ranga 21, Praveen Jayawickrama 5/31, Maheesh Theekshana 2/25

Colombo Colts CC 186/8 (63)

Heshan Dhanushka 108, Jehan Daniel 53, Nipun Malinga 33, Vishad Randika 32*, Dhananjaya Lakshan 20, Ravindu Fernando 2/64, Lasith Embuldeniya 2/91

MATCH DRAWN