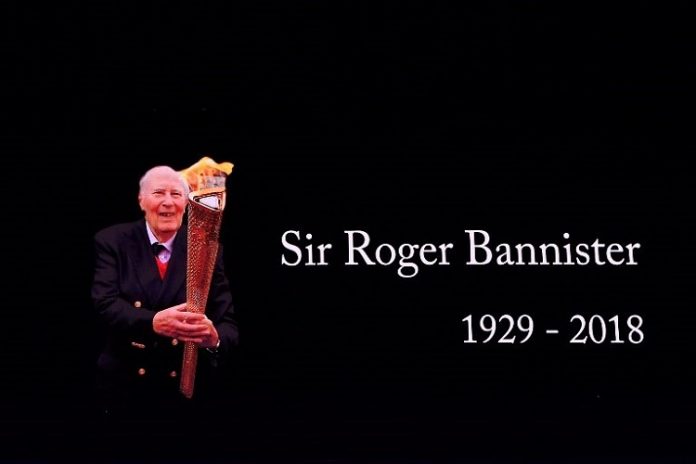 Sir Roger Bannister, the first person to run a mile in under four minutes, has died at the age of 88.
His time of three minutes 59.4 seconds, set at Iffley Road sports ground in Oxford on 6 May 1954, stood as a record for just 46 days but his place in athletics history was assured.
Bannister also won gold over the same distance at the 1954 Commonwealth Games and later became a leading neurologist.
He was diagnosed with Parkinson's disease in 2011.
A statement from his family said: "Sir Roger Bannister, died peacefully in Oxford on 3 March, aged 88, surrounded by his family who were as loved by him, as he was loved by them.
"He banked his treasure in the hearts of his friends."
IAAF president Lord Coe, who ran a mile world record of 3:47.33 in 1981, said: "This is a day of intense sadness both for our nation and for all of us in athletics.
"There is not a single athlete of my generation who was not inspired by Roger and his achievements both on and off the track."
Bannister viewed running as something to be done in his spare time away from the demands of his medical studies at the University of Oxford, but that did not prevent him reaching the biggest stages in the sport.
He was considered for the British team at the 1948 London Olympics – just two years after taking up running as a 17-year-old – but did earn a place in the team at the 1952 Games in Helsinki, where he set a new British record en route to fourth in the 1500 metres final.
Bannister, who used his medical knowledge to devise his own training regime and investigate the mechanical aspects of running, turned his sights on becoming the first person to run inside four minutes for the mile after the Olympics and twice went close to achieving his goal in 1953.
American Wes Santee and Australia's John Landy were also targeting the record when Bannister finally achieved the feat in the spring of 1954.