Standing at 6 feet tall and weighing 85 Kg, Sri Lankan born Sharith Amit took time off from his busy schedule to speak to ThePapare.com after he was selected to play for the Qatar National 7's Rugby team, making him the youngest member in the team.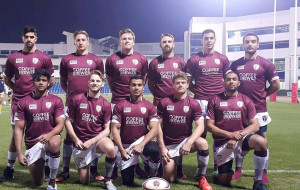 Sharith has been playing Rugby from the age of 9, starting out at St. Peter's College, Colombo and then for Doha Rugby Football Club after his family moved to Qatar. He was first introduced to competitive rugby at the age of 16 when he played for the Lion's Rugby Football Club and has been playing there right throughout with a stint at St. Joseph's College in the year 2015/2016.
Coming from a family with a rich rugby background, Sharith was always a go getter at a young age, doing his best to emulate his elder brother Shirath and the likes of his grand uncle former national coach Tony Amit and Uncle former Havelocks and Sri Lanka cap Ajith Silva.  
1. What is it like to play in Qatar compared to playing in Sri Lanka?
Can't compare the two as I have only played college rugby in Sri Lanka and club rugby In Qatar. I had the privilege of playing with and against a few of Sri Lanka's finest players and in Qatar, it's totally different since most of the players are expats. I have played with some very talented and strong players in Qatar. Some clubs in Qatar have professional players and I have learnt a lot playing alongside with them.
2. Why did you move from St. Peter's to St. Joseph's?
I was living in Qatar since 2009, I always wanted to play college rugby in Sri Lanka at least for a season, because I heard it's an experience that you don't want to miss. I was given the opportunity by St. Joseph's College in the year 2015/2016.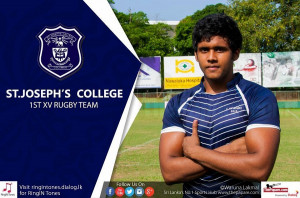 3. What was the reception you got from St. Joseph's after moving from their rivals?
I was a bit nervous at first but the St Joseph's College Rugby team (2015) looked after me well where I didn't feel any discomfort at all. Especially Taariq Salih and in fact the whole team!
4. Do you prefer 7's to Xv's?
As of now, I prefer 7's because the whole 7 players (in fact 12) on the pitch should play as a unit till the game is over and you get more involved in the game by either attacking or defending, the slightest mistake will cost you the game.
5. What was going through your head when you found out that you were selected to play for Qatar?
I was happy and pleased to know that I was selected to represent the Qatar National team since it was my childhood dream to represent a National team and moreover I made a lot of people happy, especially my family.

6. When you are not training, what do you do during your free time?
I sing and play the guitar a lot, Ed Sheeran is my idol.
7. Coming from a family with a rich rugby background, does that have any effect on your performance?
Yes! Definitely my grandparents and uncles have played rugby at the highest level, even my cousins, some of them still play college rugby.
8. Do you have any plans of playing for Sri Lanka someday?
I don't because I have no plan of moving to Sri Lanka anytime soon.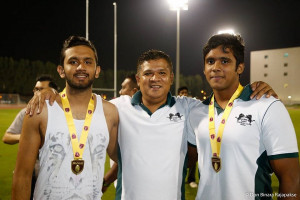 9. What is it like to play alongside your brother?
I have learnt a lot from my brother and I look up to him always. I don't think I'll be where I am without him. He is my role model.
10. Is there anyone you want to thank? 
Yes, I would like to thank my Grand Dad as after he saw me play in Qatar, he insisted my parents send me back to Sri Lanka where I was able to fullfill my ambition to play college rugby, also my team mates and my parents who have always supported me .
11. Who inspires you the most to go out and do what you do best?
My family, they are always supportive in everything I do.
ThePapare.com would like to wish Sharith all the very best for his future endeavours.